Is DirecTV Still Worth Buying After Losing NFL Sunday Ticket?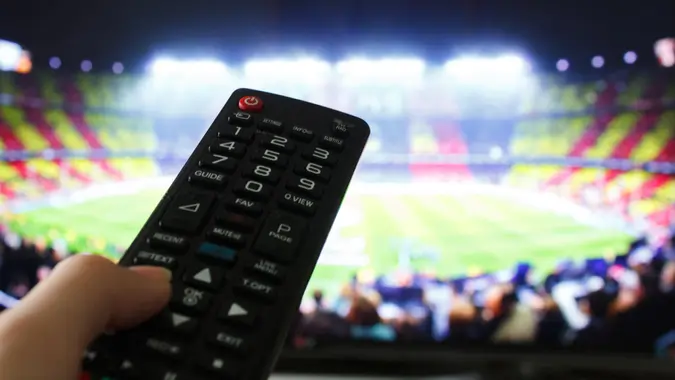 Allmy / Shutterstock.com
With the much-anticipated 2023 NFL season starting Sept. 7, fans across the nation are gearing up for an exciting few months of gridiron action. But where is the best place to catch all the exhilarating moments and heart-pounding touchdowns?
For nearly 30 years, the answer to that question was DirecTV, which had the exclusive rights to NFL Sunday Ticket. This was the holy grail for football enthusiasts, providing access to every out-of-market NFL game. However, DirecTV has recently lost this package to YouTube TV. 
DirecTV has compensated for this loss by adding NFL RedZone, but is it a worthy replacement? Let's explore whether DirecTV remains a compelling option in light of these changes and how it stacks up against similar services.
DirecTV Without NFL Sunday Ticket
The departure of NFL Sunday Ticket from DirecTV's offerings is undeniably a significant blow to its appeal. This package had long been the primary reason for football aficionados to choose DirecTV over other cable and streaming options. It allowed subscribers to watch every NFL game regardless of their location, a level of coverage that was unparalleled in the market. The loss of this feature has left many subscribers reevaluating their subscription choices.
If you absolutely must have Sunday Ticket, YouTube TV is the only way to get it. The current promotional price for NFL Sunday Ticket is $299 per year, but this plan requires a subscription to YouTube TV, too, which is an additional $72.99 per month. If you just want NFL Sunday Ticket (no YouTube TV) then you're looking at $399 per year.
Make Your Money Work for You
What About NFL RedZone?
To compensate for the loss of NFL Sunday Ticket, DirecTV has added NFL RedZone for the first time. This channel has previously been available via numerous cable and streaming providers, Dish Network and Verizon Fios. It provides ad-free, fast-paced coverage and analysis of all the touchdowns and most exciting moments from every Sunday game. While it doesn't replace the comprehensive coverage of NFL Sunday Ticket, NFL RedZone aims to provide a condensed, high-energy viewing experience for those who want to stay up to date with the most crucial moments of each game.
This addition might not completely fill the void left by NFL Sunday Ticket, but it's a step toward maintaining DirecTV's status as a football-friendly service. NFL RedZone could potentially attract fans who are more interested in the highlights and game-changing plays rather than watching entire games. 
DirecTV vs. Similar Services
In the ever-shifting landscape of streaming and cable options, it's crucial to evaluate how DirecTV compares to its competitors, both in terms of pricing and content offerings.
When it comes to pricing, DirecTV has historically been considered on the higher end, largely due to the premium nature of its NFL Sunday Ticket package. With the loss of this package, some potential subscribers might be inclined to explore other options that offer a more budget-friendly alternative.
DirecTV's Entertainment package is its most basic offering, and costs $64.99 per month. To receive NFL RedZone, you must add the Sports Pack package to your subscription for an additional $13.99 per month, for a total of $78.98 per month.
Make Your Money Work for You
This pricing is relatively in line with competitors that also offer RedZone. Fubo TV's Ultimate Plan costs $99.99 per month, Hulu + Live TV with the Sports add-on costs $79.99 per month and Sling TV's Sling Blue plus Sports Extra costs $56 per month. 
The channels and services included with each of these differ, so you should compare carefully before committing to the subscription.
"Using an antenna is still the cheapest way to watch the NFL overall," said Chris Brantner, head streaming analyst at Sportscriber.com. "And using an antenna plus NFL Sunday Ticket is the only way to watch every single game, regardless of blackout restrictions."
If you are looking to add NFL RedZone and are otherwise happy with your current streaming package, you may want to consider signing up for NFL+. In addition to getting RedZone, their Premium subscription includes live local and primetime games, and costs $14.99 per month, or $79.99 per year.
The Bottom Line
If NFL Sunday Ticket was the primary reason for keeping your DirecTV subscription, it may be time to reconsider. Even if NFL RedZone is sufficient for you, there are lots of ways to access this channel, including directly from the NFL via their NFL+ service.
More From GOBankingRates