Most Americans Think Cable Is Overpriced — Here's How to Cut Your Costs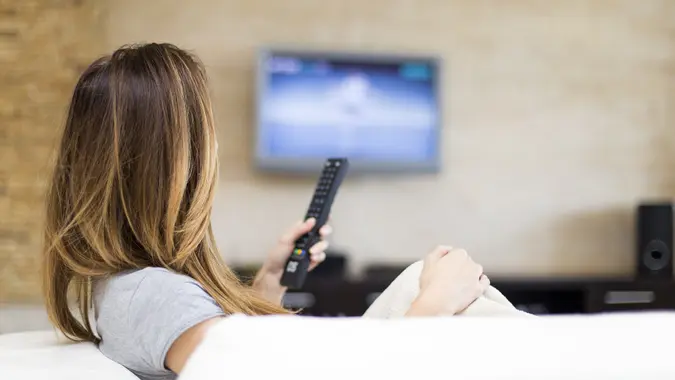 Goran Bogicevic / Shutterstock.com
Cable television might have reigned supreme once upon a time, but those days are rapidly coming to an end. A new poll from the Hollywood Reporter and Morning Consult found that 56 percent of Americans believe that cable television is no longer affordable. That's forced television watchers to look elsewhere for their at-home entertainment. In fact, by the end of 2017 cable providers lost more than 3 million subscribers, and more subscribers are expected to drop over time.
So, where exactly are people turning to save money? Streaming services.
The majority of Americans believe that cable is too expensive to maintain, but the poll also found that just 17 percent of respondents feel the same about streaming services. In addition, 90 percent of people polled say that price is the No.1 factor that determines if they will subscribe to cable or a streaming service.
Cable vs. Streaming: More Affordable Options
Overall, streaming services are generally cheaper. For instance, a monthly subscription for DirecTV starts at $35, and can increase to over $100 per month if you want to access more channels like sports special packages, HBO, Showtime, Starz and other movie channels.
Netflix
Netflix has offered streaming options since 2007. But even Netflix's Premium plan at $13.99 per month is still much cheaper than the basic plan for DirecTV. Netflix recently hit over 137 million subscribers, with that number expected to increase as Netflix grows its international audience. The company is also currently testing an Ultra subscription plan that will reportedly be offered for $16.99 a month. The plan will allow users to watch across four devices at one time and offer more Ultra HD streaming, according to Fox Business.
Make Your Money Work for You
Find Out: What AT&T's New Streaming Service Will Give You That Netflix Can't
Hulu
Hulu is another option you can choose if you're looking to ditch your cable subscription. For $7.99 per month, you can subscribe to Hulu's basic plan, which gives you instant access to Hulu's streaming library. Or, for nearly $40 a month, upgrade your subscription to get access to live TV.
Amazon Prime Video
Stay current with the latest movies and TV shows through Amazon's Prime Video. All you need to do is to sign up as an Amazon Prime member for $12.99 a month and your Prime Video subscription is included. You can unlock thousands of TV shows from around the world and even customize your subscription to include access to regular cable channels like Showtime and Stars.
Also Check Out: Would You Bank With Amazon? Most Prime Members Would
More Streaming Services to Come
Due to the huge success of Netflix, traditional media conglomerates are looking for their way to compete. Disney will launch its own streaming service in 2019. Apple is set to launch a programming lineup featuring a partnership with Oprah next year, too.
At the end of the day, the incentive to switch to streaming is real. The cost to sign up for Netflix, Hulu and Amazon Prime Video is exactly the same ($34.97) as a basic DirecTV subscription, but the streaming services give you more flexibility and on-demand capabilities.
Click to keep reading about whether Disney or Netflix will win the content war.
Make Your Money Work for You
More on Entertainment and Saving Money
We make money easy. Get weekly email updates, including expert advice to help you Live Richer™.