How Taylor Swift's Eras Tour Helped Boost the Economy in 8 Cities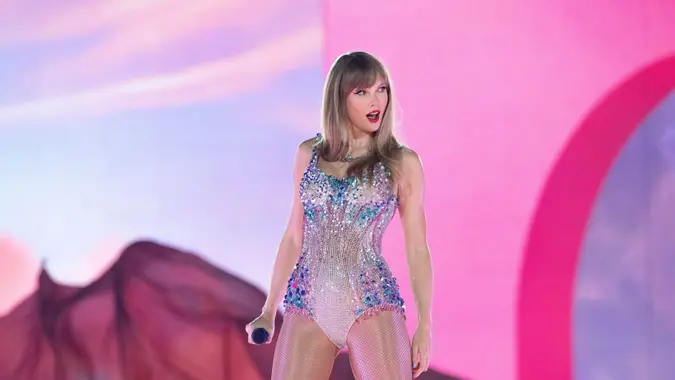 Casey Flanigan/imageSPACE/Shutterstock / Casey Flanigan/imageSPACE/Shutterstock
The first leg of Taylor Swift's Eras Tour consisted of 53 shows that served as a love story to local economies. As of August, the tour has grossed around $689 million, according to Pollstar — but that doesn't include the financial impact Taylor Swift had on the cities she visited.
See: How To Get Cash Back on Your Everyday Purchases
Local economies have quickly learned all too well that Swifties come to spend.
Specifically, concertgoers spend about $1,300 per show, according to a June study conducted by QuestionPro. This put the Eras Tour on track to generate an estimated $5 billion in economic impact, which tops the gross domestic product of 50 countries.
When Swifties come to town, local businesses benefit. Whether they simply provide their standard offerings — such as hotel rooms — or special items — for example, a $62.95 Taylor Swift Eras Tour Party Pack of a dozen donuts, offered by Glam Doll Donuts in Minneapolis — everyone is cashing in.
Here's a look at eight cities that had their local economies enchanted by Swifties during the Eras Tour.
Boston
She performed 30 miles away in Foxborough, Massachusetts, but Swift sold out Boston hotels and trains in May, during her three-night stint in the area. One-bedroom apartments and studios anywhere near Foxborough went for more than $1,000 per night, according to Axios.
Local businesses also catered to Swifties. Summer Shack in Cambridge held a Taylor Swift Eras Drag Brunch, and the High Street Place food hall held a Taylor Swift Pre-Show Party and Bejeweled Glow-Up Experience.
Cincinnati
The Taylor Swift Eras Tour touched down in Cincinnati on June 30 and July 1 and quickly earned a reputation as a major economic booster. Total consumer spending on hotels, concert tickets, transportation, and food and beverage was expected to total up to $92 million — with $48 million in newly generated spending — according to Visit Cincy and the Cincinnati USA Regional Chamber's Center for Research and Data.
Make Your Money Work for You
This includes $2.6 million in gross revenue for downtown Cincinnati hotels and more than $5.3 million in gross revenue for neighboring Hamilton County hotels, according to NBC News.
Chicago
When the Eras Tour hit Chicago in June, Swifties flocked to the city in full force. Specifically, the three consecutive shows helped break an all-time hotel weekend occupancy record in the Windy City, according to the Chicago Sun-Times.
Houston
A noticeable pattern, when the Taylor Swift Eras Tour visited Houston in April, local hotels cashed in. She played three sold-out shows over the course of the weekend, which led to Houston's highest hotel revenue week of 2023.
Kansas City, Missouri
In July, Swift played two shows in Kansas City, which had an estimated $48 million direct economic impact on the city, according to Visit KC. In comparison, Beyoncé's Renaissance World Tour was only expected to have a $13.4 million direct economic impact on the city.
Los Angeles
In August, the first leg of the Taylor Swift Eras Tour ended with a six-show stint in the City of Angels. This was estimated to boost the Los Angeles County gross domestic product by $320 million, according to the California Center for Jobs and the Economy.
Pittsburgh
A major win for the Steel City, Swift played two Pittsburgh shows in June, resulting in $46 million in direct spending, according to VisitPittsburgh. Much of this was due to fans coming in from out of town and spending money on the region's hotels, restaurants, retail, transportation and attractions.
Tampa, Florida
Swifties flocked to Tampa for the Eras Tour in April, with many staying in local hotels. Consequently, area hotels more than doubled their typical daily profits, according to Axios Tampa Bay.
Make Your Money Work for You
Taylor Swift's Eras Tour Movie
Fans who couldn't make it to the Eras Tour in person — and likely many who did — can watch it in theaters. Ticket sales for "Taylor Swift: The Eras Tour" set domestic presale records ahead of its Oct. 13 debut, with demand 10 times higher than any other film released through Cinemark, CNN Business reported on Oct. 5.
What Will Taylor Swift Play on the Eras Tour?
A show that doesn't disappoint, Swift entertains fans for three hours during each show. Her setlist includes a seriously impressive 44 songs, including "Lavender Haze," "Shake It Off," "Anti-Hero," "Karma" and "Tim McGraw" — just to name a few.  
Is There Any Age Limit for Taylor Swift's Eras Tour?
If you're considering taking your child to the Taylor Swift Eras Tour, it's important to make sure they're old enough to both attend and enjoy it. Different venues have different policies regarding age restrictions for children.
Generally speaking, children over age 2 will be required to have a ticket for entry. In some cases, there may be age limits for certain types of seating.
Where Is Taylor Swift Touring in 2023?
After kicking off the international leg of her tour in Mexico City in August and then taking a break, Swift resumed her tour on Nov. 9 in Buenos Aires, Argentina. This month, she'll visit Rio de Janeiro and São Paulo.
After another brief break, she'll head to Tokyo in February. Another busy year, she'll perform dozens more Eras Tour shows abroad and in the U.S. in 2024.
Gross revenue for the Eras Tour is expected to top $1 billion during its international leg, according to Pollstar. By the time Swift returns to North America in fall 2024, that number is expected to rise to approximately $1.5 billion.
Make Your Money Work for You
There's no doubt about it: Swift has seriously dedicated fans who are willing to spend just about anything to see her perform in person. Local economies majorly benefited from this in 2023 and will continue to do so throughout 2024.
Our in-house research team and on-site financial experts work together to create content that's accurate, impartial, and up to date. We fact-check every single statistic, quote and fact using trusted primary resources to make sure the information we provide is correct. You can learn more about GOBankingRates' processes and standards in our editorial policy.