Taking Care of Your Kids and Parents? 8 Ways to Thrive When You're in the 'Sandwich' Generation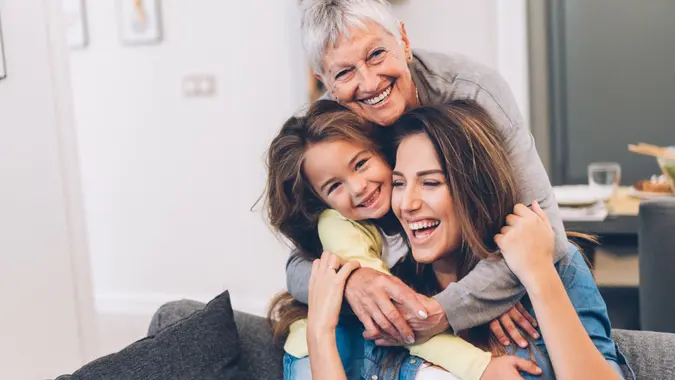 filadendron / Getty Images
Middle-aged adults are currently at a point in their lives when they should be aggressively saving for retirement, but many won't have that luxury. According to the Pew Research Center, nearly half of adults in their 40s and 50s have a parent age 65 or older and are either raising a young child or financially supporting an adult child; 15% are financially supporting both a parent and child at the same time. These middle-aged adults have been dubbed the "sandwich generation" — they are sandwiched in between two other generations that are putting a strain on their finances.
Find Out: 27 Best Strategies To Get the Most Out of Your 401(k)
Learn More: Hidden Obstacles That Keep People From Retirement
If you're part of this "sandwich generation," there are several things you can do to make sure that taking care of others doesn't derail your own financial health.
See: 50 Ways To Live the Big Life on a Small Budget
Make Your Money Work for You
Don't Quit Your Job to Become a Full-Time Caregiver
When you're caring for both parents and children at the same time, it can be tempting to quit your job and devote yourself entirely to the care of others. But doing so puts you in financial risk if you can't already afford to do this. People who leave the workforce early to care for a parent or family member lose approximately $300,000 in wages and benefits over the course of a lifetime, and the amount is even higher for women, Salon reported.
Before giving notice, research care options that would allow you to continue working, at least part-time. If the situation becomes urgent and you need to provide full-time care to a parent or child with a serious health condition, you are likely protected through the Family and Medical Leave Act, which allows you to take the necessary time off without losing your job.
Real Life: 35 Useless Expenses You Need To Slash From Your Budget Now
Research Payer Options
Before you start paying out-of-pocket for care, medication and other needs for an aging parent, make sure you research all your options. Your parent might qualify for coverage through Medicare, Medicaid, long-term care insurance or veterans' benefits, all of which can alleviate the financial burden placed on you.
Make Your Money Work for You
Check Out: 17 Biggest Budgeting Mistakes You're Making
Establish Financial Boundaries
In order to know how much you can truly afford to spend on your kids and parents, make sure you have a realistic view of your own finances. You should have six months of living expenses set aside, contribute 10% of your income to a retirement fund and have a clear grasp of your cash flow. Once all of that is sorted out, you can use what's left over to help care for children and parents.
Tips: 20 Things Your Kids Can Learn From Your Retirement
Open a Flexible Spending Account
If your employer offers one, consider contributing to a flexible spending account. These funds can be used to pay for healthcare and dependent care, such as child care costs, and contributions are deposited pretax, which can reduce your tax burden.
Read: Tips To Keep Your Finances in Order Without Sacrificing What You Want
Make Your Money Work for You
Claim Any Tax Credits You Qualify For
If you have a dependent minor child or children, you might qualify for the child tax credit, which can be as much as $3,600 per qualifying child in 2021. If you care for a dependent who is not a minor child, such as a college student or an older relative who lives with you, you might qualify for the credit for other dependents, which can be as much as $500 per individual.
Also See: The 50/30/20 Rule: Is It the Best Budgeting Method?
Have an Honest Discussion With Your Parents About Money
Talking about money can be seen as taboo, especially by older generations, but getting a clear picture of your parents' finances is essential to get a sense of how much they can afford and how much assistance they will need. Be sure to discuss all sources of income and assets they have access to, including Social Security, pensions, investment income and home equity.
You should also be open with your parents about your own finances so that they fully understand what you can and cannot afford to provide for them.
Cut Costs: 16 Ways To Save Money on Food
Meet With Professionals
Figuring out how to financially care for yourself, your parents and your children all at once can be overwhelming. Consulting with professionals such as financial advisors, elder law attorneys and college advisers can help you plan out the best ways to protect your own finances while assisting your parents and budgeting for your children's college costs.
Unexpected: 17 Surprising Ways Penny-Pinching Costs You More
Ask for Help
If you're a single parent, consider reaching out to your child's other parent for additional financial support. And if you have siblings, see if they can contribute to senior care costs and other expenses that come with caring for a parent.
More From GOBankingRates
Cynthia Measom contributed to the reporting fir this article.
Last updated: July 26, 2021
Make Your Money Work for You