7 Best Ways To Save Money on Groceries in March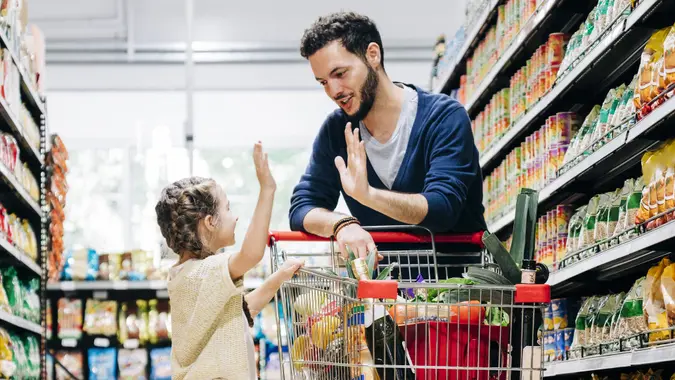 Portra / iStock.com
Many of us may be looking for ways to cut back on our expenses and save some money this month. One of the biggest areas where we can make a significant impact on our budget is by reducing our grocery bills.
However, this doesn't mean that you have to compromise on the quality and variety of your meals or resort to unhealthy and processed foods. By following some simple tips and tricks, you can make the most of your grocery budget and still enjoy delicious and nutritious meals that your family will love. 
From meal planning and budgeting to couponing and shopping in-season, there are plenty of inventive ways to keep your wallet fat and your stomach full. With a little bit of planning and creativity, there are many strategies we can employ to save money on groceries without sacrificing the quality and variety of our meals. So, let's dive in and discover the best ways to cut your grocery bills and boost your savings.
Get a New Credit Card 
If you're in the market for a new credit card this March, you might consider getting one that'll give you cash back on grocery purchases. Some stores offer their own and there are plenty of cards that offer extra incentives for spending money on groceries.
Make Your Money Work for You
"For example, the American Express Blue Cash Preferred Card offers 6% cash back at supermarkets on up to $6,000 in annual grocery spending and the Capital One SavorOne Cash Rewards Credit Card offers 3% cash back on dining and grocery purchases," said budgeting expert Andrea Woroch.
Just make sure to shop around and be honest with yourself about where and how you spend your grocery money. For example, if you shop primarily at Target and Walmart for groceries, know that some grocery reward cards won't count the groceries you purchase at big-box stores. So, shop around and find the right card for your needs!
Live Richer Podcast: Scamdemic – Don't Fall Victim to These Money Scams
Stay in Season
While it makes sense to make certain purchases in the off-season — hello, swimming suits in December — that doesn't apply to groceries.
"When it comes to food, however, you can save more by sticking with the season and buying the fruits and vegetables that are abundant during the time of the year," Woroch said. "March seasonal produce includes a large variety of options and sticking with these will get you the best price including, artichokes, avocado, asparagus, beets, broccoli, Brussels sprouts, parsnips, onions, potatoes, radishes, and sweet potatoes. Stock up and save money!"
Make Your Money Work for You
Use Rewards Apps
Digital apps have made it easier than ever to get discounts and claim rewards at grocery stores. "Many grocery stores have their own apps that give you access to digital coupons which you can quickly 'clip' on your phone for savings when checking out," Woroch said.
And then there are third-party apps, like receipt scanner apps, that help you save money wherever you shop by checking for the best prices and searching for bargains. There are so many apps to use, so make sure to explore all your options before you hit the grocery store this March.
Look For Frozen Food Deals
Woroch said that March is Frozen Food Month and many retailers are offering sales on frozen food in honor of this theme. "Look out for BOGO deals and stick with store brands to save more," she told GOBankingRates.
Create a Price Book
What's a price book? The handiest little tool you'll ever use!
"In it, you keep track of all the items that you regularly buy," said Merissa Alink of "Little House Living"."You will also want to write down what your 'buy' price would be (a reasonable sale price) and what your 'stock up' price would be (a rock bottom price)." Then, you can use sales flyers and websites to see what prices are on your pantry staples and stock up when the best price is on offer.
Make Your Money Work for You
Eat From Your Pantry
Saving money by eating from your pantry this March is important because it helps reduce food waste, promotes mindfulness about diet and spending, frees up space in the kitchen, and encourages creativity with cooking. 
"Having a 'pantry challenge' can be a great way to save money on groceries and eat up foods that you've already spent good money on and have probably forgotten," Alink said. "During a pantry challenge, you focus on eating up odds and ends of things you've purchased over the last year to make room for more."
By using up the food you already have on hand, you save money on groceries, become more aware of your eating habits, and can discover new recipes and flavors. Plus, you'll feel a sense of satisfaction and accomplishment knowing you're making the most of what you already have.
Shop With a List — and Stick To It
One way to avoid overspending this March and buying unnecessary items at the grocery store is to shop with a list. A shopping list not only helps you stay organized and focused but also helps you save time and money. To start, take inventory of what you already have in your pantry, fridge and freezer, and make a list of items that you need to restock. Then, plan out your meals for the week, taking into account any upcoming events or dinners that may require additional ingredients. When you go to the store, stick to your list and resist the temptation to stray from it. If you come across an item that you didn't plan on buying but seems too good to pass up, ask yourself if you really need it or if it will just end up going to waste. 
Make Your Money Work for You
Another tip for shopping with a list is to organize your list by category or aisle. This way, you can efficiently move through the store and avoid backtracking or missing items. Additionally, consider using a grocery shopping app that can help you keep track of your list and even suggest recipes based on the items you need to buy. Shopping with a list not only helps you stay on track with your budget and reduce food waste, but it can also help you make healthier choices. When you plan out your meals ahead of time, you're more likely to choose nutritious options and avoid impulse purchases of junk food.
More From GOBankingRates