Can You Use Food Stamps To Buy Snacks?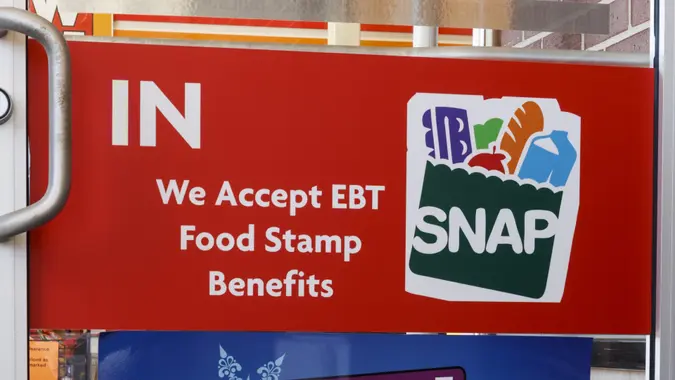 jetcityimage / iStock.com
If you rely on the Supplemental Nutrition Assistance Program to feed your family, you're not alone. In 2021, nearly 41.5 million people participated in the program, according to the Kids Count Data Center.
See: 11 Grocery Items To Buy at Dollar Tree
Check Out: This Credit Score Mistake Could Be Costing Millions of Americans
The program serves as a vital way to put food on the table, but it also comes with plenty of restrictions. Specifically, you're wondering if you're able to use food stamps to stock your pantry with snacks.
Generally speaking, the answer is yes. SNAP benefits can be used to purchase any food for the household, including snack foods, according to the United States Department of Agriculture.
USDA Snack Food Examples
Of course, the definition of snack food is a highly personal one. However, the USDA website offers a comprehensive list of examples, including:
Potato, corn, wheat, tortilla, pita and vegetable chips, crisps, sticks and straws; onion ring snacks; corn nuts; snack mixes; crackers; pork rinds; pretzels; pre-popped or un-popped popcorn and cheese puffs or curls
Donuts, brownies, cupcakes, cookies, snack cakes, muffins, pastries, sweet rolls, pies, cakes, pudding, churros, scones, gelatin desserts and any packaged mixes designed to make the previously listed items
Mints, chocolate, marshmallow, gum, toffee, brittle, fudge, marzipan, nougat, candy bars and all varieties of candy
Ice cream, ice milk, frozen yogurt, custard, whipped cream, sherbet, sorbet, gelato, granita, Italian ices, frozen carbonated beverages, snow cones and ice pops
Any food item with a main ingredient listed as an accessory food item — i.e., salted crackers
Make Your Money Work for You
Chances are at least a few of your favorite snacks are listed above. If not, there's a good chance they're still included, as these were just examples of eligible items.
Take Our Poll: Are You Struggling To Keep Up With Your Utility Bills?
Foods Not Eligible for SNAP Benefits
As noted above, different people define snacks in different ways. While one person might consider a bag of chips or a muffin to be a snack, someone else might prefer something a bit heartier.
For example, if you're at a grocery store with a hot bar, you might want to purchase a small container of macaroni and cheese or a cup of soup as a snack. However, foods that are hot at the point of sale do not qualify for SNAP benefits.
This means any prepared food at the grocery store that you would take through the checkout line warm won't qualify. It's important to learn these rules now, so you don't face an unpleasant surprise at the cash register.
Make Your Money Work for You
Thankfully, SNAP benefits do cover most traditional snack items, so you likely won't have to go without your favorites. Whether you're a fan of sweet or salty snacks, there are plenty of appetizing options to choose from.
Maybe you need snacks to send to school with your kids or to get you through the afternoon slump, but regardless, they're an important part of the day. Even when eating three balanced meals, there's a good chance you're still going to need a little something extra.
Be rest assured next time you head to the supermarket that your SNAP benefits absolutely cover snacks and will likely pay for those in your cart.
More From GOBankingRates
Make Your Money Work for You