Fall Begins: Here's How Much Money Pumpkin Spice Products Rake In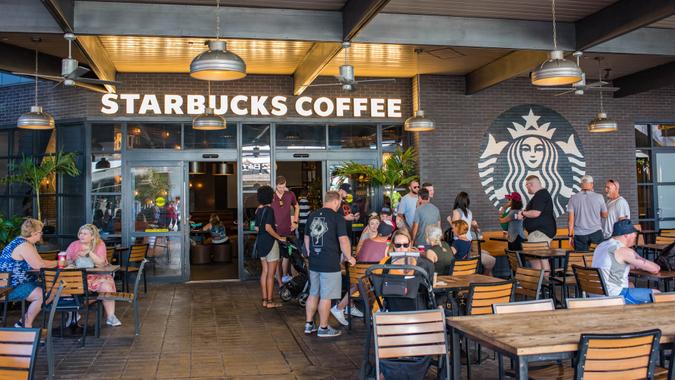 Michael Gordon / Shutterstock.com
Over the past couple of decades, before the leaves even begin turning colors as summer shifts to fall, pumpkin spice begins to pop up wherever you look. Not only the infamous Pumpkin Spice Latte — either loved or hated by many — but in more food items than you can even imagine.
Fall, Fall, Fall: Scenic Fall Road Trip Ideas for a Small Budget
Find Out: 30 Things You Should Never Buy Without a Coupon
Chips, beverages, baked goods, curry, cereal. You can even get Bud Light pumpkin spice flavored hard seltzer this year, pumpkin Cup-o-Noodles and pumpkin Pop-Tarts. Trader Joe's releases a number of pumpkin flavored products every year (though not all of them pumpkin spice), including overnight oats and yogurt. However, they stretch the loyalty of even pumpkin spice fanatics with such products as: pumpkin Alfredo sauce, pumpkin hummus and pumpkin dog treats. You can even scent your home (candles) and your body (lotions) with the fragrance of pumpkin spice.
Though this particular spicy-sweet flavor seems to have been haunting grocery stores and coffee shops forever, in truth, its ascent to popularity began in 2003, according to Ad Age. This was when Starbucks first introduced its Pumpkin Spice Latte (or PSL to customers). The initial tests were a raving success and by 2013, the drink was so popular that individual Starbucks could not keep up with the demand, according to Fast Company. Will this seasonal sensation finally run its course, or is it here to stay? And just how much money are people spending on pumpkin spice-flavored products?
Make Your Money Work for You
Discover: 10 Ways To Pay Less at Starbucks
It Tastes Like a Nearly Billion-Dollar Enterprise
It's no surprise that retailers keep turning out the pumpkin spice and thinking up new products to flavor with it — consumers spent about half a billion dollars on such flavored products alone in the U.S. in 2019, according to Nielsen data. Pumpkin-flavored grocery products reaped $511 million, which was 4.7% more than 2018.
Though coffee companies don't release sales data by flavor, Ad Age worked out an estimate for Starbucks, suggesting the coffee franchise has sold approximately 500 million PSLs alone since the drink first landed in the public's taste buds in 2003. That would be almost 28 million PSLs every year. PSLs don't come cheap — a tall (small) runs about $4.25 and a venti (large) is $5.25 per drink. Of course, other coffee companies soon followed suit, seeing dollar signs, offering their own variation on the PSL: Dunkin', Peet's Coffee and Tim Horton's, to name a few.
Pumpkin spice is so ubiquitous now that Forbes describes it as "the pumpkin spice industrial complex," and it has done nothing but increase in popularity.
Find Out: 40 Money Habits That Can Leave You Broke
Why Is It So Popular?
Those who love their pumpkin spice don't think twice about it, but naysayers might wonder what's so fancy about a combination of cinnamon, ginger nutmeg and allspice that drives people so wild.
Make Your Money Work for You
Kelly Haws, a marketing professor at Vanderbilt University who understands consumers' food decision-making, told Fast Company that the flavor is associated with positive memories for people "around family, the holidays and the fall." The holidays are also when we tend to indulge our sweet tooth, and PSLs, at least, offer plenty of that.
Its popularity might also stem from the short seasonal window in which the flavor is offered, Kara Nielsen, a trendologist for the food and beverage industry told Cooking Light.
Did You Know?: Biggest Product Flops From 20 Major Companies
It's Probably Here To Stay
Whether it trends because of true love for the flavor, from a psychological trick of supply and demand, or its cozy holiday associations, Fast Company predicts the popularity will not ebb any time soon. The research firm Tastewise told Fast Company that consumer interest in pumpkin spice products grew by a hefty 45% between October 2019 and October 2020. And, in that same period, "menu mentions" for those products increased by 221% nationwide.
Make Your Money Work for You
Love it or hate it, you can time the start of fall with the first steaming PSL of the season.
More From GOBankingRates
Last updated: Sept. 23, 2021