These Five-Star Restaurants Are Worth Every Penny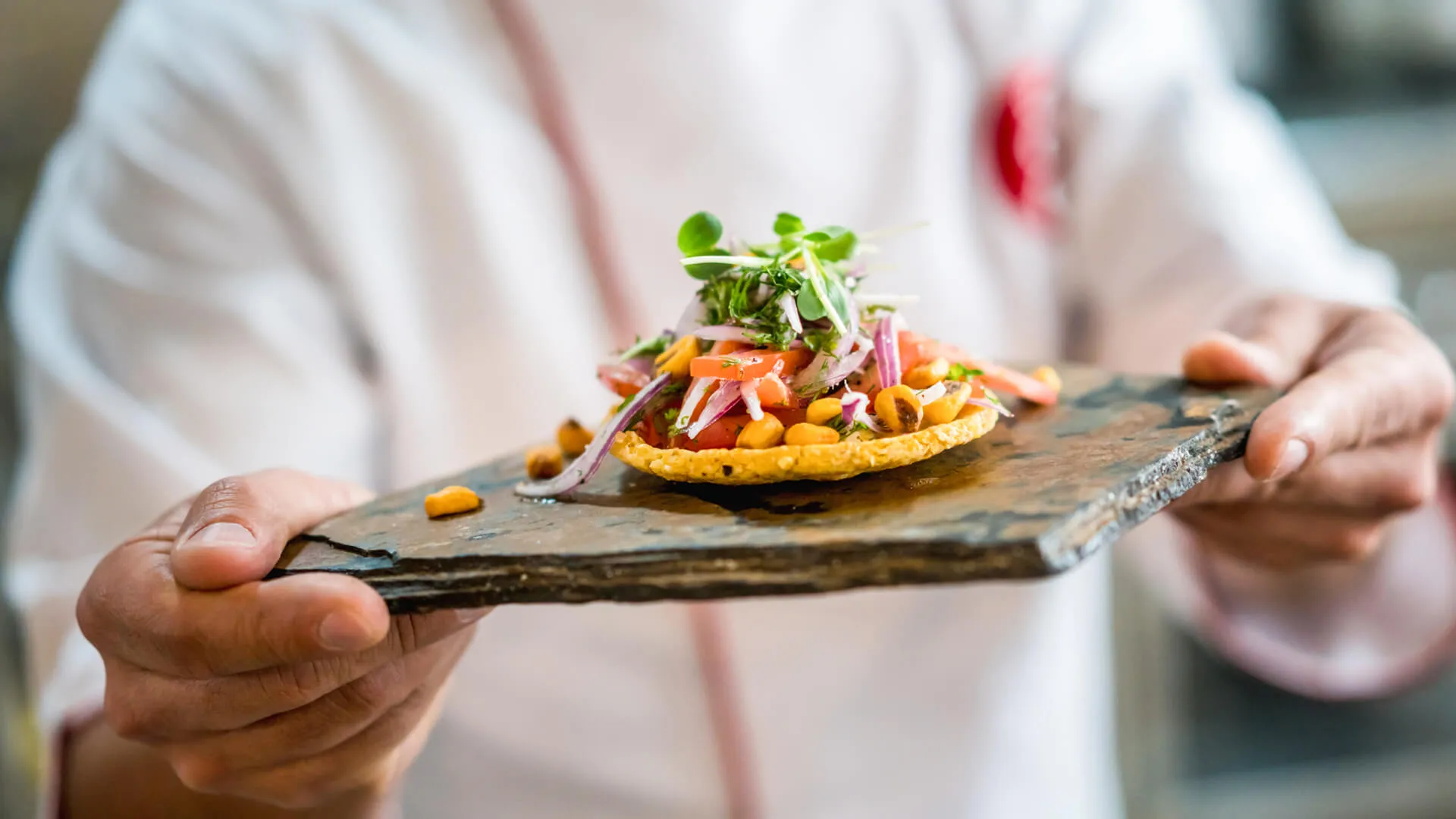 The best restaurants command a significant price for their exquisite dishes. But, there are no absolutes when choosing a top restaurant. Although high ratings can be the mark of a great restaurant, not all ratings are created equal. The New York Times rates on a scale of four stars, while others rate on a scale of five or 10. The highly regarded Michelin Guide awards a maximum of three stars, but even one Michelin star is typically considered more valuable than five from most other sources.
The restaurants on this list — described as "five-star" for lack of another universal term — are all either established destination restaurants, notable players in highly competitive markets or rising regional favorites. The prices quoted are for a multi-course prix-fixe or tasting menus, where available. Chances are, you'll have to boost your net worth if you plan on dining at one of these establishments on a regular basis.
Last updated: March 9, 2020
Alinea
Location: ChicagoPrice: $185 to $390 per person
Parents might tell children not to play with their food, but for many chefs that's exactly how new dishes are created. Chicago's highly regarded Alinea provides a perfect example of this.
Founder Grant Achatz and current executive chef Mike Bagale practice a style of cooking known as molecular gastronomy, using high-tech equipment and techniques to create magical, fanciful dishes. Expect the food to look, feel and taste like nothing you've ever seen before.
Achatz and co-owner and co-founder Nick Kokonas took the unusual step of gutting the restaurant shortly after its 10th anniversary and completely revamping it. The relaunched restaurant, informally referred to as "Alinea 2.0," has kept its three Michelin stars and reputation for staggeringly imaginative food and service. Guests can choose a 10- to 14-course tasting menu for $185 to $270 per person, a 16- to 18-course menu for $285 to $360 per person or a private, immersive experience for $385 to $390 per person.
Make Your Money Work for You
Aquavit
Location: New York CityPrice: $115 to $195 per person
Here's one restaurant you can afford — if you can budget for the rich life.
Aquavit is in its third decade as a mainstay on the New York scene, first gaining national attention in the 90s under Swedish-Ethiopian chef Marcus Samuelsson. Its interpretations of Swedish cuisine have changed — more fusion-oriented under Samuelsson, more New Nordic under his successors — but it remains a top-rated Scandinavian restaurant in the U.S.
The Michelin Guide awarded Aquavit its first star in 2013 and then awarded a second star in 2014 when Emma Bengtsson took over as executive chef. This was a landmark achievement, making her only the second female chef in the U.S. at the time to preside over a two-star restaurant.
Bengtsson, who grew up in a small Swedish fishing village, focuses the menu tightly on its Old Country roots. Expect lots of seafood and sub-Arctic ingredients, all delivered with a light touch that modernizes and elevates the traditional Scandinavian flavors. Diners have the option of a prix fixe menu for $115 per person, a seasonal tasting menu for $145 per person or the chef's tasting menu for $195 per person.
Atelier Crenn
Location: San FranciscoPrice: $335 per person
Chef Dominique Crenn is a native of Versailles, the town where the last French kings gratified their appetites in one of the world's most luxurious palaces. Fine dining has changed in the centuries since the French Revolution, but Crenn's deceptively simple-looking dishes require a degree of elaborate preparation that her predecessors would recognize in a heartbeat.
Her restaurant, Atelier Crenn, creates a deliberately multisensory experience with each dish corresponding to a line on the poetically written tasting menu. The ingredients are not necessarily unusual, but their preparation and presentation decidedly are. The finished dishes blend jewel-like cookery with rustic elements such as wildflowers, leaves and evergreen boughs.
Crenn's unusual artistry has garnered her tremendous acclaim within the culinary community. Michelin awarded her two stars in 2012, making her Atelier the first two-star restaurant in the U.S. with a female chef, and Diners Club named it one of the world's 50 best restaurants.
Make Your Money Work for You
Blue Hill at Stone Barns
Location: Pocantico Hills, N.Y.Price: $258 per person
New York's two Blue Hills restaurants are among the top contenders in the farm-to-table movement. Executive chef and co-owner Dan Barber draws much of the raw material — and inspiration — for his award-winning menus from a Massachusetts farm of the same name, which has been in his family since his grandmother's day.
The restaurant at the Stone Barns, just 30 miles outside of New York City, is situated on a working farm and overlooks the fields and pastures where many of its menu items begin. The restaurant's website displays which ingredients are currently being grown, harvested, foraged or cured on-site. The food, served as a "grazing, pecking and rooting" tasting menu, is consciously designed to showcase the freshness and flavors of the ingredients.
Chef Barber's ambitions go well beyond his own restaurants; he's a prolific speaker and writer on the subject of sustainable agriculture. He shares his perspective frequently in interviews, and at greater length in an episode of the Netflix series, "Chef's Table."
Manresa
Location: Los Gatos, Calif.Price: $295 per person
Manresa's 2015 was a lot better than its 2014. The Bay-area restaurant suffered a serious fire and was shut down for the second half of 2014, but it reopened on the last day of the year with a renewed sense of purpose. The time off seemed to have rejuvenated executive chef David Kinch and his staff, and the accolades for his already-revered restaurant have only grown.
The Michelin Guide rewarded Manresa with a long-awaited promotion from two stars to three less than a year after reopening — a rating they maintain in 2018 — an honor local food lovers had been expecting for years. The Michelin star rating came on the heels of Kinch's James Beard Foundation award: he was named one of the Best Chefs in America in 2010.
Kinch was at the forefront of the now-hot trend of putting vegetables front and center, placing vegetables at the heart of his menu from the restaurant's earliest days in 2002. There is no set menu at Manresa. Instead, dishes are constructed from whatever is freshest and most seasonal on a daily basis. The only constants are world-class creativity and chef Kinch's impeccable technique.
Make Your Money Work for You
Eleven Madison Park
Location: New York CityPrice: $315 per person
Headed by executive chef/co-owner Daniel Humm and chef de cuisine Dmitri Magi, Eleven Madison Park is one of the most-acclaimed restaurants in one of the world's greatest food destinations, New York City. It holds three Michelin stars, and in 2018 held the No. 4 spot on San Pellegrino's list of the world's top 50 restaurants.
The food here is visually striking, beautifully executed and remarkably flavorful, and the service — also crucial to a three-star Michelin rating — is impeccably smooth. The same menu is served at both lunch and dinner.
Whichever sitting you opt for, don't make any plans for the next few hours. The courses come at a leisurely pace, so you can do full justice to each one. Even for a meal that costs just over $300 per person, Eleven Madison Park is a relative bargain when you consider the price includes both tax and gratuity. Eleven Madison Park is one of many restaurants that are doing away with tipping.
Providence
Location: Los AngelesPrice: $100 to $240 per person
Here's one for your vacation in Los Angeles. Southern California has no shortage of noteworthy chefs and restaurants. One of the finest is Providence, where co-owner and chef Michael Cimarusti and his kitchen are responsible for some of the finest seafood available anywhere in the country.
Chef Cimarusti's style combines classic French technique with occasional hints of Asian refinement, but what really sets him apart from his peers is his commitment to sustainability. Cimarusti's aquatic ingredients are all wild-caught and sustainably harvested, and often consist of species — vermilion rockfish, for one — that are otherwise little used.
The menu shows a commitment to maritime sustainability and a sheer virtuosity in preparing the food. The dinner menu consists of multiple tasting menus, each delivering a series of impeccably flavorful small courses. The dining room's vibe is SoCal casual, but the food and service are world-class and have earned Providence a 4.8 out of 5 rating from Zagat and the No. 2 spot in The Los Angeles Times list of Best Restaurants of 2017.
Make Your Money Work for You
The Kitchen
Location: Sacramento, Calif.Price: $135 per person
California's state capital is better known for politics and history than fine dining, but for the past quarter century, The Kitchen has done its best to change that. Randall Selland and wife Nancy Zimmer opened the restaurant in 1991, when its prix-fixe menu and especially its boisterous, interactive service — dinner as performance art, with the chef as emcee — were new and immediately appealing.
Selland stepped aside as chef in 2005. Current executive chef Kelly McCown is a veteran with a long history in fine restaurants, many of them Michelin-starred, and has both the experience and proven creativity to keep the landmark venue fresh and relevant.
The Kitchen was named the best restaurant in Sacramento by Trip Advisor in 2018. The prix-fixe tasting menu is $135 per person before taxes and service charge, with wine available by the glass or in-house or reserve flights to accompany the meal.
Fruition
Location: DenverPrice: $75 to $95 per person
Here's one spot to enjoy a luxurious meal for less. Alex Seidel, the skilled executive chef at Denver's Fruition restaurant, explicitly avoids the pretense of fine dining in favor of a more relaxed, comfort-driven attitude.
Chef Seidel's philosophy is to buy good ingredients and treat them simply, and his elevated comfort food works on every level. The dishes — bistro-style "bavette" steak, lamb loin, monkfish — are mostly familiar, but of excellent quality and beautifully executed.
Food & Wine named Seidel one of its Best New Chefs in 2010, and he's a perennial semifinalist and 2016 finalist in the James Beard Awards' Best Chef Southwest category. The Zagat dining guide calls Fruition Denver's best restaurant for 2016, as well. A five-course "cru menu" here costs $75 per person, and a seven-course "cru menu" costs $95 per person.
Make Your Money Work for You
Frasca Food and Wine
Location: Boulder, Colo.Price: $85 to $115 per person
Frasca Food and Wine, a high-end Italian restaurant and wine bar, has been a mainstay of the Boulder dining scene since it opened in 2004. It's co-owned by award-winning master sommelier Bobby Stuckey and executive chef Lachlan Mackinnon-Patterson, who met while working for Thomas Keller at The French Laundry.
Frasca celebrates the relatively little-known cuisine of Italy's Friuli-Venezia Giulia region. It's arguably the most diverse of Italy's cuisines, incorporating culinary cues from neighboring Austria and the former Yugoslavian states as well as Venice, the regional hub. Frasca's food is rustic but refined, drawing on good-quality seafood as well as locally produced meats and fresh produce.
You can opt for a four-course "quattro piatti" meal for $85 or the full seven-course "friulano tradizionale" tasting menu, which weighs in at a relatively modest $115 per person. Matching it with a flight of wines for an additional $100 is also a bargain, considering that the restaurant is owned by a master sommelier and has a superb cellar. For a real deal, dine on a Monday when the "quattro piatti" menu costs only $55.
Bolete
Location: Bethlehem, Pa.Price: $60 per person
Although New York and San Francisco are uncommonly rich in fine restaurants, great dining can be found in unexpected places and makes lesser-known destinations worth the road trip. One example is Bolete, located in a former stagecoach inn in the historic steel town of Bethlehem, Pa.
It's owned and operated by the husband-and-wife team of chef Lee Chizmar — a native of the area — and Massachusetts-born Erin Shea, who met while working at Boston's acclaimed Great Bay restaurant. The food is proudly farm-to-table, emphasizing locally grown and foraged ingredients, with a healthy dose of fresh seafood. Chef Chizmar's special affinity for mushrooms is evident in the restaurant's name and on the menu.
Critics and food-lovers have blazed a trail to the unpretentious restaurant since its 2007 opening, and Chizmar and Shea have received plenty of love from both. In 2015 Chizmar was a James Beard Award semifinalist, and in 2016 Open Table declared Bolete one of its 100 Best Restaurants for Foodies. It's also been featured on The Food Network's "Best Thing I Ever Ate." The restaurant doesn't offer a prix-fixe option or tasting menu, but a mid-priced appetizer, entree and dessert ordered a la carte will add up to about $60 per person.
Make Your Money Work for You
Antebellum
Location: Flowery Branch, Ga.Price: $50 to $60 per person
Generations of American chefs came of age, professionally, while trying to replicate the fine dining traditions of Europe here at home. In the past few decades attitudes have changed, and now many of the best and brightest prefer to apply those refined techniques to the re-invention of classic American culinary styles.
The South has one of the country's strongest regional cuisines, and Antebellum — in a small town northeast of Atlanta — is a powerful argument for refreshing the tradition. Owned and operated by chef Nicholas St. Clair and wife Alison, Antebellum takes longtime favorites such as shrimp and grits, fried green tomatoes and country fried steak in unexpected but entirely delicious directions.
The food brilliantly blends sophistication and comfort, drawing diners from the greater Atlanta area who come to enjoy the stellar food and small-town ambiance. That enthusiastic feedback earned Antebellum the No. 1 spot on Trip Advisor's ranking of restaurants in Flowery Branch. There's no prix-fixe or tasting menu at Antebellum, but an appetizer, entree and dessert ordered a la carte averages $50 to $60 per person.
Le Bernardin
Location: New York CityPrice: $160 to $225 per person
The original Le Bernardin opened in Paris in 1972 and gained its third Michelin star in 1980. The New York location opened in 1986 to great anticipation, immediately earning three Michelin stars and four stars from The New York Times. The restaurant has maintained that level of excellence since its opening day under the guidance of founding chef Gilbert Le Coze, his protege Eric Ripert and now the current executive chef Eric Gestel.
Le Bernardin has a simple and unwavering focus on being the very best seafood restaurant there is. The fish and shellfish are of the highest quality and responsibly sourced, and their natural flavors are brought out by the simple, skillful, uncluttered presentation of each dish.
The four-course prix-fixe menu at $160 per person is memorable, and relatively affordable when compared to other Michelin-starred restaurants, but the restaurant also offers three tasting menus: the "Le Bernardin Tasting" at $187 per person, the "Chef's Tasting" at $225 per person and a "Vegetarian Tasting" at $170 per person.
Make Your Money Work for You
Oberlin
Location: Providence, R.I.Price: $50 per person
Chef Benjamin Sukle and wife Heidi opened Oberlin in 2016, and it was named one of the year's 10 best new restaurants by Bon Appetit magazine. It's the kind of attention that should push Sukle, a 2018 James Beard Award semifinalist, into the national limelight.
The food at Oberlin is built around the freshest of local seafood, often rarely used species, purchased directly from local fishermen. Sukle prepares the dishes in classic-but-modern Italian style, with unexpected ingredients such as sunchokes popping up alongside the house-made pasta.
Standouts include the whole roasted fish — the variety changes seasonally — and the raw fish, a longstanding if little-known Italian tradition paired logically, if unconventionally, with a fine selection of sake. There's no tasting menu here, but five courses are an outright bargain at an average of about $50 per person.
Chez Panisse
Location: Berkeley, Calif.Price: $75 to $125 per person
For serious foodies, a trip to Chez Panisse is more than a night out: It's a pilgrimage to the place where American fine dining found its rebirth. Founded in 1971 by Alice Waters, then a feckless 27-year-old without restaurant experience, Chez Panisse was ground zero for the concept of basing a menu around fresh, local and sustainable ingredients.
This was nothing new for European chefs, but in the United States of the early 1970s it was a revelation. Aside from the restaurant's focus on quality ingredients, Chez Panisse brought a fresh and very American perspective to classic European dishes and techniques, reinterpreting and often completely reworking them.
Over the years Waters has shared the Chez Panisse limelight with a number of talented chefs — currently Amy Dencler and Jennifer Sherman — who have kept the menus fresh and modern. The prix-fixe menu changes nightly, at prices ranging from $75 per person on Mondays to $125 per person on Friday and Saturday evenings.
Make Your Money Work for You
The Modern
Location: New York CityPrice: $168 to $228 per person
If your interest in the culinary arts is matched by your interest in other art forms, The Modern might already be on your bucket list. Located in New York City's Museum of Modern Art, the restaurant is set among sculptured masterworks in an open-air garden. Executive chef Abram Bissell delivers modern fine dining with superb flavor and visual appeal.
The menu is offered on a prix fixe basis, with your choice of four courses at $168 per person or eight courses at $228 per person. The more casual Bar Room offers a simpler but still striking a la carte menu. The Modern's cellar is the stuff of legend, with a master sommelier presiding over a list of 3,000 individual wines.
The restaurant holds two Michelin stars, and its wine cellar earned it a Grand Award from Wine Spectator in 2016. The Modern is also part of Danny Meyer's Union Square Hospitality Group and, like the company's other restaurants, no longer accepts tips.
Joël Robuchon
Location: Las VegasPrice: $445 per person
If you want to experience the full, no-holds-barred experience of eating at a restaurant helmed by a Michelin-starred chef, you don't need to fly to Paris or another of Europe's great capitals. Instead, buy a ticket to the foodie-friendly city of Las Vegas and make reservations at Joël Robuchon's namesake restaurant at the MGM Grand Hotel and Casino.
For food lovers, Robuchon stands out even among his peers, the very finest chefs in the world.
The restaurant's designers built an Art Deco Parisian townhouse right inside the hotel, and everything — from the tableware to the personalized menus — is equally opulent. Then there's the food, a procession of courses executed with a combination of vivid imagination and surgical precision. At over $400 per person, it's an unquestionably extravagant meal, but still less than the cost of a trip to Paris.
Make Your Money Work for You
L'Espalier
Location: BostonPrice: $98 to $208 per person
Boston has its share of high-end restaurants, but for decades its standard-bearer has been L'Espalier. Opened in 1978, this fine dining establishment's signature marriage of New England ingredients and French technique continues to appeal to local and visiting diners.
Longtime chef and proprietor Frank McClelland isn't the only star here. Tea sommelier Cynthia Gold provides tea pairings for diners and works with the kitchen and bar staff to incorporate tea into L'Espalier's dishes and cocktails.
The restaurant underwent a significant makeover in late 2016, refreshing itself physically with a new wine bar in its salon space and replacing the long-standing three-course prix-fixe menu with tasting menus. You can get five courses for $98, eight courses for $118 — with vegetarian options — or a freewheeling chef's tasting menu at $208 per person.
The Willows Inn
Location: Lummi Island, Wash.Price: $225 per person
The Willows Inn is almost as far north and as far west as it's possible to get in the Pacific Northwest. It's a tiny seaside hotel located on Lummi Island, just south of the Canadian border and only accessible by ferry. Since 2012 it has become one of the West Coast's hottest culinary destinations, thanks to chef Blaine Wetzel.
A Washington native, Wetzel came to the Willows after working for chef Rene Redzepi at Copenhagen's Noma, frequently hailed as the best restaurant in the world. Wetzel brought home Redzepi's passion for foraging wild ingredients, and Willows' menu is drawn largely from the island's woods and waters. Much of the rest comes from the Inn's own farm, or from partnerships with other local growers.
The food itself is deceptively simple, keeping its focus on the quality of the ingredients, with an ever-changing tasting menu at $225 per person. The surroundings are also spectacular, and it's worth spending a night at the inn to enjoy the island's peaceful vibe.
Make Your Money Work for You
Erna's Elderberry House
Location: Oakhurst, Calif.Price: $112 per person
New York Times food critic Craig Claiborne's 1987 review of Erna's Elderberry House called it "one of the most elegant and stylish restaurants in the nation," and it remains well worth a trek into the mountains. It's nestled in the Sierras in the community of Oakhurst, just south of Yosemite.
Vienna-born owner Erna Kubin-Clanin opened the restaurant in 1984 and later created a boutique hotel, Chateau du Sureau, to complement it. The food is modern, pairing Provencal style with local ingredients and an Old-World level of service. The five-course prix-fixe menu is $112.
Given its natural setting, the beauty of the property itself, the quality of the food and the proximity to Yosemite, Erna's works as either a culinary destination in its own right or as a memorable part of a larger California vacation.
Quince
Location: San FranciscoPrice: $275 per person
You might never eat the same thing twice at Quince, which rotates its contemporary California tasting menu every night. But you'll always be served the freshest produce: The restaurant has a partnership with Fresh Run Farm, an organic farm in Bolinas, Calif., that grows fruits, vegetables and flowers exclusively for Chef Michael and Lindsay Tusk's restaurants, Quince and Cotogna.
Although Quince is pricey at $275 per person for a 10-course tasting menu, the venue isn't short on accolades. Chef Michael Tusk was named one of the Best Chefs in America by the James Beard Foundation in 2011, and Quince is the recipient of three Michelin stars. The restaurant was also named one of the San Francisco Chronicle's Top 100 Restaurants of 2018.
Make Your Money Work for You
Coi
Location: San FranciscoPrice: $275 per person
Chef Erik Anderson is the creative mind behind the menu at Coi, which is located in the North Beach neighborhood of San Francisco. The seafood-centric cuisine served at Coi was lauded by the Michelin Guide for its blend of visual artistry and precise culinary technique — a mix that earned the restaurant a rare three-star rating.
Coi also earned 4.5 stars from Zagat, which describes the food as "cutting-edge" and "worth emptying your wallet" for.
The 10-course $275 tasting menu rotates but could include dishes such as canapés, a foie gras tart, duck royale and huckleberry cheesecake. A traditional wine pairing can be had for an additional $180, while the "Grand Adventure" wine pairing costs an additional $600.
More From GOBankingRates
Gabrielle Olya contributed to the reporting for this article.