Food Stamps: Change to Asset Limit Exclusion Could Make Millionaires Eligible for SNAP Benefits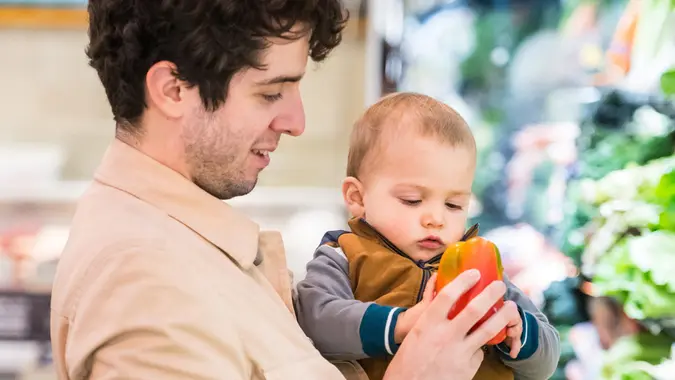 Juanmonino / iStock.com
Qualifying for Supplemental Nutrition Assistance Program (SNAP) benefits in Michigan has become easier thanks to a change made on Wednesday. Signed by Governor Gretchen Whitmer, Senate Bill 35 gets rid of the state's asset test for SNAP benefits. Like in the other 36 states that don't have the test, residents may now qualify as long as they don't exceed the SNAP income limits based on their household size. Opponents claim the move could make millionaires eligible for benefits.
The asset test had been in place since 2011, according to Michigan Radio. Whitmer raised the limit from $5,000 per household to $15,000 per household in 2019. While the state allowed for an exclusion for a household's primary home, counted assets included bank accounts, other properties, investments, cash and certain trusts.
This rule left Michigan residents with a tough choice if they otherwise qualified based on earnings. In a Twitter post, Whitmer stated, "It's simple: no one should be forced to sell their car or empty their savings account to feed themselves and their families."
Whitmer emphasized how the asset test's removal would help more needy families get food assistance. However, some opponents have concerns that it will open the door to allowing benefits to go to the wealthy. State Rep. Matt Hall (R-Richland Township) expressed, "Without this test measuring people's wealth, even lottery winners and other millionaires could rake in food stamps paid for with our tax dollars that should be going to those who truly need help feeding their families," in a press release on the Michigan House Republicans website.
Make Your Money Work for You
Although Michigan SNAP applicants won't have to worry about their assets disqualifying them, they will still need to meet the state's residency requirements and countable income limits for their household size. The state considers both earned income from a job or self-employment and unearned wages such as Social Security payments, unemployment benefits or rental income.
Applicants who may be eligible for SNAP after the asset test removal can apply online through MI Bridges to learn about their eligibility. The state will look at household income and expenses to calculate the monthly benefit. The maximum SNAP benefit amount varies based on the household size and is adjusted annually to account for inflation .
More From GOBankingRates