Food Stamps Survey Reveals Americans Are Torn on SNAP Eligibility Requirements — What Are They Currently?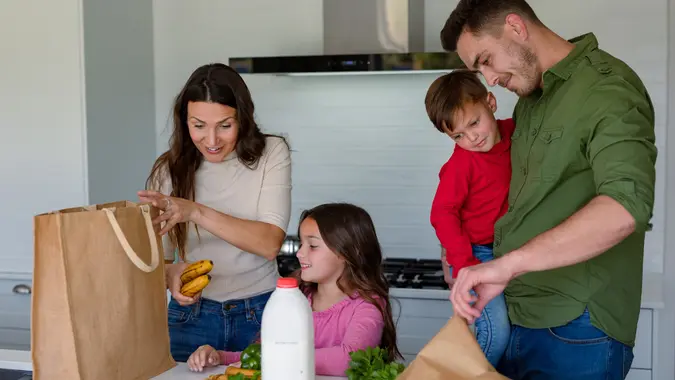 Wavebreakmedia / iStock.com
The Supplemental Nutrition Assistance Program (SNAP), previously called food stamps, is the nation's most important anti-hunger program. According to a new YouGov poll of 1,000 Americans regarding eight entitlement programs, there is a divide on whether or not SNAP eligibility requirements should be stricter (29%), less strict (27%) or remain the same (29%).
Food Stamps: How Ending SNAP Emergency Allotments Could Hurt Businesses
Explore: 3 Ways Smart People Save Money When Filing Their Taxes
While two-thirds of Americans have a favorable view of SNAP (67%), it's more significantly popular among people and families who receive benefits (86%). When it comes to the program's funding, the YouGov poll revealed that 40% of Americans believe that SNAP should receive additional resources.
SNAP was also more favorable among Democrats (78%) than it was among Republicans (67%) and Independents (59%). Additionally, Democrats (55%) are more than twice as likely as Republicans (27%) to support increased SNAP financing.
Per the U.S. Department of Agriculture (USDA), state SNAP agencies determine eligibility to receive SNAP benefits. Under federal guidelines, a household's income and resources must meet these criteria:
The household's gross monthly income, which is household income before the deductions are applied, must be at or below 130% of the federal poverty line. For a family of four, the gross monthly income of 130% of the poverty line is $3,007 for fiscal year 2023. Gross income limits are higher for Alaska and Hawaii.
Net income, which is household income after deductions are applied, must be at or below the federal poverty line.
Assets must fall below certain thresholds. Households can have $2,750 in countable resources, like money in a bank account, or $4,250 in countable resources if at least one member of the household is age 60 or older or is disabled.
Make Your Money Work for You
See: 1 in 5 Americans Buying Groceries at Dollar Stores, New Research Shows
Find: The Best Day of the Week To Go Grocery Shopping
In order to receive SNAP benefits, each household must meet specific eligibility criteria, which for the most part are set at the federal level. However, states have the option to make adjustments. Most families who meet the program's income requirements are considered eligible, as previously reported by GOBankingRates, and the size of a family's monthly SNAP benefit is based on income and some expenses.
More From GOBankingRates
Make Your Money Work for You