11 Frozen Foods To Stock Up on at Target for Busy Fall Days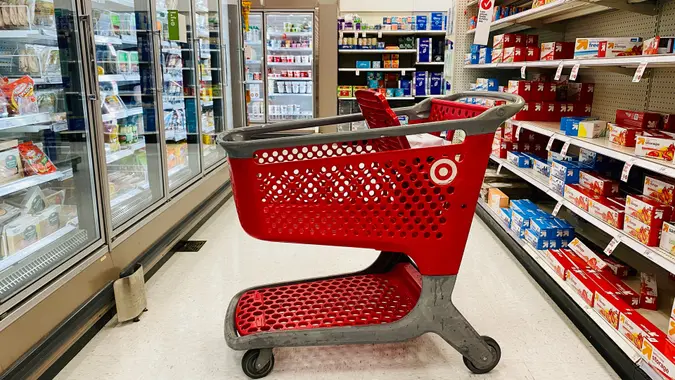 ZikG / Shutterstock.com
Well into fall, the days are getting shorter, but that doesn't translate to a lighter schedule. Between the early school bus and football practice for the kids, your hectic work calendar, and starting to prep for the upcoming holidays, who has time to cook hearty meals?
Fortunately, the Target freezer section has some finds to help you out at breakfast, lunch, dinner, and even snack time. Here are 11 of the best frozen foods at Target to keep on hand to help you on these jam-packed fall days.
Good & Gather Frozen Waffles
You don't have to skip breakfast, even if you're running late.
"When you want something hot for breakfast or a snack, you can't beat these waffles," said Julie Ramhold, consumer analyst with DealNews.com. "For about $2, you can get them in homestyle and buttermilk varieties, and they're a quick fix that's perfect when you don't have time to make them from scratch."
Tattooed Chef Frozen Buffalo Cauliflower Mac & Cheese
Kyle James, the founder of Rather-Be-Shopping.com, is a father of three who has a Target list full of frozen items for both the adults and kids in the house. High on his list is this cauliflower macaroni and cheese.
"This is a splurge lunch for me as it's a bit high in sodium and saturated fat, but it's delicious," James said. "We all deserve a little cheat meal from time to time, right?"
Make Your Money Work for You
Good & Gather Pork Bao Buns
"If you don't want to spend the money on takeout, these are a good option to keep in your freezer," Ramhold said. "You can pair them with other items to make a full-blown meal or just have them as a snack."
Gorton's Frozen Breaded Minced Fish Sticks
To James, these fish sticks offer both good value and good taste.
"The classic quick, busy schedule, family meal. I mean 44 sticks for a little over seven bucks is hard to beat," he said. "Throw in some fries and a microwavable veggie and you have a quick and delicious meal ready in about 15 minutes."
Good & Gather Four Cheese Gnocchi
Maybe some gnocchi to accompany those fish sticks?
"A bag of this is roughly four servings, so it's good for a quick side dish, although you can make it into a meal on its own, too," Ramhold said.
Delimex White Meat Chicken Corn Taquitos Frozen Snacks
"My 17-year-old daughter has about an hour between school ending and basketball practice starting this fall, and these taquitos are her go-to for a quick and yummy snack that holds her over until dinner," James said.
Good & Gather Petite Quiche Collection
Individual quiches also make an ideal easy meal.
"A box of these mini quiches includes 12 in three different flavors — three cheese and onion, spinach and swiss cheese, and mushroom and pepper. Not only are they good for an easy brunch item on the weekends but they're also perfect for those nights when you want breakfast for dinner," Ramhold said. "Pair them with some frozen hashbrowns, and it's a small but comforting meal good for any time of day."
Make Your Money Work for You
Gardein Ultimate Frozen Plant-Based Chick'n Filets
Target has plenty of options for families that don't serve meat.
"For the vegan crowd these are definitely pleasers," James said of this plant-based item. "Amazingly, they actually taste like chicken and with 23 grams of protein, they're a no-brainer."
Good & Gather Fettucine Alfredo
"Pair this with Good & Gather organic chicken strips and you have a relatively quick and easy chicken alfredo for dinner," Ramhold said. "Add some garlic bread, and make a small salad if you want, and it's a full comforting meal that should be easy to throw together after a long, busy day."
Good & Gather Frozen Broccoli Florets
Broccoli commonly is served along with alfredo dishes.
"[This is] our go-to veggie for busy weeknights," James said. "Throw the bag in the microwave for 5 1/2 minutes and amazingly you get what tastes like fresh broccoli. No more of that soggy, tasteless, nasty frozen veggies I used to choke down as a kid. Sprinkle on a little olive oil or parmesan cheese and you really have something good."
Good & Gather Zucchini Spirals in Brown Butter Sauce
Here's a way to make veggies more enjoyable for the kids.
"This is a super convenient item that's also great for those sticking to low-carb diets," Ramhold said. "It also has butternut squash and baby spinach in it, so you're getting more than just zucchini, and you can add the same chicken mentioned above for protein for an easy and filling meal."
Make Your Money Work for You
More From GOBankingRates