Hot Dogs, Chicken and More BBQ Foods Now Have Mega-High Prices, Thanks to Inflation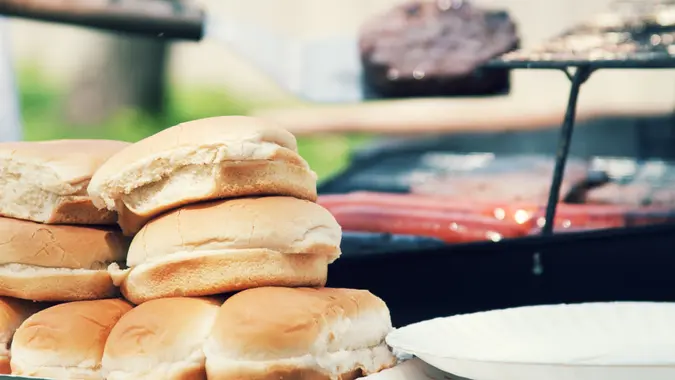 SchulteProductions / Getty Images/iStockphoto
The summer of 2022 got off to a very expensive start as shoppers paid an average of 9.1% more for goods and services in June than they did at the same time last year. According to CNBC, inflation rose even faster last month than the already high 8.8% that analysts had predicted.
That adds yet another month with 40-year-high inflation to the tally — prices haven't risen this quickly since 1981.
Fuel and food are by far the biggest culprits. When you remove them, the core inflation rate falls to 5.9%. But gas and grilling are the stuff of summer, so if you've noticed that your backyard cookouts are getting more expensive, it's not your imagination. 
The good news is, many analysts think that inflation has finally peaked, according to The New York Times, and while you can still expect to pay more for many of your favorite summer foods, there is some evidence that relief is imminent.
First the Good News: The Meat Department
Grilling season started with a meat crisis when cyber criminals attacked the largest meat producer in the world, JBS USA, which accounts for as much as one-fourth of America's daily cattle harvest, just as Memorial Day weekend was getting underway.
Meat prices were already high when the attack sent them higher, but the market has caught up — meat is one of the only silver linings in the June Consumer Price Index (CPI) report from the Bureau of Labor Statistics (BLS).
Make Your Money Work for You
Prices for roasts, steaks and ribs rose by only 0.1% between May and June — a barely noticeable blip — and the price of pork chops is actually down by a hefty 1.4% on the month.
Chicken and Seafood Prices Are Still Rising Fast
The cost of chicken is up by a brutal 18.6% compared to this time last year. Prices rose by a high 1.7% since just last month. While the price of fresh fish and seafood dropped a little last month — -0.4% — the price of all other seafood categories rose. All in all, the price of seafood in general has risen by 11% since last June.
Hot Dogs Are Becoming Appreciating Assets
In the summer of 2020, meat prices were sky-high thanks to a virus-induced shortage. But even as prices began to fall back down in the rest of the meat aisle, the cost of hot dogs kept going up and they're still rising today — but that's nothing new. According to the Official Data Foundation, hot dogs experienced an average of 2.52% inflation between 2016-2021 compared to 2.01% overall inflation over the same five years. Year after year, franks get more expensive more quickly than most other goods — food or otherwise.
Now it's mid-summer 2022 and nothing has changed. The price of hot dogs rose by a whopping 4.8% between May and June alone. Franks are up by a bruising 16.3% compared to this time last year.
It's Not Just What You're Eating — It Costs More To Drink Now, Too
For many revelers, it's not a barbecue until someone breaks out the adult beverages — and you can expect that, too, to cost you more this year. According to the CPI, the cost of beer is up 0.8% over last month and wine rose by 0.5%. The good news is that the price of spirits barely rose at all and the price of whiskey actually dropped a little. 
Make Your Money Work for You
Non-alcoholic beverages rose last month by 0.9%, which brings the rate to 11.9% for the year.
Don't Forget About Higher Price Tags on Other Summer Staples
The main ingredients of a great cookout get all the press, but don't forget about the smaller stuff — it all adds up. 
Cheese: According to the CPI, the cost of cheese rose by 1% over last month and 9.7% on the year. 
Condiments: Olives, pickles and relishes are 0.9% more expensive than last month and 12.6% pricier than last summer. Spices, seasonings, condiments and sauces are up 0.9% on the month and 12.2% on the year. 
Plastic and paper products: The price of napkins, paper towels, paper plates and other paper products rose by a very high 2.2% on the month for a total of 9.4% on the year.
More From GOBankingRates