Celebrate Mardi Gras With These Delicious King-Cake Inspired Recipes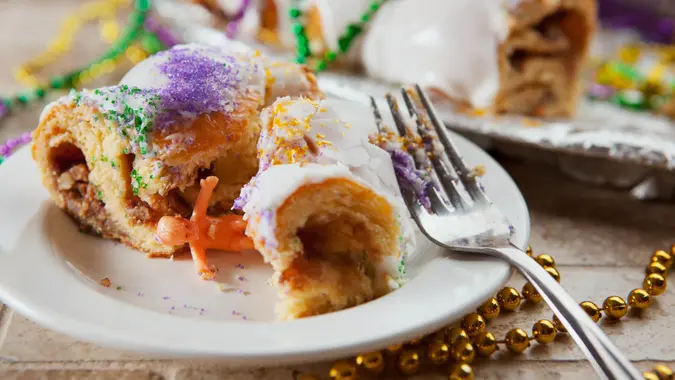 ©Shutterstock.com
In honor of Mardi Gras season — which reaches its peak on Fat Tuesday, March 5 — we've put together a list of five king-cake inspired delights, sans the cake.
If you aren't quite sure what a king cake is, Southern Living sums it up best: "King cake is made of a rich, brioche dough and a wide array of fillings… But the rainbow magic is found in the glaze and sprinkles… The colors of the icing (and royal colors of Mardi Gras) have a deeper meaning. Gold represents power, green is associated with faith, and purple illustrates justice… Buried inside the batter is a tiny, plastic baby figurine [possibly representing baby Jesus]. … The lucky individual who scores the piece of king cake with the baby inside is said to gain favor."
Whether you're in the mood for a celebratory cocktail, an award-winning cookie or a sweet treat available only in New Orleans, you won't need to look any further for the perfect Mardi Gras recipe — with or without a lucky baby.
Try This: Indulge Your Snack Fix With Some Cajun Cheesy Chicken Dip
1. King Cake Cheese Ball
This King Cake Cheese Ball recipe from Dip Recipe Creations is a sweet, not savory, take on the cheese ball — in keeping with some of the most common flavors found in various king cake treats: cinnamon, vanilla and cream cheese. It's an affordable treat that should cost you less than $10, depending on which brand of vanilla wafers or cream cheese you pick up.
Make Your Money Work for You
To make your cheese ball, you'll need to use an electric mixer to combine cream cheese and butter and then slowly add powdered sugar. Next, mix in brown sugar, cinnamon and vanilla extract. Then, spoon the mixture into the center of a piece of plastic wrap and gather up the sides of the plastic wrap so that the mixture forms into a ball. Twist the gathered edges of the plastic wrap together and secure before placing in the fridge to set.
Once set, unwrap the cheese ball, place on a serving platter and sprinkle with gold, green and purple sugars for a festive king cake-inspired touch. Serve with vanilla wafers or graham crackers.
Treat Yourself: 12 Pricey Restaurant Meals You Can Make at Home for Less
2. Purple, Green and Gold Cocktail
For a festive king cake-inspired drink, you'll need a king cake-flavored vodka. This recipe from A Mountain of Crushed Ice calls for the Lucky Player King Cake Vodka, which can be hard to track down. But plenty of other festive brands are out there, including Taaka King Cake Vodka, which retails for $6.31 per bottle at Specs.
Make Your Money Work for You
To make this drink, combine the flavored vodka with sugar cane syrup, fresh lime juice, grapefruit juice and pineapple juice. Shake hard with ice, strain, pour into a sugar-rimmed glass and garnish with mint leaves. If you want a little extra sparkle with your drink, Dell Cove Spices sells this Mardi Gras sugar rimming set for $18.95 with 2 1/2-ounce tins of purple, green and gold sugar. Each tin will rim 50 martini glasses or champagne flutes.
See: Budget-Friendly Recipes From 10 Celebrity Chefs Like Gordon Ramsay
3. Pecan Praline King Cake Cookie
"The marriage of the pecan praline and the beloved king cake wrapped into a bite-sized explosion of happiness" is how Aimee of Aimee Broussard describes these Pecan Praline King Cake cookies. Although this special Mardi Gras food might be a little labor-intensive to make, Aimee promises they are so worth it. In fact, she won a Dixie Crystals Cookie Bake-Off with these treats.
The cookies contain ingredients such as cinnamon, vanilla, honey and lemon, whereas the rich pecan praline topping is comprised of just what you'd expect, including butter, brown sugar, evaporated milk and pecan halves. To add that king cake look, finish off the cookies by dusting the praline topping with green, gold and purple sugar. Broussard likes to mix the sugars together in a ramekin first to get the perfect ratio of each color before sprinkling.
You can up your decorative game with a $12 jar of king cake sprinkles from Fancy Sprinkles, too.
4. Quintin's Natural King Cake Ice Cream
If you've indulged too much to trust yourself with a recipe — and you happen to be in New Orleans — we've included this cool confection as a bonus: Quintin's Natural King Cake ice cream, one of owner Quintin Quinlivan's seasonal flavors.
To create his king cake-inspired confection, Quinlivan whips up loaves of fresh brioche cake, cuts each loaf into small pieces and cooks the pieces in the oven to make croutons. Then, he mixes the cake croutons into his caramel and cinnamon-flavored ice cream.
But that's not all. Quinlivan also tucks an edible royal icing baby into the top of each pint, offering the Mardi Gras tradition of a king cake-like reveal once the lid is removed. Quintin's Natural King Cake ice cream can be found around the Big Easy at Whole Foods and local groceries, such as Robert Fresh Market, where seasonal pints retail for $5.29 each.
Want to Splurge? Check Out This $120 Giant Ice Cream Sandwich Cake
Click through if you want to make one of these or another treat and need ways to save hundreds on groceries.
More on Food