The Most Popular High-End Restaurant in America's 50 Largest Cities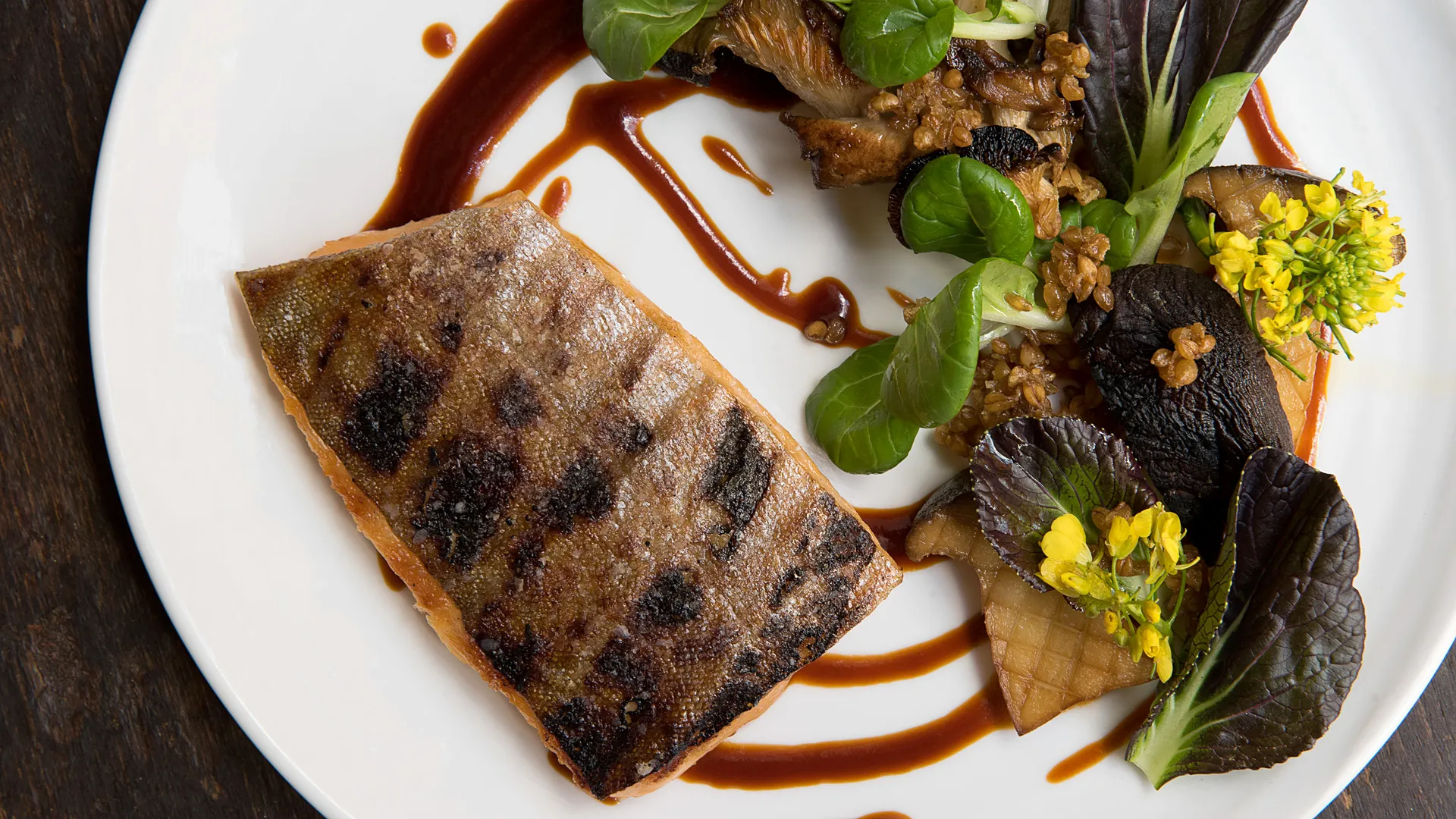 Every city has at least one exclusive restaurant worth its hefty menu prices. Anything but your average meal, these eateries are the perfect setting for a special occasion.
GOBankingRates consulted Yelp to find the highest-rated high-end restaurant in each of America's 50 largest cities. If you're planning a memorable night out, these high-class hot spots won't disappoint. Click through to see 50 restaurants sure to satisfy even the most discerning food snob.
Albuquerque, N.M.: Vernon's Speakeasy
Anything but your average steakhouse, Vernon's Speakeasy in Albuquerque is a truly unique experience. The 2017 OpenTable Diners' Choice award winner is a romantic spot that remains a secret from many locals.
Now that you know it exists, make a reservation and get the password that grants you entrance. Start your evening off with a $13 spiced mango mojito and an order of $16 baked brie. Continue with the 16-ounce black and blue New York strip steak for $45 or the $28 salmon bruschetta.
Atlanta: Bones
If you want top-notch elegance in Atlanta, make a dinner reservation at Bones in Buckhead. The Best of Atlanta Steakhouse Award recipient 16 years and running is a fancy place, so dress your best.
Prices aren't available online, but then again, it's probably a good idea to budget generously for the Scotch-smoked salmon or Wagyu carpaccio crisp appetizers. Several varieties of steaks and chops are available, including a 20-ounce dry-aged bone-in rib-eye and the 22-ounce loin lamb chops.
Make Your Money Work for You
Austin, Texas: Uchi
A Japanese restaurant by 2011 James Beard Foundation Best Chef Southwest winner chef Tyson Cole, Uchi is anything but standard Texas fare. Neither takeout nor delivery is available at this Austin restaurant, so dress your best and pull up a chair at the sushi bar or opt for the upscale chic dining room.
Beyond a full sushi menu, the restaurant offers inspired dishes such as Hama chili for $18.50 and gyutoro yaki for $24. Several market price tasting menus are also available, including a 10-course chef's tasting, a six-course signature tasting and a six-course vegetarian tasting.
Baltimore: Charleston Restaurant
Situated on the water in Baltimore's Inner Harbor, the Charleston Restaurant is a stunning picture of elegance. The makings of co-owners Cindy Wolf and Tony Foreman — who also serve as executive chef and wine director, respectively — this eatery is anything but a tourist trap.
The unique prix fixe menu puts you in control of your meal, as you're able to choose from three to six courses, and opt for an additional wine pairing. Prices start at $79 for a three-course dinner — $135 with wine — and tap out at $124 for a six-course meal — $212 with wine. The menu changes often, but expect to have your choice of delicacies like rich lobster soup with curry and Maryland lump crab cake.
Boston: The Capital Grille
Bostonians can't get enough of The Capital Grille in the city's Back Bay neighborhood. Located in the Hynes Convention Center, the tasteful setting is perfect for a special meal.
Get started with a $13 Capital Cosmopolitan and continue with a $10 cup of New England clam chowder. For the main event, you can't go wrong with the $50 Gorgonzola and black truffle crusted dry-aged bone-in New York strip or the market price fresh Maine lobster.
Charlotte, N.C.: Del Frisco's Double Eagle Steak House
A sleek steakhouse with sweeping views of the South Park area, Del Frisco's Double Eagle Steak House is a class act. Filled with classic entree options like the $59.50 24-ounce prime porterhouse and $38 crab cakes, the menu doesn't disappoint.
Since it's a chain, the restaurant has a Rare Rewards program that allows you to earn points for every dollar you spend. In addition to the savings, you'll also get exclusive VIP rewards.
Make Your Money Work for You
Chicago: Alinea
Founded in 2005 by chef Grant Achatz and Nick Kokonas, Alinea is among an elite few restaurants to earn a Michelin three-star rating. The Lincoln Park restaurant offers three dining experiences, ranging in price from $175 to $385 per person, plus service and tax.
The seasonal tasting menu includes 16 to 18 courses in the pricier part of the restaurant — the kitchen table and the gallery — and 10 to 12 courses in the comparably more affordable salon. Menu items change regularly, but have included unique dishes like lily bulb, rambutan and a distillation of caviar with lime and an apple dessert that featured a helium balloon made from grapes.
Cleveland: Red, the Steakhouse
Conveniently located across the street from Quicken Loans Arena, Red, the Steakhouse is the perfect place for a fancy pre-game dinner. Prices aren't listed on the restaurant website, but a menu picture posted to Yelp highlighted offerings like the $17.90 tuna tartare and $14.90 crisp chili calamari to start. For the main event, consider the 16-ounce rib-eye for $45.90, customized with house-made gravy for an additional $2.90.
Colorado Springs, Colo.: Penrose Room
Refined elegance at its finest, the Penrose Room in Colorado Springs offers picture-perfect glamour. Part of The Broadmoor resort, formal attire is required at this sophisticated hot spot.
Choose from a variety of menu options, including the three-course ($87), four-course ($98) and the chef's tasting menu ($138) or ($218) per person with wine. Wear your dancing shoes, because you'll enjoy live music after your meal.
Columbus, Ohio: The Refectory Restaurant and Wine Shop
Originally a church, the building that houses The Refectory Restaurant and Wine Shop was constructed in the mid-1800s. This French restaurant's delicacies run the gamut from $12 roasted goat cheese to $125 Russian Ossetra caviar. Main events include $37 roasted duck breast and $49 whole Dover sole, with separate menu options for kids.
Dallas: Frank
Hosted by "MasterChef" Season 2 finalists Jennie Kelley and Ben Starr, Frank is an underground, private dinner party. Score an invite by joining the restaurant's mailing list and crossing your fingers that you'll be selected to make a reservation in the random lottery drawing.
Delightfully casual, Frank is typically held at a private home within 10 minutes of downtown Dallas and usually has a suggested donation of $150 per person. Each event has a theme attached to a unique menu. Past offerings have included lobster mac 'n' cheese and Cap'n Crunch bacon ice cream.
Denver: The Capital Grille
Anything but your average chain, The Capital Grille is a fine dining establishment with a top-tier wine collection. Conveniently located near the Center for the Performing Arts and Larimer Square, this classy restaurant is perfect for a power lunch or a special night out.
Start your meal with $17 prosciutto-wrapped mozzarella, or an $11 kale salad, before digging into a $53 22-ounce bone-in rib-eye or $44 sea scallops. Share a side of $11 creamed spinach, so you have room for a piece of $10 flourless chocolate espresso cake, handmade in-house.
Detroit: London Chop House
Going strong since 1938, the London Chop House is a Detroit institution. Located downtown, James Beard once declared it one of the 10 best restaurants nationwide.
Feast on a variety of scrumptious dinner offerings, including the $59 35-day dry aged 14-ounce rib-eye and $25 Faroe Island salmon. When you're done, stop into the adjoining LCH Cigar Lounge for an after-dinner cigar and cocktail.
El Paso, Texas: Ruth's Chris Steak House
Filled with contemporary elegance, Ruth's Chris Steak House is the place to get your red meat fix in El Paso. Prices aren't listed on the menu, but prepare to pay top-dollar for delicious offerings, including the New York strip steak, Chilean sea bass and spicy shrimp.
Order a delicious cocktail, such as the Big Easy Hurricane or the Gambler's Old Fashioned. Save room for dessert, because creme brulee is on the menu.
Fort Worth, Texas: Lonesome Dove Western Bistro
Owned by "Restaurant Startup" co-host, chef Tim Love, national spokesman for Hellmann's Mayonnaise and Thomas' English Muffins and Bagels, the Lonesome Dove Western Bistro should be on your radar. Located in the Stockyards National Historic District, the eatery's distinctively Western flavor is present in everything down to its rustic chic décor.
Feast on gourmet comfort food, like $12 kangaroo carpaccio nachos and $28 chicken fried steak. Complete your meal with an inventive cocktail, such as the Texas Jewel or a Cold Toddy.
Fresno, Calif.: Trelio
If you're planning an extra special dinner out, head to Trelio. Located about 15 minutes from Fresno in Old Town Clovis, Calif., this intimate spot is helmed by chef Michael Shackelford and sommelier Chris Shackelford.
The menu changes often, but expect to see appetizers like $12 chicken liver mousse. For entrees, you might consider the $18 wild mushroom and pork belly risotto or the $28 grilled lamb chops.
Houston: Pappas Bros Steakhouse
Put on your Sunday best and head to Pappas Bros Steakhouse in the Houston Galleria for what Yelpers call the best steak in town. Start your meal with the fried oysters for $17.95 or the $19.95 lobster deviled eggs, before moving on to the 14-ounce bone-in filet mignon for $59.95.
The restaurant also hosts regular events. Happenings often include wine tastings and beer dinners, so join the email list or follow the eatery on social media to keep up.
Indianapolis: Hyde Park Prime Steakhouse
Hyde Park Prime Steakhouse is a chain, but Yelpers don't hold that against this elegant establishment. The mouth-watering menu and its prices are subject to change, but expect to see options like crispy calamari, fresh fish, fresh cut boardwalk fries and a slew of traditional and specialty steaks.
Jacksonville, Fla.: Salt
Housed in The Ritz-Carlton, Amelia Island, Salt is helmed by chef de cuisine Richard Laughlin, a recipient of the prestigious AAA Five Diamond award. Located on the ocean, the contemporary restaurant has a quiet vibe, making it the perfect setting for a romantic, high-end dinner.
The menu features a variety of exquisite offerings, such as the $51 Durham Ranch bison tenderloin and $45 Florida snapper. A four-course Chef's Adventure Menu is also offered for $120, along with a $250 Dine with the Chefs option, granting you a private seat in the kitchen.
Kansas City, Mo.: Bluestem
The perfect spot for an intimate dinner, Bluestem in Kansas City is sure to impress. This local gem was honored as a James Beard semifinalist for Outstanding Restaurant in 2015, 2016 and 2017.
Visit often, because the menu changes monthly. Choose three courses ($75), five courses ($85) or 10 courses ($110), and each includes an optional wine pairing. Some highlights of the June menu include La Belle foie gras and yellowtail hamachi crudo.
Las Vegas: Kame Omakase
The most exciting culinary experience in Las Vegas has nothing to do with the Strip — or the city's famous buffets. Located roughly 12 miles from the center of bustling Las Vegas Boulevard, Kame Omakase is a Japanese restaurant worth the trek.
A rather elusive spot, Kame Omakase has no website, but a 2016 Eater article listed the price for the prix fixe meal at $150. The business owner shared a few food pictures on Yelp, including Kamashida toro nigiri sushi and Uchiwa ebi sashimi, so consider this a sneak peek of what might be on your plate if you opt to dine at this casual eatery.
Long Beach, Calif.: Chianina Steakhouse
Quiet and classy, if you want a steak in Long Beach, Chianina Steakhouse has you covered. Start your meal with a $15 Around the World Reds wine flight or if you're celebrating, a $16 glass of champagne.
For food, you can't go wrong with the $24 lobster pot pie. Steak options range from a $36 hanger steak to a $240 porterhouse.
Los Angeles: Wolvesmouth at the Wolvesden
Described as a dinner party, not a restaurant, Wolvesmouth at the Wolvesden is an experience you won't soon forget. Events happen intermittently, so if you want an invite to the BYOB dinner, sign up for the email list.
Patrons are only permitted to bring one guest each to the no-menu dinner, which in the past has involved lobster squid ink raviolo with rib-eye Bolognese and duck gyoza. The restaurant website is elusive on specifics like price, but Yelpers report the nine-course meal averages more than $200 per person.
Louisville, Ky.: At the Italian Table
Unique and fun, At the Italian Table offers authentic Italian cuisine. This cozy spot is located on Frankfort Avenue, flanked by the Crescent Hill and Clifton neighborhoods.
Chef Gina Stipo serves dinner to guests at two communal tables Wednesday through Saturday at 7 p.m. sharp. At a cost of $65 per person, you'll enjoy a five-course menu. She also offers a demonstration cooking class on Tuesday evenings for $75 per person.
Memphis, Tenn.: The Capital Grille
A favorite in more cities than one, The Capital Grille tops the charts of high-class Memphis dining. Dimly lit, with crisp white tablecloths, this elegant steakhouse requires your most sophisticated attire.
Start your meal with the $18 foie gras creme brulee, then make your way to the $51 sliced filet Oscar with lump crab and béarnaise or the $44 sushi-grade sesame seared tuna with gingered rice. Pair it with a $14 Manhattan 46 and finish up with a piece of $11 warm double chocolate cake.
Mesa, Ariz.: Mastro's City Hall
For a really exceptional steak in Mesa, drive about 25 minutes northwest to Mastro's City Hall. Located in nearby Scottsdale, Ariz., this elegant chain is worth every cent of the undoubtedly hefty bill.
Mastro's website doesn't share prices, but a Yelp photo from 2015 offers a glimpse at what to expect. Plan to spend around $34 for the lobster cocktail, $54 for a 12-ounce filet and $13 on a side of garlic mashed potatoes.
Miami: NAOE
Located on Miami's Brickell Key, NAOE is a casual Japanese spot sushi fans can't miss. Each night, chef Kevin Cory prepares a unique $200 per person — plus fees — menu sure to delight your taste buds. It's a night out worthy of a splurge.
This eight-person restaurant only has two nightly seatings, so advance reservations are a must. You won't know what you'll be dining on until you arrive, but photos from Yelp revealed guests have enjoyed Kumamoto oysters from Humboldt and Japanese speared squid.
Milwaukee: Sanford Restaurant
More than just a neighborhood gem, Sanford Restaurant on Milwaukee's Lower East Side is one of the city's greatest culinary treasures. This upscale eatery is perfect for a special occasion or simply to treat yourself.
Several menu options are available, including a traditional à la carte that includes a $13 sake cured bay scallop appetizer and a $34 grilled duck breast. A $49 four-course Exploration menu is available Monday through Friday, offering a delicious taste of the globe. Additionally, a seven-course Surprise Tasting menu is offered on weekdays for $89 — with an optional $40 wine pairing.
Minneapolis: The Capital Grille
If you're headed to a show in Minneapolis' Hennepin Avenue Theatre District — or even if you're not — make a reservation at The Capital Grille. A top-rated steakhouse in multiple cities, this chic chain is second to none.
Get started with an order of $17 cast iron garlic shrimp. Next up, you'll have to choose between scrumptious entrees, such as the $54 porcini rubbed bone-in rib-eye with 15-year aged balsamic and the $44 sea scallops.
Nashville, Tenn.: Kayne Prime
Named for the historic Kayne switchyard, Nashville's Kayne Prime offers a modern twist on the traditional American steakhouse. An M Street concept, this posh restaurant frequently lands on Music City's "best of" lists, so you know it's good.
Put in an order of $19 popcorn buttered lobster and $12 shishito peppers to start, and follow it with the 16-ounce bone-in tenderloin for $58. If steak isn't your thing, opt for the $25 lo mein and finish up with the $12 Seven Shades of Chocolate.
New Orleans: Restaurant August
If you're looking for glam, Restaurant August in New Orleans more than fits the bill. Housed in a historic 19th-century French-Creole building in the city's central business district, this French restaurant is equipped with a two-story wine room and stunning crystal chandeliers.
The à la carte menu includes delights like the $17 potato crisp P&J oysters and the $34 Rebecca Lirette pork. A five-course $98 degustation menu is also available — $158 with wine pairings — featuring lemonfish cru and Gulf shrimp strozzapreti. The restaurant also offers a $77 five-course tasting of farmers market vegetables for vegetarians — $137 with wine pairings — including chilled eggplant soup and green garlic spaghetti.
New York: Gramercy Tavern
Located in New York City's Flatiron District, Gramercy Tavern was opened in 1994 by famed restaurateur Danny Meyer. Housed in a stunning historic landmark building, the restaurant offers a three-course dinner menu for $125 or a seasonal tasting menu for $170 — with an optional $110 wine pairing. Gramercy Tavern is among the new wave of restaurants that do not accept tips.
Chef Michael Anthony's hearty selection includes delicacies such as beef tartare, lobster salad and strawberries and cream. Wildly popular with vegetarians, there's also a $150 meatless tasting menu option featuring items like strawberry gazpacho and fried green tomatoes. The Tavern, its more casual side, has an à la carte menu.
Oakland, Calif.: Commis
Located across the bay from San Francisco in Oakland, Commis is an essential stop for foodies. Guests enjoy an eight-course prix fixe menu for $149, with an optional $80 beverage pairing.
This modern restaurant's website offers few details on food, but that just adds to its intrigue. Photos from Yelpers reveal delights such as Nardello sweet peppers and chilled soy milk custard with pine mushrooms.
Oklahoma City: Ranch Steakhouse
Put on your fanciest duds and head to Ranch Steakhouse in Oklahoma City for the finest piece of red meat in town. Bursting with Southern comfort, this delicious eatery has been serving up steaks since 1999.
An order of $15 beef tournedos is a delicious start to the meal, followed by a 14-ounce strip for $47. Add some flair to your steak with a topping, such as $3 sautéed jalapenos and onions. Save room for a $10 piece of Carnegie Deli cheesecake.
Omaha, Neb.: Mahogany Prime Steakhouse
Serious about its steak, Mahogany Prime Steakhouse in Omaha only serves the best custom-aged U.S. prime Midwestern beef. This small regional chain is a little more casual than many other upscale steakhouses, allowing you to feel right at home.
Begin your meal with a mouth-watering appetizer, such as the $14.99 trout dip. When you're ready, move on to a 14-ounce bone-in filet for $58.99, which pairs perfectly with a side of $9.99 onion rings.
Philadelphia: Morimoto
Named after esteemed chef Morimoto — a native of Hiroshima, Japan, who trained under several of his country's master chefs before coming to the U.S. — this is the place for sushi and Japanese fare in Center City. For a comprehensive dining experience, the omakase — chef's choice — menu is $100 for classic options and $150 for seasonal fare.
If you'd rather order à la carte, a full menu is available. Dress to impress at this sleek restaurant, while dining on $7 miso soup with tofu, $28 Arctic char and a $14 soft-shell crab roll.
Phoenix: Binkley's
Brought to you by chef Kevin Binkley, his eponymous upscale American restaurant is one of Phoenix's greatest culinary treasures. Open Wednesday through Saturday, each seating has just 24 spots, so reservations are required.
The standard prix fixe menu is $160 per person, but plenty of add-ons are available, including an $85 wine pairing, $130 sommelier pairing and $190 chef's pairing. A different seasonal menu is served every day, but past offerings have included freezing mango soup and chilled, poached Nantucket Bay scallops.
Portland, Ore.: Farm Spirit
A casually elegant Southeast Portland spot, Farm Spirit delivers cuisine fit for foodies. This ticketed, plant-based restaurant is a great choice for people on a vegetarian or vegan diet, and anyone else who appreciates inventive farmers market fare.
The Cascadian Tasting Menu is $85 per person and the Saturday Late Night Menu is $65 per person. Opt for an additional beverage pairing or bring your own wine for a $20 corkage fee. Menus change frequently, but expect to delight your taste buds with roughly 15 courses.
Raleigh, N.C.: Fleming's Prime Steakhouse
It's true that Fleming's Prime Steakhouse is a chain, but the Crabtree Valley Mall location in Raleigh is anything but ordinary. Enjoy the tasteful ambiance while sipping on one of the restaurant's 100 wines by the glass.
The restaurant menu doesn't include prices, but quality doesn't come cheap. Expect to pay up for delicious fare, such as the chilled seafood tower for two appetizer and the 14-ounce certified Angus beef rib-eye.
Sacramento, Calif.: The Kitchen Restaurant
A foodie's delight, The Kitchen Restaurant is an exploratory experience for your palate. Nestled in Sacramento's Arden-Arcade area, menus are based around seasonal ingredients and change monthly.
The restaurant has one seating per night for its $135 per person five-course prix fixe menu. Two optional wine pairings are also available — a house flight for $85 per person and a reserve flight for $135 per person.
San Antonio: Restaurant Gwendolyn
Truly old school, the kitchen staff at Restaurant Gwendolyn prepares food exclusively with tools used before the industrial revolution. Keeping in step with the theme, all perishable ingredients are sourced from within 150 miles of the eatery, because that's how it was done pre-1850.
Menus change daily, but feature options such as $17 cheese fritters and a $12 peach panzanella. Wine pairings are also available.
San Diego: Addison
Situated in the stunning Fairmont Grand Del Mar, Addison has a distinctly upscale European setting. Chef William Bradley's San Diego AAA Five Diamond restaurant has received dozens of accolades for its food and service.
Two dining options are available — a $250 chef's tasting menu or a $110 four-course menu. Menus change seasonally, but spring 2017 offerings included sake cured kampachi, coddled farm egg, coffee roasted canard and lavender panna cotta.
San Francisco: OzaOza
Dine on traditional kaiseki-style cuisine at OzaOza in San Francisco's Japantown neighborhood. Reservations are a must as this tiny restaurant can seat just nine diners at once.
Chef Tetsuro Ozawa and his team offer this authentic Japanese prix fixe meal for $100 per person. Menus change regularly, but always include eight courses.
San Jose, Calif.: Alexander's Steakhouse
Largely considered the best steak in the Silicon Valley, Alexander's Steakhouse is part of the Michelin elite, earning one star in 2011, 2012 and 2013. Specifically located in Cupertino, Calif., chef Jared Montarbo and his team offer a full-table only omakase tasting menu for $295 per person.
Not your average chain steakhouse, the menu boasts a slew of inventive options, including $28 Hamachi shots and $38 popcorn crab. The main event runs the gamut from a $50 eight-ounce filet mignon to a $185 Hyogo, Kobe Japan A5 Wagyu beef.
Seattle: Art of the Table
Wallingford's Art of the Table is a celebration of Pacific Northwest cuisine. Created by chef Dustin Ronspies, the seasonal menu changes regularly, making repeat visits a must.
The prix fixe menu is $125 per person, with an optional $75 wine pairing, so know this in advance, because many Yelpers have noted it's not listed on the menu. If you'd prefer to order à la carte, visit on a Wednesday, Thursday or Sunday, where offerings might include $16 smoked and marinated mussels and $32 Neah Bay black cod.
Tucson, Ariz.: Mystery & Magic Dinner Theater Playhouse at the Five Palms
The Mystery & Magic Dinner Theater Playhouse at the Five Palms in Tucson has all the ingredients of a fun night out. Ticket prices might vary by show, but are currently $75 for a three-course candlelit dinner and a show ticket.
Enjoy a date night or a fun evening with friends, and you might even get chosen to be part of the act. Your ticket also includes other fun extras, including pre-show magic at your table and post-show music and dancing.
Tulsa, Okla.: Bull in the Alley
Located in the Brady Arts District, Bull in the Alley offers Tulsa's classiest culinary experience. Nothing beyond the restaurant's phone number is revealed on its website, making it delightfully intriguing.
A menu posted on Yelp from July 2016 revealed $4 per slice hand-cut bacon and a $48 USDA prime petite filet. Given the elusive nature of the cuisine and the fact that multiple Yelpers mentioned the menu is limited, this restaurant is probably best for foodies with an adventurous palate.
Virginia Beach, Va.: Terrapin Restaurant
New American cuisine at its finest, Terrapin Restaurant in Virginia Beach is the epitome of modern elegance. The dinner menu changes almost daily, so you'll be treated to something new on each visit. It's hard to say what will be on the menu, but you might see a $10 vegan Caesar salad and a $27 shrimp pasta.
Washington, D.C.: Komi
Foodies flock to Komi to dine on inventive Mediterranean fare by Johnny Monis, recipient of the James Beard Foundation's 2013 Best Chef Mid-Atlantic award. This Dupont Circle hot spot offers an elegant, intimate ambiance perfect for a romantic evening out.
You'll dine on a $150 per person tasting menu, featuring roughly 12 courses. Menus change frequently, but have included ravioli and foie gras in the past. An optional $75 wine pairing is also available.
Wichita, Kan.: Newport Grill
Feast on fresh fish shipped in six days per week at the Newport Grill in Wichita. Head to the Bradley Fair shopping center to dine at this classy waterfront oasis, where every menu item is prepared from scratch.
Start your meal off right with an order of $14 rock shrimp cigars. Continue on with a fresh catch, such as the $32 Georges Bank scallops or the $27 Pacific mahi. If you're not into seafood, there's plenty of red meat to choose from, including the $30 braised short rib.
Methodology: GOBankingRates consulted Yelp to find the highest-rated high-end restaurant in each of America's 50 largest cities. The list of cities comes from the U.S. Census Bureau. We identified the highest-rated restaurant on Yelp in each of those cities in the most expensive $$$$ category. A $$$$ rating means diners can expect to pay more than $60 per person. In the event of a tie, the establishment with the highest number of reviews was selected. Ratings checked and restaurants selected on May 30, 2017.

BEFORE YOU GO
See Today's Best
Banking Offers