6 Red, White and Blue Batch Cocktails for Under $12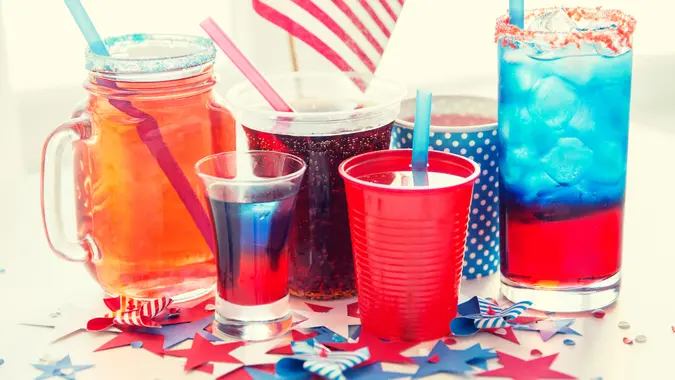 dolgachov / Getty Images/iStockphoto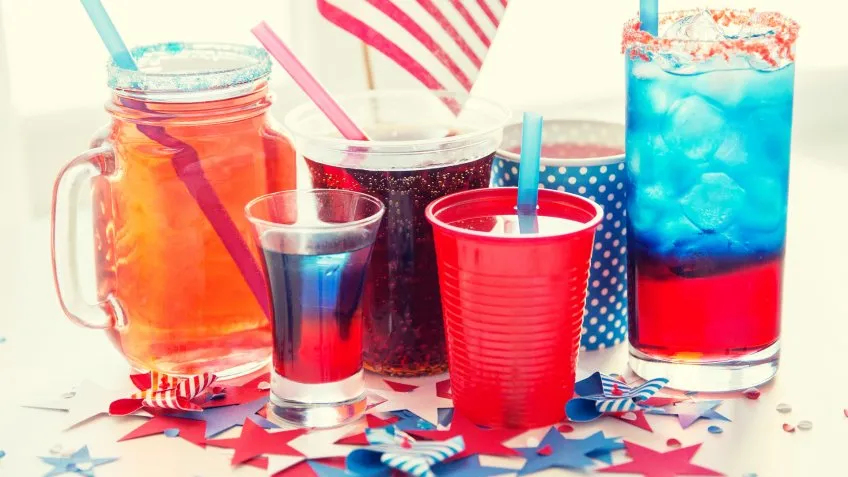 dolgachov / Getty Images/iStockphoto
The only thing better than a great Fourth of July party is a Fourth of July party you actually get to enjoy. That means taking care of the refreshments ahead of time, so you can spend quality time with your friends rather than your wet bar on the big day.
Because the juices used in these summer cocktails start to lose their brightness after a day, it's best to mix them up on the morning of your party or, at the earliest, the night before. However, all the drinks on this list offer a pleasing complement to your patriotic color scheme, as well as a pleasurable punch to the palate. Best of all, they're surprisingly frugal, so you can celebrate the Fourth and entertain your friends without busting your budget.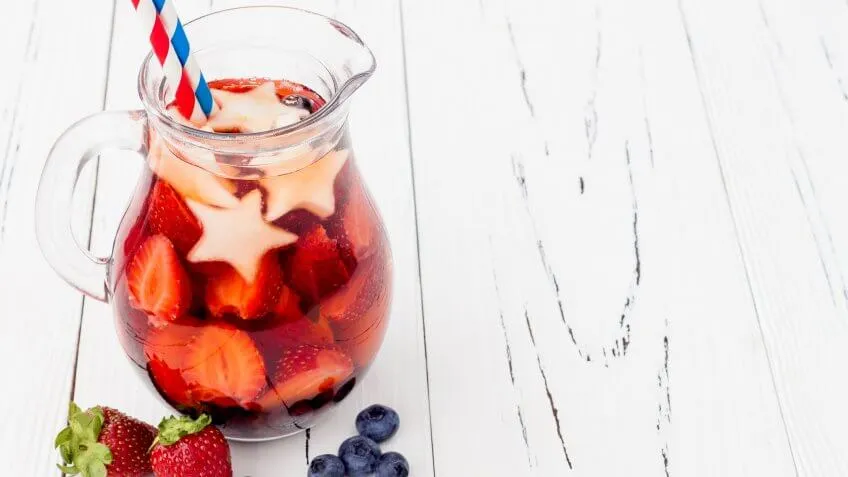 zarzamora / Shutterstock.com
Red Sangria
Cost: $9.24 a batch
The Spanish know a little something about hot summer days, and they also know the perfect antidote: sangria. It's the ideal summertime pitcher cocktail — okay, technically it's a wine punch — because it's fruity, refreshing and low enough in alcohol content that you can enjoy several glasses over a long afternoon without getting tipsy.
There are as many versions of sangria as there are thirsty drinkers, so you don't have to worry about authenticity or getting it "right." It's also cheap if you buy inexpensive wine and brandy and pick your fruit according to what's in season. Here are the ingredients for a tantalizingly tart brew:
1 bottle medium-body dry red wine
1/2 cup brandy or triple sec
1 cup coarsely chopped strawberries or watermelon
1/2 cup diced apple or pear
1/2 cup blueberries
Extra-fine sugar to taste, if needed
2 cups soda water
Be sure to mix up your sangria at least four hours before the party or preferably the night before, so the fruit and booze can get acquainted, and their flavors can meld. Pour the wine and brandy into a pitcher, then add your red, white and blue fruit and refrigerate.
When it's almost party time, taste the mixture and sweeten slightly with extra-fine sugar if needed. (This will depend on the wine, the fruit and whether you use brandy or the sweeter triple sec). Add the soda water, stir gently and serve immediately in tall glasses over plenty of ice. This recipe makes 8 servings.
Pro tip: For bonus patriotism points, slice the apples instead of dicing them and use a small cookie cutter to make them into star shapes.
Enjoy This: 7-Eleven Free Slurpee Day: Everything You Need to Know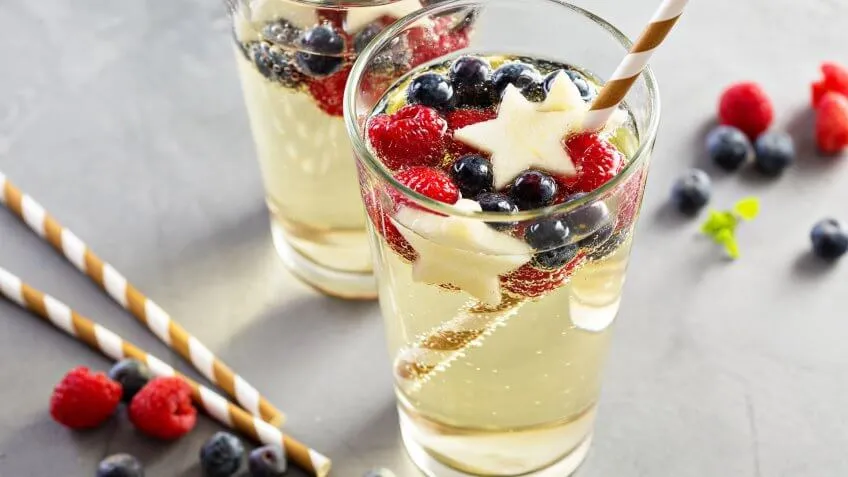 Elena Veselova / Shutterstock.com
White Sangria
Cost: $11.64 per batch
If you like the idea of a light, fruit-flavored beverage that you can drink all afternoon, but you aren't a red wine fan, opt to make white sangria instead. The basic recipe stays the same; just start with a still or sparkling white wine rather than a red.
If you want your white sangria to stay snowy, you need to be a little choosier in your selection of fruits. Cut strawberries or watermelon will infuse the drink with color, as will frozen berries as they thaw. In this particular case, you'll want to spring for fresh berries to give your sangria the right look.
1 bottle dry still or sparkling white wine
1/2 cup brandy or triple sec
1/2 pkg. fresh raspberries
1/2 pkg. fresh blueberries
1/2 cup diced apple or pear
2 cups soda water or lemon-lime soda
Pour the wine and brandy into a pitcher and stir before adding the fruit. Add 2 cups of soda water if you prefer a tart beverage or lemon-lime soda if you'd like it a little sweeter. Stir gently, so as not to lose the bubbles, and serve immediately in tall glasses over plenty of ice. The recipe makes 8 servings.
Unlike most sangrias, this one can be made at the last minute. Usually you'd want the fruit and wine to have some time to mingle, but in this instance the whole point is to maintain the sangria's pristine whiteness.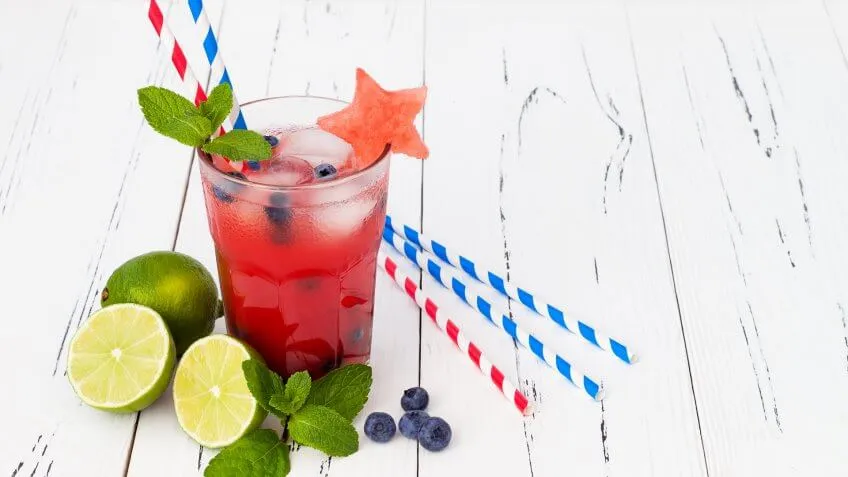 zarzamora / Shutterstock.com
Watermelon Blueberry Mojito
Cost: $12 per batch
There might be a better hot-weather beverage than the mojito, but you'd have a hard time getting two people to agree on it. Boasting an easy-drinking combination of lime, rum and fresh mint, a mojito is exceptionally refreshing.
It isn't a slam-dunk for the Fourth of July in its standard version, but this variation makes the drink party-ready. Adding watermelon and blueberries helps it mesh with the holiday's patriotic color scheme. Plus, watermelon is a July Fourth weekend staple in its own right.
1/2 cup water
1/2 cup sugar
2 pounds diced watermelon (give or take)
2 limes
1 bunch fresh mint
1 cup white rum
1 cup soda water
1 pkg. fresh blueberries
An hour or two before your party starts, boil the water and sugar together until the sugar is completely dissolved. You'll use this sugar syrup to sweeten the finished cocktail. Next, puree the diced watermelon in a food processor or blender. Pour it through a fine strainer to remove the pulp, leaving the juice, and then refrigerate.
Separate 8 small sprigs or large leaves of mint and set them aside for garnish. Drop the rest into the bottom of a pitcher, along with half the sugar syrup and the juice of 2 limes. Mash the mixture vigorously with the butt of a wooden spoon, until the mint is thoroughly bruised. Add 2 cups of the watermelon juice (reserve any extra for other uses), then the rum and soda water. Stir to mix, and then add the blueberries and plenty of ice. Garnish with the reserved mint leaves. The recipe makes 8 refreshing portions.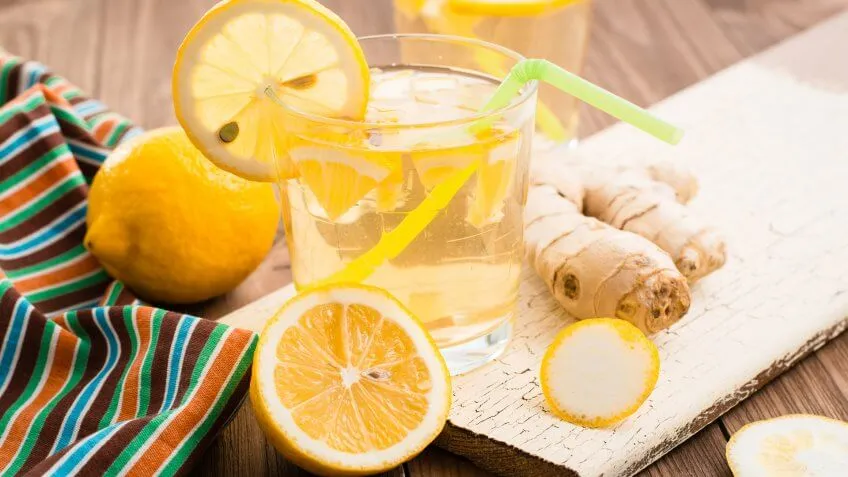 Rui Elena / Shutterstock.com
Ginger and Sparkling Wine Lemonade
Cost: $8.10 per batch
Lemonade is one of the most iconic thirst-quenchers for a hot July afternoon. Giving it an adult kick only improves the drink's delightfulness. This version pairs lemon with ginger, one of its culinary BFFs, and incorporates sparkling wine instead of water to provide the volume.
It's an easy summer cocktail to make. Mixing up the ginger syrup can be tricky, but it only takes a few minutes, and you can do it several days ahead if necessary. The syrup is a handy thing to have in your fridge; it's great drizzled over desserts or used in other cocktails.
2-inch piece of fresh ginger
1 cup water
1 cup sugar
3/4 cup lemon juice
1 bottle sparkling wine, 750 ml
Slice the ginger into thin rounds and then put them in a small saucepan with the water and sugar. Bring the mixture to a boil and simmer for about five minutes, until the sugar has dissolved and the mixture smells distinctly of ginger. Set the saucepan aside and let it cool for about 30 minutes. Strain out the ginger.
Combine the ginger syrup and lemon juice in a pitcher, and stir well to combine them. Then open your favorite sparkling wine. Hold the lemonade pitcher at an angle and pour the wine gently into the pitcher, as if you're pouring a beer and don't want to make it foam up (you're trying to preserve the bubbles). Give it one gentle stir with a spoon and then serve immediately, or pour into bottles with a swivel cap and seal them immediately to keep the fizz from dissipating. Serve over lots of crushed ice; the lemonade will be slightly strong without it. Enjoy 8 delicious portions.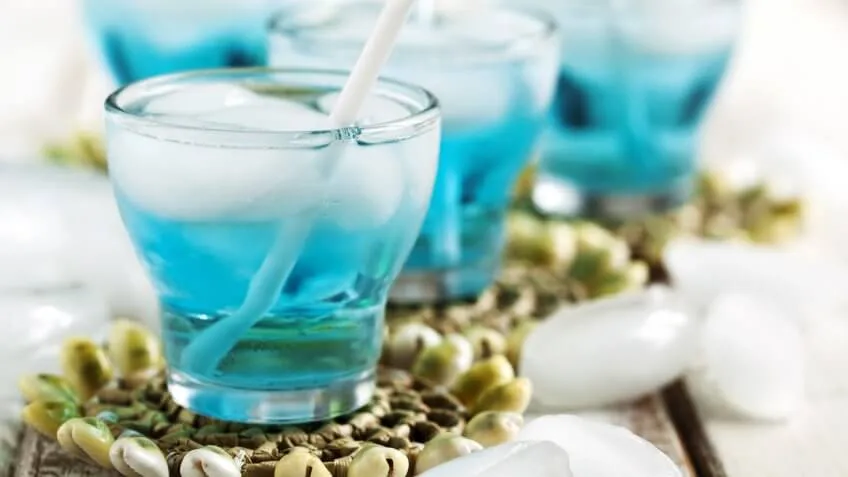 AnjelikaGr / Shutterstock.com
The Blue Lagoon
Cost: $8.32 per batch
If you're seeking a cocktail with a tropical twist, try the Blue Lagoon, which boasts a cheery blue color that melds well with a Fourthof July theme. There are several cocktails with the same name but different components, but this is probably the simplest of the bunch.
In your pitcher, stir together:
1 cup vodka
1 cup blue curacao
2 cups lemonade
Cover the pitcher and refrigerate it until party time. Then serve the turquoise concoction in tall glasses over ice. If you're up for a bit of nostalgia, use shaved or crushed ice in each glass rather than cubes. It gives the finished cocktail a resemblance to the snow cones you enjoyed at the fair as a kid. Cherries are the traditional garnish for this one. The recipe makes 8 servings.
Related: 30 Money Mistakes You're Probably Making This Summer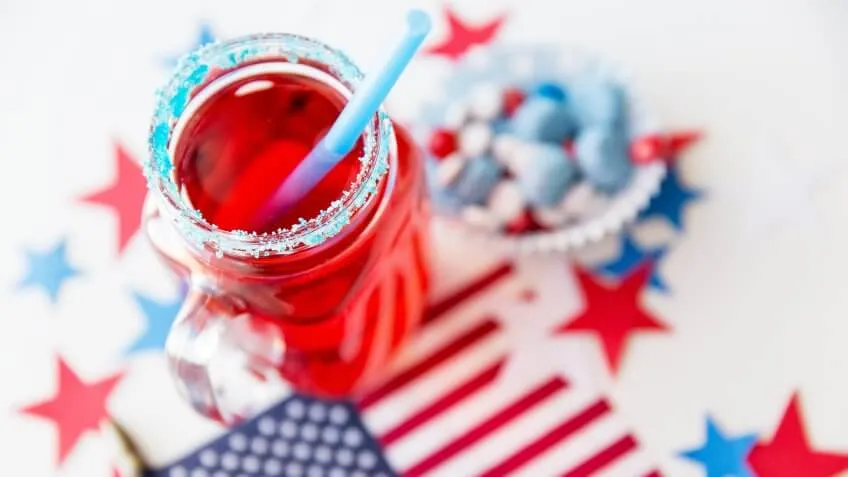 Syda Productions / Shutterstock.com
Big-Batch Cosmopolitan
Cost: $8.35 per batch
You won't typically find water listed among the ingredients in a Cosmopolitan, but that's because it's hidden in the recipe: ice melts into the other ingredients when you put it all in a cocktail shaker. Without that ice-melt, the beverage will be stronger than a normal Cosmo, and the flavors won't blend properly. For best results, chill your pitcher in the refrigerator or use a bottle with a cap, so you can leave the mix in an ice bucket on your deck.
Cranberry juice gives the drink its signature pale red hue, but if you're feeling flush you can give it a bolder color by switching to pomegranate juice. It's not the classic version of the cocktail, but it is a seriously tasty variation that's perfect for the patriotic holiday.
Combine these ingredients in your pitcher:
1 1/4 cups vodka
3/4 cup triple sec
3/4 cup cranberry juice
3/4 cup lime juice
3/4 cup water
Stir briefly to mix and then cover the pitcher or divide the mixture between bottles. Cap and refrigerate immediately to preserve this cocktail's fresh flavors. The recipe makes 8 servings.
Up Next: Cheap Foods You've Got to Throw on the Grill This Summer
All prices checked June 13, 2017, through AmazonFresh and BevMo.