How To Shop for Your Entire Thanksgiving Meal at Costco

7 min Read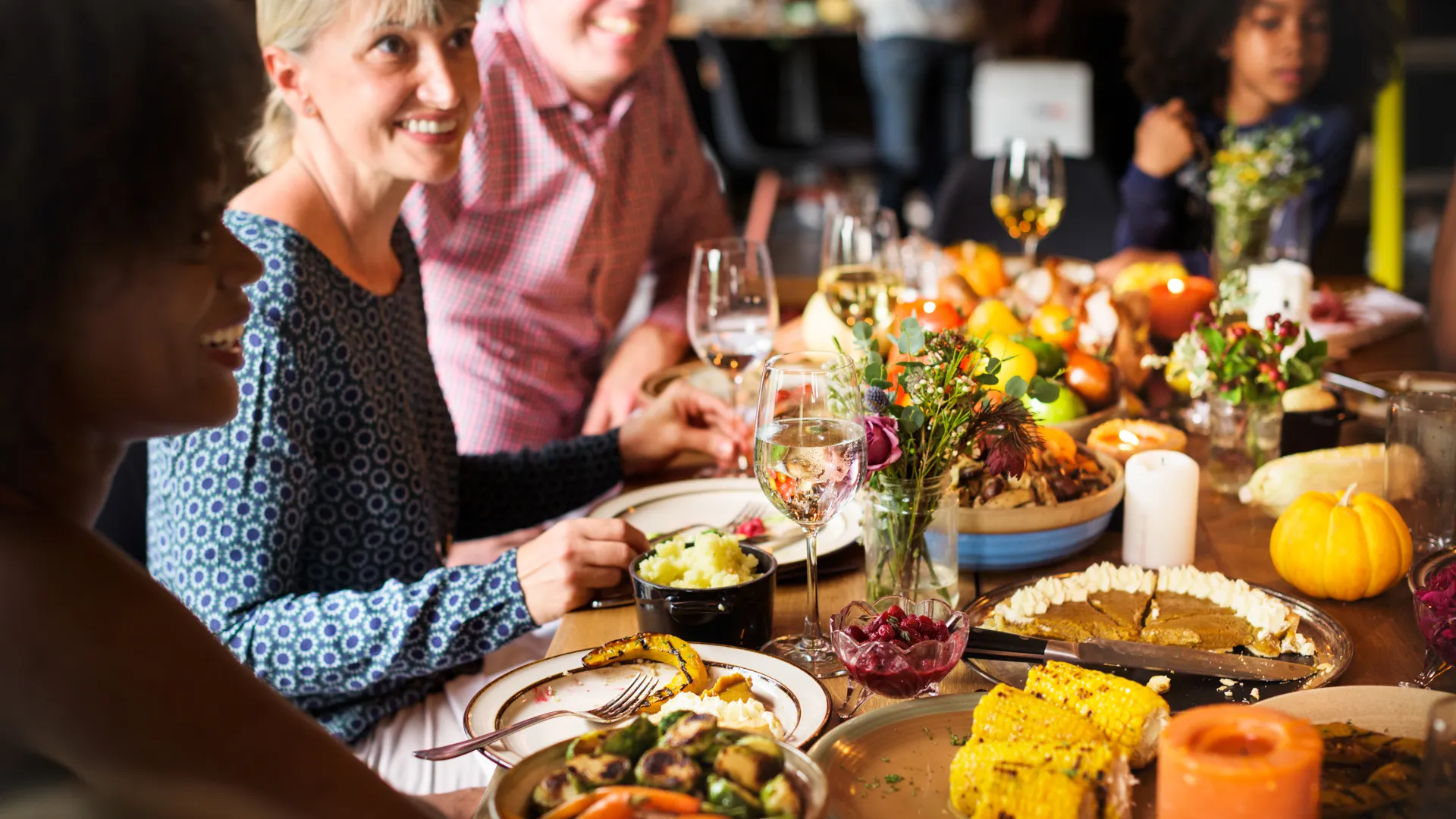 Make Your Money Work for You
Serve Frozen Appetizers
In addition to fresh ingredients for cooking, Costco also has an enormous frozen food section that features a selection of appetizers to heat and serve. This way, you can quickly put together some hot bites to keep your guests satiated while you're busy preparing the main dishes.
You can go with something like chicken skewers, provolone cheese and Genoa salami snacking rolls, panko-breaded butterfly shrimp and kid-friendly mozzarella sticks.
Create a Cheese Board
Costco sells ready-made cheese boards on its website and will ship them to you, but they are pricey – more than $100 each. If you've got the time, why not make your own? Costco sells a variety of cheeses, including pepper jack, cheddar, Brie, Gouda and even Spanish cheeses.
Add some of Costco's multigrain crackers, mixed nuts and dried fruits to complete the presentation.
Take Our Poll: Are You Struggling To Keep Up With Your Utility Bills?
Include Some Pre-Cooked Turkey Breasts
Keeping your celebration small doesn't mean that you can't eat, drink, and be grateful. Consider purchasing a four-pound turkey breast from Costco instead of a whole bird.
Even if you plan on cooking a whole turkey, which Costco also sells, having an extra breast or two can ensure you have plenty of leftovers for sandwiches later.
Serve Alternatives to Turkey
Not everyone loves turkey, and there's certainly no rule against serving a different kind of meat for Thanksgiving dinner. Costco has spiral-sliced hams, pork loin tenderloin, filet mignon steak and its famous roasted chickens, which are only $4.99 each. Costco's whole filet of wild sockeye salmon is also a popular choice, and cooks in a fraction of the time of some other meats.
Load Up on Washed, Prepped Veggies
Costco sells a huge selection of veggies that have already been peeled and trimmed for you. Costco has Brussels sprouts in 2-pound bags ready to go; just pick up some applewood smoked center cut bacon to throw in there, too, and you have an easy side dish. Or, try the peeled and cut organic carrots with a festive dip.
Make Your Money Work for You
Let Costco Do the Mashing
You don't need to work up a sweat strong-arming a vat of mashed potatoes this year — let Costco do the work for you. Costco's deli sells completely cooked and seasoned mashed potatoes ready for serving, complete with pats of butter on top just waiting to be melted.
Costco also sells organic sweet potato spears already flavored with brown sugar and maple butter. But if you really have your heart set on mashing those potatoes yourself, Costco sells giant bags of both baking and sweet potatoes you can peel, cook and smash all on your own. You can serve those sweet potatoes plain, or you can grab some pecans and maple syrup for sweet potato casserole before you check out. Organic maple syrup is another item that's always cheaper at Costco.
Buy Wine in Bulk
Costco is always the spot for great prices on alcohol, especially wine. Whether you want to serve red, white, port or something in between, Costco sells a variety of wines from around the world at great prices. Since the selection is always changing, buy a case before it's out of stock. Alcohol is always a must-have item to stock up on at Costco.
Pick Up Fresh Baked Goods
Costco's bakery section has every baked good you'll need for a traditional Thanksgiving meal. If pie is on your menu, choices include pumpkin and double crust apple. There's also cheesecake, pound cake, tiramisu and chocolate cake filled with chocolate mousse.
If you need fresh bread to go with dinner, you can choose from country French, croissants, demi baguettes or artisan rolls. In addition to fresh-baked goods, Costco also has other staples like Hawaiian sweet rolls and sandwich bread, which you will definitely need for leftovers.
Make Your Money Work for You
Load Up on Sides and Sauces
In addition to frozen appetizers and prepped veggies, Costco also sells pre-prepped Thanksgiving side dishes. For example, the deli offers hand-prepared dishes for members' tables. Be on the lookout for some of its signature sides like mac and cheese, chicken alfredo, chicken pot pie and rotisserie chicken enchilada. If your local Costco doesn't carry these items, search for whole cranberry sauce and onion soup mix for quick sides.
Don't Forget the Holiday Decor
Get everything you need to create a festive Thanksgiving scene at the same time you're picking up the food. You'll find autumn wreaths, outdoor decorations and even Christmas home decor — if you want to get ready for the next holiday over the long weekend. For the table, Costco has a Thanksgiving party pack with plenty of dinner plates, dessert plates and napkins.
Stock Up on Food Storage
Costco also has everything you need to send your Thanksgiving guests home with leftovers. Pack up food to go with a variety pack of zipper bags or an inexpensive set of food storage containers. Costco even sells a vacuum sealer to store extra food in your freezer. At the very least, handy staples like aluminum foil and plastic wrap can get the job done in a pinch.
When you're wining and dining a crowd, you need plenty of glassware for all those extra guests. It's a lot easier to grab a case or two of backup glasses while you're shopping for your Thanksgiving staples, and they're so cheap that you won't be too upset if you break one or two. Costco sells a set of eight wine glasses, and the price works out to just over $2 each.
Make Setting the Table a Breeze
You don't have to bring out the china and fancy glassware this Thanksgiving dinner — paper products make it easy to feed and clean up after a crowd. If you decide to pass on the Thanksgiving-themed paper products, Costco has plenty of table supplies to use year-round. Thanksgiving dinner is a hearty meal, and you'll need products that can stand up to the test. Costco has durable Hefty Diamond dinner and lunch plates, as well as the Kirkland Signature white plastic plates with a china-like look. The retailer also sells clear plastic cutlery from Kirkland in a package large enough to last you for at least a few holidays. Make sure you also pick up a pack of two-ply Vanity Fair Impressions dinner napkins to complete the setup.
If you're shopping a lot at Costo, it only makes sense to apply for the Costco credit card, which offers extensive benefits.
Make Your Money Work for You
Prepare for a Crowd (Next Year)
If you regularly host Thanksgiving dinner and other family events, consider investing in some extra seating for your future guests. Costco sells upholstered chairs and a 6-foot table. Both stack for easy storage later and can be used for all kinds of occasions.
Even if you don't have a Costco membership, you can still score great deals.
More From GOBankingRates
Jami Farkas and Morgan Quinn contributed to the reporting for this article.
Photos are for illustrative purposes only. As a result, some of the images may not reflect the items listed in this article.
About the Author