Should You Buy Groceries at Sam's Club?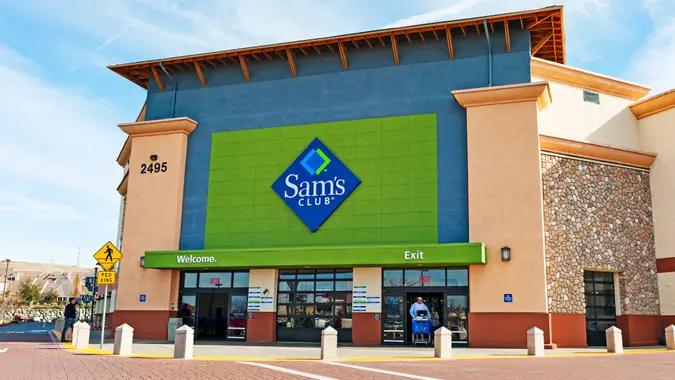 jmoor17 / Getty Images
When trying to make your paycheck stretch as far as it can go, buying groceries in bulk might seem like a great way to save.
Discover: 8 Items You Should Always Buy at Sam's Club
Read: This Credit Score Mistake Could Be Costing Millions of Americans
"Sam's Club is a fantastic option to save if you are strategic about it," said Kalen Houck, who teaches others how to master their personal finances. "You can often save (20%) to 40% over your standard grocery store."
But it's not as easy as heading to Sam's, buying what you need and reaping the savings. Because Sam's is a warehouse club, items are sold in larger quantities than what you'll find in a standard grocery store. This can be an advantage in some situations and a disadvantage in others. 
Here's how to decide whether Sam's Club should be your new go-to for groceries. 
Make Your Money Work for You
Can Buying Your Groceries at Sam's Club Help You Save?
"It definitely can, but only if you're smart about your shopping," said consumer analyst Julie Ramhold with DealNews. "That is, you can definitely save by buying in bulk, but not every purchase in bulk will make sense for your personal situation.
"For instance, if you're concerned about not being able to eat foods before they go off, it may be best to restrict your purchases to things like household items such as laundry detergent and cleaning supplies, as those won't have an expiration date. If you do want to purchase groceries, then it may be best to stick with non-perishables, especially if you live in a smaller household and may not be able to finish perishable food before the items go off."
Live Richer Podcast: Unexpected Ways Losing a Spouse Can Affect Your Finances and Retirement
Potential Downsides of Buying Groceries at Sam's Club
There are a couple of situations in which buying groceries at Sam's Club can potentially end up costing you more.
"First, if you are the type of person who impulse-buys a lot of items, you can end up spending more on things you don't need since the opportunities to buy good deals are endless at Sam's Club," Houck said. "Secondly, if you don't have a way to store extra food at home or don't have a large enough family to consume it all, a lot of that bulk food can end up going to waste."
Make Your Money Work for You
Tips for Smart Grocery Shopping at Sam's Club
If you've decided to grocery shop at Sam's, here are some tips to help you make the most of your money. 
Make a List and Stick to It
"One of the best things you can do to ensure that Sam's Club saves you money is to strategize your grocery list beforehand, and then stick to that list when in the store," Houck said. "If you only purchase items that you actually need and will use, Sam's Club can offer significant savings over the standard grocery store."
Avoid Buying Large Quantities of Items Without a Plan
Even the best-laid plans can go awry once you're in the aisles of Sam's Club and see deal after jaw-dropping deal. 
"Be reasonable about your expectations," Ramhold advised. "A massive cake or pie at Sam's Club could be an amazing deal; but, if you're not hosting a party, you don't need that much dessert — and buying it for a small gathering will only increase the odds that you'll have to throw some out.
Make Your Money Work for You
"The same goes for things like fresh produce, dairy products and similar products. Before you add something to your cart, consider what you'll do with it. Ensure that you have enough people to consume all of a product or that you at least have a plan for the items to make good use of them."
Make Sure What You Buy Is Worth It
Take the time to do some quick calculations to ensure that the price of the item is actually a good deal. 
Ramhold, Houck and Sara Collins, personal finance expert and creator of Simple Home Economics, all agreed that comparing unit prices is the way to find out whether you're really getting a good deal. 
"Make a list of the items that your family eats most often," Collins said. "Second, make a list of the grocery stores that are most convenient for you; for me, this is Walmart, Kroger and Sam's. Finally, enter the price and the unit for each item on your list. For example: Milk is $4.38 at Walmart, $3.79 at Kroger and $4.88 at Sam's. For this item, Sam's is not the least expensive. But, for dry spaghetti the (cost per) ounce … is $.10 at Walmart, $.11 at Kroger and $.08 at Sam's, so Sam's is the best value."
Collins also pointed out that there are some instances when you shouldn't factor unit price into your decision to buy. 
"The exception to the unit price rule is when something is perishable," she said. "For example, 50/50 Spring Mix is $.31 per ounce at Sam's, compared to $.64 at Kroger and $.54 at Walmart, but the smallest container at Sam's is 16 ounces for a total of $4.48 per container. I am the only one who eats salad regularly in our household, and I cannot eat 16 ounces of salad before it goes bad."
Shop the Instant Savings Events 
"Sam's Club frequently has sales on groceries during the Instant Savings events," Ramhold said. "So, it's worth your time to browse these savings before doing your shopping and stocking up on sale items when it makes sense — and as long as you have the room to store the excess product."
Buy Staples for Regular Dinners
"Make a list of your most-cooked family meals: spaghetti with meatballs, taco night, chicken soup, etc.," Collins said. "List the ingredients for those meals and buy those items from Sam's to have on hand for an easy weeknight meal. Buy shelf-stable items in bulk; they won't go bad quickly, so it's OK to have a large quantity. Examples: dry spaghetti, spaghetti sauce or canned tomatoes, chicken broth, frozen meatballs."
How To Determine a Good Buy
The next time you're grocery shopping in Sam's and find yourself wondering whether a grocery item is a good buy, Collins recommends asking yourself the following three questions:
Is it the lowest unit price across your most-shopped grocery stores? (Remember to make an exception for perishable items.)
Is it shelf stable or frozen, or does your family eat enough of it to use it up before it goes bad?
Do you have a plan for this ingredient or food? 
If you can answer "yes" to all four questions, the item is likely a good buy. 
More From GOBankingRates
Make Your Money Work for You