Instacart Offers $4.99 Monthly Membership — Do You Qualify?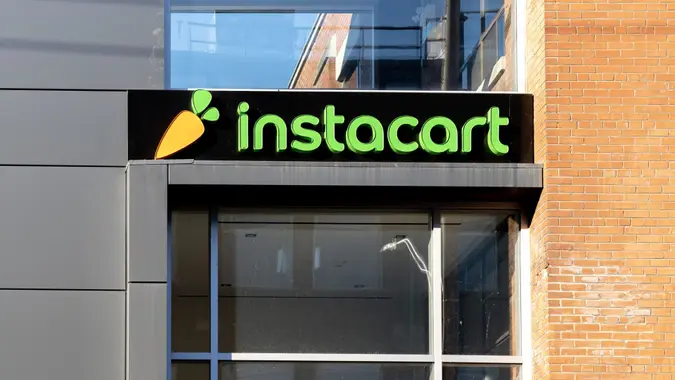 JHVEPhoto / Getty Images
Supplemental Nutrition Assistance Program (SNAP) payments will return to pre-pandemic levels across the United States with the scheduled end of emergency allotments beginning on March 1, 2023. Many SNAP recipients will see their monthly payments drop by $95 or more, meaning many will also face food insecurity amid historically food high prices.
Discover: Surprising Things You Can Buy With Food Stamps
See: If Your Credit Score Is Under 600, Make These 3 Moves ASAP
One company that aims to help out is Instacart, the grocery delivery and pickup platform. On Feb. 23, the San Francisco-based company announced a special "Community Carts" campaign as well as an extension of its discounted Instacart+ membership for SNAP recipients. The move is designed to help needy families keep putting healthy food on the table as emergency SNAP benefits expire in 32 states. The emergency payments had already expired in the other 18 states.
As previously reported by GOBankingRates, Instacart late last year rolled out the new, discounted Instacart+ membership for SNAP participants nationwide. The program is part of the company's Instacart Health initiative, which is designed to promote healthier food and living.
SNAP, formerly known as food stamps, is a U.S. Department of Agriculture program that provides financial assistance to help low-income Americans buy food. The benefits are administered at the state level and processed through the Electronic Benefits Transfer (EBT) card system. 
Make Your Money Work for You
Under the Instacart+ membership program, anyone who uses an EBT SNAP card to buy groceries on the platform is eligible for a discounted Instacart+ membership at $4.99/month (50% off) for 12 months. With Instacart+, customers can access free delivery and pickup on orders over $35, a 5% credit on all pickup orders and reduced service fees on every order. 
To use the platform, SNAP Instacart customers can go to "Account Settings" and add their EBT card as a payment method. A credit or debit card must also be linked to cover fees, taxes, delivery tips and any other items not eligible under SNAP. Among the national and regional grocery chains that accept Instacart EBT payments are Aldi, Food Lion, Piggly Wiggly, Publix and Stop & Shop.
As part of the new initiative, Instacart is also expanding its Community Carts program, which helps food banks secure larger, more targeted donations that match their unique needs.
Starting on March 1, anyone can donate food to a Feeding America-member food bank's Community Cart in 31 states where emergency SNAP funds will expire at the end of this month. This is in addition to 24 food banks in 16 states where the emergency allotments already expired. With the expansion, you can donate groceries to more than 120 food banks in 47 states, with delivery and service fees waived on every donation order. 
Make Your Money Work for You
"Our goal is to put more food on the table for more families," Instacart chief corporate affairs officer Dani Dudeck said in a statement. "As grocery budgets tighten for millions of SNAP recipients and lines stretch longer at food banks across the country, accessing affordable, nutritious food has never been harder. At Instacart, we're committed to finding more ways to support food banks nationwide so they can continue to serve their communities and feed more families."
Take Our Poll: What Are Your Financial Priorities in 2023?
Explore: 15 Ways To Save Money on Food With Prices Rising
Learn more about Instacart Health here. To donate to participating food banks, visit the Community Carts donations page. 
More From GOBankingRates
Make Your Money Work for You