SNAP and More: Why Record Inflation Hasn't Heavily Impacted Food Insecurity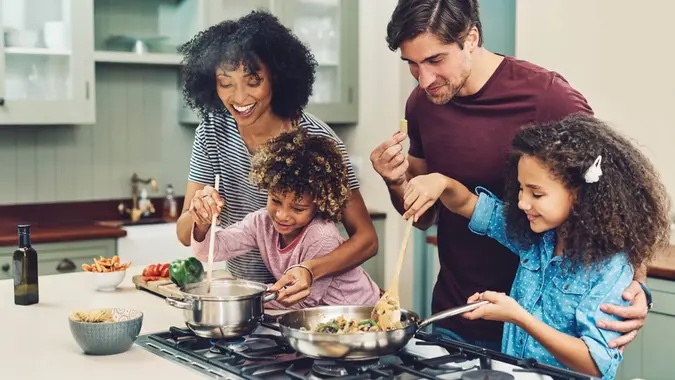 PeopleImages / Getty Images
About one in 10 Americans suffer from food insecurity, meaning they have trouble getting enough nutritious food to eat. That percentage briefly spiked higher during the COVID-19 pandemic, but it has largely remained constant over the past several years — even in 2022, when the U.S. inflation rate soared to its highest level in more than 40 years.
SNAP Benefits: Can You Use EBT Card/Food Stamps To Purchase Hot Food?
Discover: 3 Ways Smart People Save Money When Filing Their Taxes
Find: How 2023 Recession Will Differ From 2008 and How You Should Prepare Differently
Despite the fact that average grocery prices rose by 11.8% in 2022, there has not yet been a sharp rise in households without enough to eat, according to a new study conducted by a pair of Purdue University researchers and published on The Conversation website. In their report, the researchers said U.S. food insecurity has "remained at troubling and yet relatively flat levels" since before the pandemic.
Make Your Money Work for You
This is the case even though the Feeding America nonprofit has said that at least half of its food bank and pantry members are seeing more demand for their services, and many media organizations have reported on long lines for free food.
The nation's official food insecurity rate hovered around 10.5% from 2019 to 2021, the Purdue report said, citing data from the U.S. Department of Agriculture. However, other researchers found both lower and much higher rates.
Surveys conducted by Purdue found that on average, national food insecurity levels might have peaked at nearly 19% in the months following the onset of the pandemic in March 2020. But within about six months, food insecurity returned to the 10% to 11% range and has stayed near there ever since — even with food prices spiking.
How could this happen? One possible explanation is variances in the way different organizations define food insecurity. The USDA breaks food insecurity down into the following two categories:
Low food security: Reports of reduced quality, variety or desirability of diet. Little or no indication of reduced food intake.
Very low food security: Reports of multiple indications of disrupted eating patterns and reduced food intake.
However, not all government agencies and nonprofits define food insecurity according to those guidelines, leading to discrepancies in food insecurity data.
Make Your Money Work for You
Another explanation for why food insecurity nationally has not changed much despite high inflation is that government programs and nonprofits that help people get enough food are succeeding, the Purdue report said. This includes the Supplemental Nutrition Assistance Program, a USDA food assistance program formerly known as food stamps.
From January to October 2022 — during the height of last year's spiraling inflation — the number of SNAP beneficiaries rose 2.8% to 42.3 million, the Purdue report said. In some states, SNAP benefits remain at the elevated levels that started during the COVID-19 pandemic.
In addition, survey data from Purdue's Consumer Food Insights report shows that the average length of time households receive SNAP benefits increased to 12.4 months in 2022 from 9.5 months previously.
"Food banks and SNAP benefits collectively have provided around $130 billion in annual economic relief for low-income Americans in recent years, a number that includes a sharp increase in benefits," the Purdue report said. "We believe that these efforts are vital."
Make Your Money Work for You
Take Our Poll: Are You In Favor of More Inflation Relief in 2023?
Explore: 13 Best Costco Foods To Keep Stocked at All Times
The researchers also suggest that conducting and releasing more frequent, high-quality surveys "would help bring sustained attention to the issue, clarify trends and allow experts like us to make better predictions."
More From GOBankingRates
Make Your Money Work for You