How Much Thanksgiving Dinner Really Costs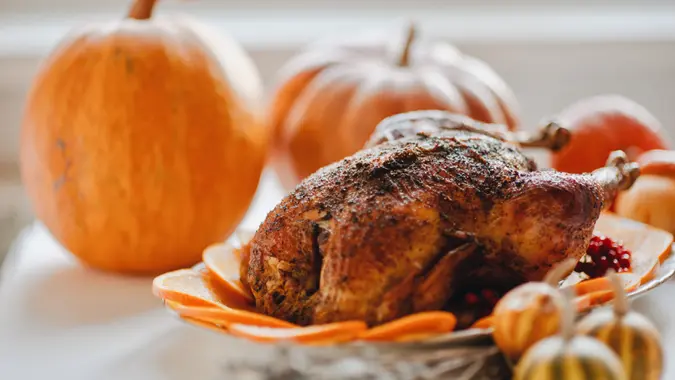 Olga Yefimova / Getty Images/iStockphoto
The prices for seemingly everything have skyrocketed in 2022, so why should you expect the cost of Thanksgiving dinner to be any different? According to the American Farm Bureau Federation, "families can expect to pay record high prices at the grocery store for turkey," citing inflation and bird flu.
Analytics and data firm IRI, in its recently released 2022 Thanksgiving Tracker, projected the cost of dinner staples to rise by 13.5% this year – the second straight year of a double-digit increase. Still, despite the cost, hosts are inviting friends and family to share the holiday after two years of muted celebrations because of COVID-19.
"Despite the significant impact of inflation, consumers are excited to return to pre-pandemic holiday celebrations, and many will be participating in the Thanksgiving holiday by purchasing the same amount of groceries as they typically do," said Alastair Steel, client engagement executive at IRI, in a news release. "This year, consumers are planning further ahead for Thanksgiving than ever before, picking up staple items as they see promotions that fit within their budgets."
While the American Farm Bureau has not issued its annual estimate yet of the cost of Thanksgiving dinner this year, last year it was $53.31 for 10 people. That was an increase of 14% over the 2020 cost of $46.90.
Consumers, aware of the price increases, already have been stocking up on cans of cranberry sauce and boxes of stuffing mix in advance of Thanksgiving Day, which falls on Nov. 24. That's another trend continuing from 2021, IRI reported. Last year, turkey sales in October occurred at the highest rates ever.
Make Your Money Work for You
The cost of hosting Thanksgiving dinner hasn't deterred Americans – especially younger ones who might gather with family or invite over friends for a "Friendsgiving" celebration. IRI said the "pandemic empowered a new generation of cooks, and more young people will be preparing a holiday meal or hosting a celebration." And they are doing it in big numbers. While an average of 7.4 people will attend all Thanksgiving celebrations, those hosted by people under age 32 will include an average of 9.8 people, IRI reported.
Ways to Save Money at Thanksgiving
If you're looking to save some money, start with the tried-and-true method: throw a potluck and ask your guests to bring a dish to share, an appetizer or a dessert, soda or wine, or paper products.
Despite turkey prices projected to be 23% higher than last year, according to a Wells Fargo report, you might not want to forgo that Thanksgiving staple. Besides, despite the cost increase, it's still one of the least-expensive proteins for feeding the masses.
But you could tinker with your side dishes and create some new recipes. For instance, skip that egg-based side since Wells Fargo says egg prices are up 32.5% and create fruit and vegetable platters instead. Those have the lowest cost increase this season, up 7.3%.
And you might rethink your mashed potatoes and gravy. Because of unusual weather this year, the potato crop is less bountiful, Wells Fargo's report says, and that means the price will go up. Instead, since sweet potatoes grow in different regions from white potatoes, they weren't impacted by weather and will provide a less expensive potato option. Maybe it's time to introduce a new potato dish to the traditional spread.
Make Your Money Work for You
Remember, too, that what you ultimately put on the table isn't as important as the act of sitting around the table, enjoying family time and friendship.
More From GOBankingRates
Nicole Spector contributed to the reporting for this article.