We Can Help You Save $100 on Your Next Grocery Store Trip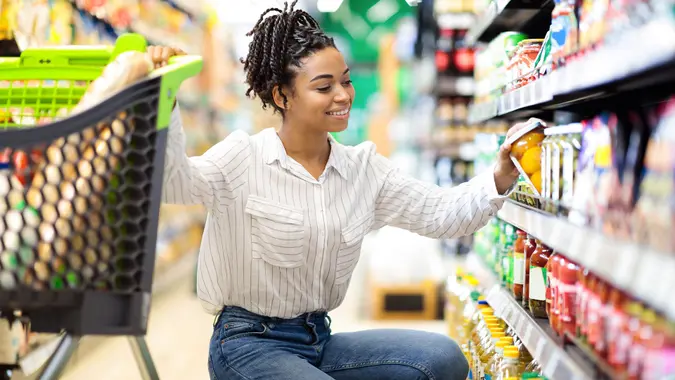 Prostock-Studio / iStock.com
Amid inflation, grocery store trips have increasingly become calculated visits. From coupon stacking to making a list, shoppers are using every trick they can to ensure they receive the most bang for their buck during these visits. 
Want to knock an extra $100 off your grocery bill? These shopping hacks can help you save $100 during your next grocery store trip.
Use the Store App To Navigate the Weekly Flyer
Many savvy grocery shoppers use the store's circular to determine which items they can get on sale and download the store app to better navigate the store's layout. What would happen if you combine the two together?
Dr. Joan Salge Blake — EdD, RDN, LDN, FAND and nutrition professor at Boston University — recommends grocery shoppers download their store's app and use it to navigate the store's weekly flyer and sale items. According to Blake, the flyer's front page contains "loss leaders." These are foods purposefully put on sale to "lead" shoppers into the store. Once shoppers are in the store, they will buy more profitable items like laundry soap.
However, loss leaders tend to include healthy foods like fresh produce and lean meat which is often what shoppers are looking for. Blake recommends planning your week's menu based on these bargain foods. You can always freeze some of the pricier items, like poultry, for later use. 
Take Our Poll: Would You Move for a Job That Paid You a $10,000 Signing Bonus?
Don't Pay For Packaging 
Like convenience items such as packets of instant oatmeal and yogurt or Lunchables?
Ashley Schuering, blogger at Confessions of a Grocery Addict, recommends purchasing these primary items in a bulk package instead. Instead of oatmeal packets, you can get a large tub of instant oats with a bag of dried fruit or purchase crackers, cheese and meat to assemble your own, less expensive versions of Lunchables. Not only will you save more money, but Schuering said you'll have more control over what goes into making your own grab-and-go snacks.
Shop on Off Days
Try to avoid shopping for groceries on days when the stores are crowded with shoppers. 
Schuering often goes grocery shopping on a Tuesday or Wednesday morning or afternoon. It's less busy and shoppers can save money if they know their store's restocking schedule. Schuering said her local Aldi restocks new products on Wednesdays and marks down older items to get rid of them on Tuesdays. 
Use a Shopping Basket
If you are not shopping for a family, one of the quickest ways to shave $100 off your grocery bill is by using a shopping basket instead of a cart while you shop. 
"The weight makes it so you have to prioritize only what you need and makes you move more quickly through the store," said Taylor Westergard, CFP, AFC and financial coach at Evolving Money.
Set a Goal for Your Grocery Trip
Let's say you only had $50 or $100 to spend on a grocery trip. What food would you buy if this is all the money you have? 
"Take cash to the grocery store for the limit you have set and see how it changes your purchases," Westergard recommended. Shoppers who go to the store with a set amount often find they shop differently and prioritize specific foods. 
Shop the Center Aisle
There are several bargains available to shoppers going unnoticed in the center aisle of the grocery store. 
"Canned vegetables are calculated to be about 80% cheaper than fresh and 50% cheaper than frozen, yet extremely nutritious and healthy," Blake said. "Canned beans are a bargain to add protein and fiber at a meal and will let you cut back on the amount of the more expensive meat or poultry you used in the recipe." 
Hit the Discount Bins
"I've gotten super lucky at Aldi, Kroger and Publix by getting 50% off meat, seafood and salad kits that were about to expire," Schuering said. "If you don't have a plan for the discounted food, vacuum seal it and toss it in the freezer for another day."
Buy the Ugly Fruits and Vegetables
Schuering said ugly fruits and vegetables are usually available to buy for a deep discount. What they lack in looking perfect they make up for in their fresh taste.
Head To the Farmers Market
Grocery shoppers on SNAP may want to try shopping at their local farmers market. Schuering said it can be cheaper to shop there due to less transportation costs. Many markets also have a program where each SNAP dollar equals two dollars.
Consider a Flexitarian Diet
Families who want to shave serious bucks off their grocery bills may consider eating primarily plant-based foods. Not sure if you can go fully the plant-based route? Schuering recommends reaching for high flavor impact ingredients like bacon to add flavor to your diet without hitting your wallet too hard. 
Put Your Credit Cards To Work
Some of your credit cards may allow you to earn points or cash-back offers when shopping for groceries. Check to see what your credit cards offer and start working these credit cards for extra savings. 
Build Up Your Pantry
Use grocery trips to build up your pantry essentials. Look for sales on dried goods like pasta, beans and flour, canned goods like fruits and vegetables and jarred items like peanut butter and jam. 
Schuering said pantry meals are especially helpful to lean on during the week when rent is due. Shoppers can skip the grocery store for the week and wait to go back until their next payday.
Keep an Easy Cheat Meal on Hand
Having a day you just don't feel like cooking? Rather than order takeout, Schuering recommends keeping an easy cheat meal on hand. Think a frozen pizza and a salad kit or simmer sauces, pasta sauces and stir-fry kits.
More From GOBankingRates