Free Weight Loss Programs to Help You Keep Your New Year's Resolution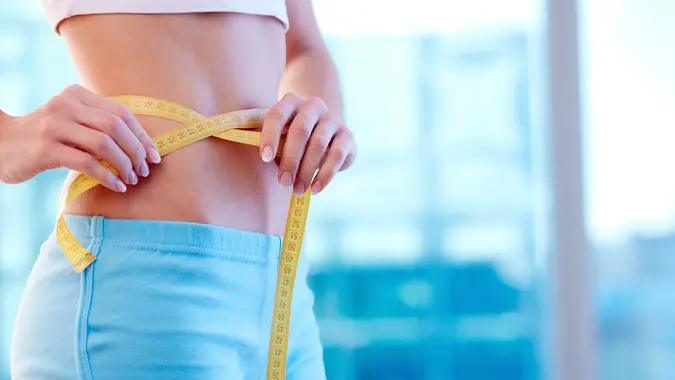 Pressmaster / Shutterstock.com
The idea of losing weight is simple: Burn more calories than you eat. But you need a good plan to help you get started — one that doesn't involve expensive investments in personal trainers or diet aids. The cheapest way to get motivated and crush your health and fitness goals for 2018 is by using one or more of these simple, cost-effective ways to trim your waistline.
Lose 20 Pounds Fast Diet — Good Housekeeping
Focus: Healthy living weight-loss plan
How to Get It: You'll need to print out the weight loss plan and exercise plan from the Good Housekeeping website because this weight loss program doesn't include an app or daily tracker.
What It Does: Good Housekeeping has an amazingly easy three-month weight loss diet program that includes a simple exercise and eating program. Each month you'll have a goal to lose seven pounds. You'll follow a 1200 calorie-per-day day meal plan to help you slim down quickly and still feel satisfied.
You'll follow a flexible exercise plan that includes cardio and strength training, with the duration of exercises increasing each month. A heart rate monitor will be helpful to have because there are target heart rates for activities.
Related: 51 Healthy Food Items That Cost Under $1
MyFitnessPal
Focus: Calorie counting weight-loss plan
How to Get It: The app is free for iOS and Android. Download via the App Store or Google Play. You can also opt for a premium, paid version that offers food analysis, a file export, macronutrient counting and more. 
What It Does: MyFitnessPal is one of the top weight loss and calorie trackers available, with over five million food and beverage items available that you can scan or manually enter and record in your food diary. Medical studies show that keeping a food diary is very effective, and has the potential to double weight loss results. And MyFitnessPal makes it easy: When you wonder how many calories are in a hard-boiled egg or a grande mocha Frappuccino at Starbucks, all you have to do is consult this handy app, and track your calories for the day.
Make Your Money Work for You
In addition to the calorie counter and food diary, the MyFitnessPal app also has a fitness journal and trackers for water-intake, steps taken and weight-loss progress.
Check Out: 20 Food Items That Are Good for You and Your Wallet
Happy Scale
Focus: Weight-tracking app

How to Get It: The app is free for iOS and Android. Download via the App Store or Google Play.
What It Does: Although many fitness experts advise not to weigh yourself daily, tracking your progress and regularly monitoring your weight is important. The Happy Scale App allows you to keep track of your weight and see trends that show you're losing weight even when the scale doesn't. And when you know you're making progress, it can serve as powerful motivation to continue working toward your goals.
Fitbit
Focus: Exercise monitoring weight-loss plan
How to Get It: Once you have a Fitbit, download the free app using the App Store or Google Play. You can find Fitbit models on Amazon or at retailers such as Target or Walmart.
What It Does: Considered one of the top weight loss programs, and a favorite among weight-loss programs for women, Fitbit keeps you motivated throughout the day by tracking your eating, drinking, exercising and sleeping. When you are close to a goal or have just met a goal, you'll get a notification from this popular weight-loss app.
You also can track exercises and see GPS maps of your workouts. Similar to Happy Scale, a new weight graph shows you trending patterns in your weight. 
Make Your Money Work for You
Get Serious: Cheap Gym Membership Options to Help You Keep Your Fitness Resolution
Whole Foods Market App
Focus: Cooking weight-loss plan
How to Get It: The Whole Foods app, which you can utilize to build a free weight loss meal plan, is available for iOS and Android and requires at least iOS 10 or Android 5.0. Download in the App Store or Google Play.
What It Does: The Whole Foods App allows you to search for recipes based on your diet needs, such as fat-free, high-fiber, low-fat or low-sugar. The app also has options for people who need dairy-free or gluten-free choices. You can also search almost 4,000 recipes and weight loss foods on the Whole Foods Market website.
Pacer Pedometer
Focus: Pedometer and weight-loss coach
How to Get It: The Pacer app is free for iOS and Android. Download in the App Store or Google Play.
What It Does: No wristband is needed with the Pacer Pedometer — only your smartphone. Pacer, which syncs with MyFitnessPal and the Apple Watch, keeps you working toward weight loss goals by automatically recording steps, distance, time spent and calories burned. The app also allows you to set your own customized goals and gives you gentle reminders to keep going.
Up Next: 9 Ways Being Healthy Can Save You Money
Free online diet plans and online weight loss programs allow you access to technology and experts without costly investments. As always, contact your physician or healthcare provider before beginning any diet, fitness or weight management program for information on how to lose weight safely.
Make Your Money Work for You