How To Get the Best Bicycle for Your Budget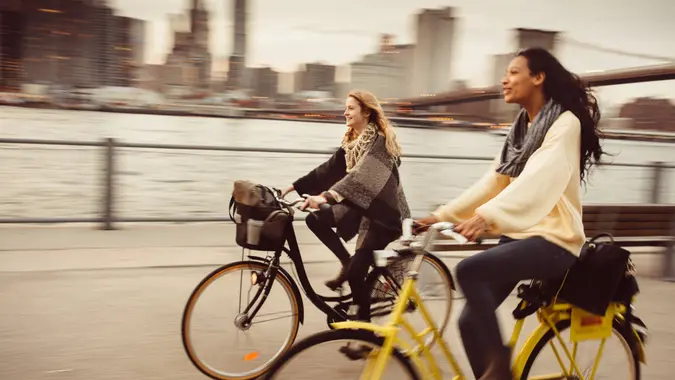 ferrantraite / Getty Images
The Tour de France, one of the world's most famous bicycling competitions, is rolling through nine regions of the country this summer, drawing some of the best athletes in the world. Perhaps it has inspired you to get back on your own wheels for the first time in a long time, or since last spring and summer.
Read: 10 Popular Products That Costco Doesn't Sell Anymore
Save More: 25 Secret Money Traps at Target, Walmart and Other Big-Box Stores
While you may have bicycling aspirations, you probably don't have a Tour de France athlete's budget and are wondering how to get the best bike without overspending. Here are some tips to help you find the right bicycle for your budget.
Shop in the Fall or Off-Season
When the weather gets sunny, people start going outside more, which can cause bicycle sales to soar. In 2020, ridership on trails in the U.S. tripled due to people having less to do during the pandemic, according to the BBC. Sales have not steeply declined since then, so your best bet is to wait until the cool weather returns, in the fall or winter, as shops look to unload remaining inventory and manufacturers slow production to focus on the next model year.
Make Your Money Work for You
More: Tips To Keep Your Finances in Order Without Sacrificing What You Want

Buy Used in Good Shape
If you can't swing a new bike, people are commonly looking to offload bikes they bought but rarely ride, or have upgraded out of. If you are buying used, you'll want to take a good look at the frame to make sure it isn't too nicked or dinged up, confirm that key parts such as the suspension fork and drivetrain are in good condition, and make sure the seller has no red flags in any marketplace you're buying from.
Related: 11 Things You Should Never Buy New

Look For Places To Demo a Bike
Before you buy, you should be able to test ride your bike. Otherwise, there could be a huge difference between how one looks and how it feels when you're on it. While most bike shops will let you do a little test ride around the block, some will even allow you to rent their bikes to test them.
Budgeting: 101 Easy Ways To Save Money Daily

Make Your Money Work for You
Buy an Out-of-Style Bike
One way to bring the cost of a bike down is to look for one that's not the latest and greatest model, but perhaps last season's or one with out-of-style parts. For example, according to the bike blog Singletracks.com, 26-inch wheels for mountain bikes have gone out of style, and people are offloading these bikes at a fraction of their original cost.
See: 50 Easy Things You Should Do To Save Money
Buy Direct-to-Consumer Rather Than From a Shop
While it's fun to go into a bike shop and interact with your future bike in person, sometimes you'll pay more due to the necessary markup stores need to add in order to make a profit. Instead, you can buy from direct-to-consumer companies such as Canyon, YT Industries, Commencal and others, according to Singletracks. The blog reports that these bikes are excellent and often sell for hundreds, or even thousands, less.
Interesting: 16 Splurges That Save You Money in the Long Run

Be Flexible
You may have a very specific bike in mind, but if you keep an open mind and stay flexible to the options, you have an excellent chance of finding a bike that is just as good or better, and in the perfect price range for you
More From GOBankingRates
Make Your Money Work for You
Last updated: June 11, 2021
Make Your Money Work for You