9 Ways To Buckle Down Spending — Even During the Holidays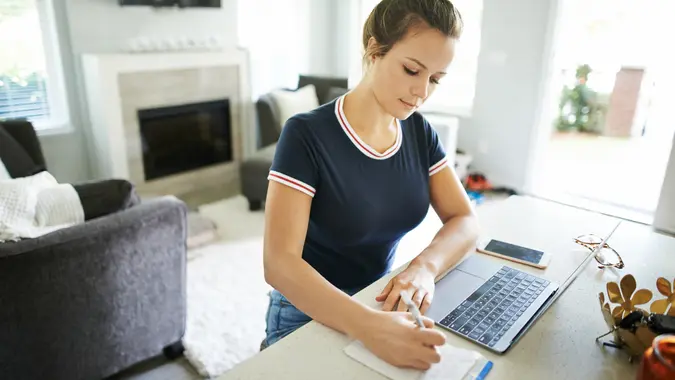 AJ_Watt / Getty Images
The holidays are in the air, and so too are loads of related sales and the not-so-subtle messaging to spend, spend, spend. And then spend some more. The whole thing is not only mentally stressful to navigate, it's financially perilous. According to a recent DebtHammer.org survey, more than half (58%) of Americans said they expect to take out a short-term loan to cover their holiday celebration expenses, and 66% plan to use a buy now, pay later plan to foot their holiday bill.
In order to avoid going into debt over the holidays — and starting the new year on rocky terrain — it's important that we make every effort to adhere to our budget and implement good financial habits that will serve us not just now, but always. 
Make a List — and Check It Twice
"Write down what you need instead of purchasing impulsively when you see an enticing deal or item," said Becky Blake, a millennial money expert, financial coach, and personal finance podcaster. " You can also divide the list into 'needs' versus 'wants.' By differentiating between items that are necessary and those that are simply desired, you can be more mindful of how much you're spending on each category."
Shift Your Income Mindset
"Instead of just considering the overall cost of a gift, try to calculate your hourly rate and keep it in mind when spending," said Brittney Casro, CFP at Mint. "For example, if you earn $80,000 per year and work on average 40 hours a week at 50 weeks a year, your hourly rate is $40 per hour. So when looking at the price tags of what you want to purchase as gifts, you can quickly think of how many hours of work they will cost you. This is a good way to keep things balanced and prevent yourself from overspending."
Make Your Money Work for You
Switch From Credit to Debit
"Changing your form of payment, specifically going from credit to a debit card or even cash can help curb your spending," said R.J.. Weiss, a CFP and founder of the personal finance site The Ways to Wealth. "The idea is to decide upfront a set amount to spend, knowing that once that money is gone, it's gone. This can help you stay mindful of how much you're spending throughout the month, and most importantly, think before making any impulse purchases."
Wait a Day Before Buying
"If you're online shopping, leave items in your cart and wait a day before completing your purchase," said Melanie Musson, a finance expert with InsuranceProviders.com. "There's no denying that making purchases is fun and receiving orders is even better, but don't let that desire lead you to buy things and gifts that aren't what you really need."
Musson reasons that when you wait a day, the excitement of shopping passes a little, and you'll be able to look at the items in your cart with more analysis and less emotion. 
"This principle is appropriate to use all year long because even though you don't associate shopping throughout the year with the excitement of Christmas, it's still a thrill to buy things during the rest of the year," Musson said. 
Set a Daily Food Budget — and Cook for the Week
"One underrated and silent budget killer is the amount we spend on food over the holidays," said Ari Shpanya, co-founder and CEO of LoanBase. "Since it's a busy time of the year and we find ourselves constantly on the move while we rush through the malls and visit relatives all over the state for the holidays. This makes it really easy to spend money on food and spend less time at home in the kitchen. So my best tip for extending your holiday budget so you can have more money to shop with is by starting a daily food budget. Make dishes that can last for several days and those ones that can be easily packaged and made from leftovers."
Make Your Money Work for You
Don't Dip Into Long-Term Investments
​​"If you find yourself coming up short this holiday season, you may be tempted to cash out at least a portion of your long-term investments," said Beth Stenz, CFP and financial advisor at Edward Jones. "But this can be a bad move, for at least two reasons. First, depending on the account you're tapping into, you may face penalties, fees and taxes. Secondly, and perhaps even more importantly, you'll be depriving yourself of resources you had earmarked for your key goals, such as a comfortable retirement. Sure, you may eventually be able to replace the funds you've withdrawn, but, in the meantime, you've lost out on the possible growth potential these investments may have provided — and that period of lost opportunity can never be regained."
Unsubscribe From Email Newsletters
"Every retailer throughout the Holiday season has deals, and it's within your email where they're usually letting you know about these deals," Weiss said. "Instead of being drawn to each and every deal that comes into your inbox, consider unsubscribing from these email blasts will help reduce the temptation of spending. Personally, I've used and love unroll.me, a free gmail service that allows you to bulk unsubscribe from dozens of email newsletters at once." 
Turn Off One-Click Ordering
"The internet makes holiday shopping so convenient; however, one-click ordering can quickly transform an impulse into an actual purchase," said Melissa Walsh CFA, CFP, AIF, founder and president of Clarity Financial Design. "Putting small checkpoints, like a digital cart and "proceed to checkout" button, can help us reconsider our choices to ensure they are the right ones. Additionally, we can see the total impact of our spending, instead of each purchase individually, so we can better assess the impact of holiday shopping on our budget." 
Make Your Money Work for You
Speak Up About Your Budget
"Don't be afraid to speak up and say no when you're invited to do things that are outside of your budget," said Leslie H. Tayne, Esq., founder and managing director of Tayne Law Group. "There's no shame; we just simply can't afford every item, gift, or experience there is in the whole wide world. If you're feeling the squeeze this year, say so. Your friends will probably feel relieved you mentioned it. During this holiday season in particular, people are planning to spend less. It's therefore likely that your loved ones don't want to spend an arm and a leg, either."
More From GOBankingRates