Here's How Much Americans Plan To Spend on Father's Day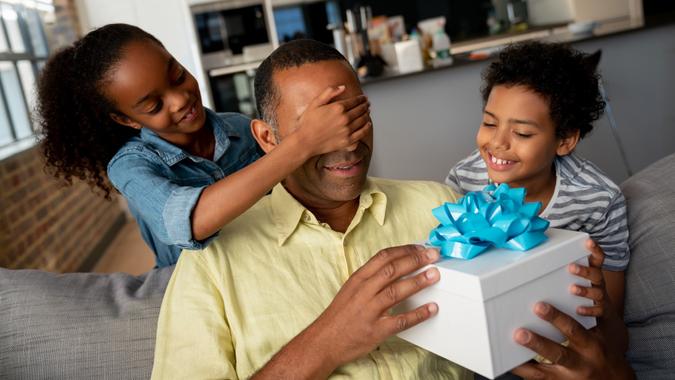 andresr / iStock.com
Although an early variation can be traced back to Europe in 1508, Father's Day didn't become a national holiday in America until 1972. That year, President Richard Nixon declared the third Sunday in June a time to reflect on the importance of fatherhood — nearly 60 years after the first Mother's Day in 1914.
See: Signs We're Bouncing Back: 6 Ways Americans' Spending Has Changed Since Last Year
Find: 10 Generous Financial Gifts (Other Than Cash) for Grads

Sunday, June 20 is Father's Day this year, a time to celebrate, a time to be grateful and a time to spend money — and spend money, America does. Here's how the country shows its love for dad at the cash register.
The Pandemic Did Not Slow Down Father's Day Spending
In 2020, Father's Day spending soared to an all-time record high of $17 billion — but even that is small potatoes compared to what's coming in 2021. According to the National Retail Federation (NRF), Americans are planning to dig even deeper for dad this year to the tune of $20.1 billion — another record broken, this time by more than $3 billion. The average person will spend $174 per paternal present — about $26 more than last year — with 3 out of 4 consumers planning to celebrate Father's Day in one way or another.
Make Your Money Work for You
More: Bank of America CEO Says Consumer Spending is 20% Higher Than 2019

So, Where Are All Those Dollars Going?
The NRF survey found that about half of that $26 increase over last year will go to consumer electronics, special outings and clothing. When all is said and done, these are the top 10 gifts that shoppers plan to get for their fathers:
Greeting Cards: 59%

Clothing: 49%

Special Outing: 46%

Gift Cards: 45%

Personal Care: 28%

Books/CDs: 26%

Electronics: 25% 

Home Improvement/Gardening Tools: 24%

Tools or Appliances: 24%

Sporting Goods: 22%
Related: Experience Gifts for Father's Day 2021 — And How Much They Cost

Interestingly, nearly 1 in 4 shoppers (24%) plan to give a gift of experience instead of merchandise and a full 38% are planning to buy a subscription box for dad.  
Who Is Spending How Much?
People ages 35-44 will spend the most on the big guy in their lives. They'll pony up an average of $259 this Father's Day — $49 more than last year. Those ages 25-34 are next in line at $244. The average amount those ages 45-54 plan to spend is about $174. Predictably, the 65 and up crowd will spend the least — about $85. The 55- to 64-year-old demographic isn't far off at roughly $118.
Make Your Money Work for You
Money Management: How To Cut Back Now on Your Amazon Spending

The vast majority of the money will be spent on fathers and stepfathers — in most cases. For obvious reasons, those who are 65 and older are the only group where a greater percentage plan to spend more on husbands or sons than on fathers. On the other end of the spectrum are the youngest shoppers — 18- to 24-year-olds and, to a lesser degree, 25- to 34-year-olds — who plan to spend more on grandfathers than on sons. Here, too, biological realities make that dynamic self-explanatory.
Modern Money Etiquette: Rude Money Habits You Need To Break Now
Discover: 10 Perfect Stocks To Give as Gifts for Any Occasion

Men plan to spend more than women by a margin of $209 to $141, respectively, and below the Mason-Dixon line, dad gets an extra portion of Father's Day love. Southerners are most likely to celebrate and plan to spend the most — about $186 on average. The next most generous region is the West, where shoppers plan to spend about $182. In the Northeast it drops down to $177, followed by less than $140 in the Midwest.
Make Your Money Work for You
More From GOBankingRates
Last updated: June 16, 2021