How Much Americans Spend on Fireworks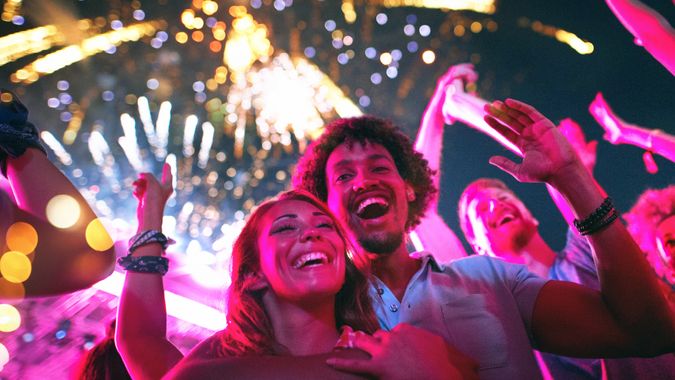 gilaxia / Getty Images
There's no doubt that Americans love the Fourth of July, but they may love their fireworks even more. From the year 2000 to the year 2019, the amount of money Americans spent on fireworks grew from $407 million to a staggering $1 billion. But, what happened in the pandemic-affected year 2020, and how are sales looking for 2021?
Related: The Best Fourth of July Sales: Deals at Best Buy, Home Depot, Wayfair and More
See: Holidays Where People Spend the Most on Alcohol and How Much We're Spending
Here's a look at the breakdown of what Americans are currently spending on fireworks, what is affecting the cost and some additional fireworks-related information.
What Happened to Fireworks Spending in 2020?
In 2020, the world effectively shut down due to the global coronavirus pandemic. Yet, Americans would not be denied their fireworks shows for the Fourth of July. Although most corporate- and government-sponsored fireworks shows were cancelled, individual American citizens kept up their love affair with the explosive delights.
Surprisingly, fireworks sales hit record highs of an astonishing $2 billion in 2020. Then again, setting off fireworks likely provided a much-needed sense of normalcy in a year that was anything but, perhaps explaining the buying surge.
Check Out: 16 Ways To Save Money on Food
Make Your Money Work for You
How Are Sales Looking in 2021?
In 2021, it would make sense for sales to build on the momentum shown in 2020. In fact, with the American economy reopening and mask mandates falling by the wayside, fireworks sales should theoretically be skyrocketing. Yet, the same supply chain disruptions that have created shortages for everything from appliances to bicycles in the U.S. have hit the fireworks industry as well.
Industry experts project that the supply of fireworks for the Independence Day holiday will be down about 30% over 2020. As the U.S. imported about 255 million pounds of fireworks in 2020, that only leaves an expected 178.5 million pounds of fireworks available for this year's festivities, or about $1.4 billion.
Celebrations: The Impact of COVID-19 on Holiday Spending for the Past Year
Cost of Fireworks Shows
According to Premier Pyrotechnics, a Missouri-based fireworks company, a typical small-town or community fireworks show lasting 10 to 20 minutes costs between $2,000 and $7,000. Fireworks pyromusicals, which have large amounts of fireworks synchronized to music with computers, cost $1,000 to $2,000 per minute, typically exceeding $20,000.
While $20,000 is nothing to sneeze at, it's also nothing compared to the more elaborate fireworks displays put on by major corporations and metropolises. Macy's puts on the largest fireworks show in America, and in 2021, it will run for several nights across all five of New York City's boroughs, from June 29 to the climax on July 4 at the Empire State Building. The 44-year old tradition reportedly costs approximately $6 million.
Make Your Money Work for You
Banking: Are Banks Open on the Fourth of July 2021?
Of course, private fireworks shows conducted by individual Americans are much cheaper than the fancy displays shown around the world on TV. At the online store for Captain Boom Fireworks LLC, a simple six-pack of "Window Shaker" rockets costs just $11.99, while the "Storm Front Assortment," containing six full packs of 200- and 500-gram repeaters, is listed at $225. However, as seems to be the problem across the U.S., supply chain issues have rendered this assortment "out of stock," along with many others at the store.
More From GOBankingRates
Last updated: July 1, 2021