15 Inexpensive Father's Day Gifts for Dad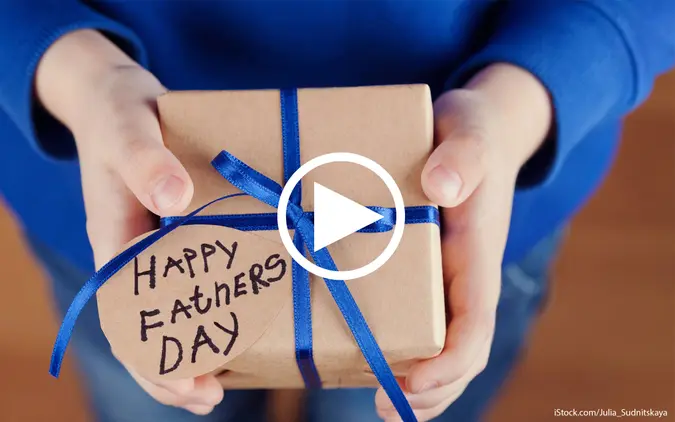 Celebrating Father's Day has been a tradition for over a century. As time goes on, for a lot of us, Father's Day is getting more elaborate and more expensive. "Nearly four in five Americans will spend money on a gift for Dad this Father's Day, spending an average of $87. This is more than the $74 gift givers planned on spending last year," said Sara Skirboll, shopping and trends expert at RetailMeNot.
Spending more money this June on Father's Day won't make Dad feel more loved, but getting him a gift to let him know how much he's appreciated is always a good idea. Here's a list of inexpensive Father's Day gifts including some do-it-yourself options.
Read: 40 Best Father's Day Gifts, Freebies and Deals
1. Make a Sentimental Gift
Hand or footprint gifts for a dad with a new baby — or younger children in general — are cheap and easy to make. One nifty way to gift little ones' prints is with a cement stepping stone kit from a craft store or online. You can get an easy hand print kit from Amazon for under $25.
2. Treat Him to Gourmet Coffee
A gourmet coffee set makes a great gift for die-hard java drinkers. You'll be giving your dad access to a finer cup of brew without him having to pay for coffee at a cafe. Many gourmet machines are expensive, but there are a number of options that will fit well within a $25 budget.
Make Your Money Work for You
One example is introducing him to Vietnamese coffee: You can get a bag of Farmers Blend, which is roasted near Ho Chi Minh City, for less than $8 on Amazon. It comes with a how-to guide and makes 15 to 20 cups. You can also give him a special press called a coffee phin, which you can for about $9. And don't forget a can of condensed milk, which adds the perfect finishing touch.
3. Waterproof His Phone
A waterproof phone case can make a great Father's Day gift. This way, your dad can use his phone at the beach, by the pool and outdoors in general. There are many budget-friendly options for under $20 that any dad would enjoy.
Read: 10 Things That Happen When You Don't Use a Credit Card
4. Encourage His Hobbies
It's always a good idea to get a gift having to do with your dad's hobbies or interests. If your dad likes to fish, for example, there's a lot your can do with $25 or less. A new tackle box is a great place to start. For example, Target has one with multiple compartments for $15, which allows you to spend a little more on gear to put inside like hooks, weights and lures.
5. Get Him Into Mixology
Help your dad stock his bar with a bottle of liquor or an assortment of cocktail mixers. Or you could create a gift basket with a mixture of his favorite beers and maybe a couple beer mugs. If he's more of a wine drinker, give him a customized bottle with his name on it. Josh Cellars is offering free customized wine labels that allow you to add a special message to a gifted bottle at ATributeToDad.com. There are lots of affordable wines available as well from Wine.com or even your local  grocery store for under $30.
Make Your Money Work for You
6. Give a Carry-On Cocktail Kit
If your dad travels a lot, give the gift of in-flight cocktail. The Giftagram app has Carry-on Cocktail Kits the include everything needed for two fine cocktails, except the alcohol, which is usually available on the airplane. For example the Gin and Tonic Kit includes a bar spoon, jigger, tonic syrup and linen coaster. The kits are $24, but you can use promo code GOBANKINGRATES10 and save $10 off your first Giftagram until July 1.
7. Find a Place for His Tools
If your dad has tools lying around for work or hobby, help him organize and secure them with a new toolbox. GraciousHome.com has toolboxes in two sizes that have a tote tray for small items and a built-in padlock eye. The toolboxes range from $15 to $22 and you make it do-it-yourself gift by customizing the toolbox before you give it.
8. Gift a New Belt or Wallet
Instead of going for fashion, get Dad a belt that helps him in some way. A tool belt is a great idea for dads that do a lot of handy work and a weight lifting belt is a good pick for dads that pump iron.
You could also give Dad a new wallet. One example is the SPIbelt — which is the hands-free way to carry his phone, keys, credit cards and passport. It's handy to use at the gym, walking the dog or traveling. And priced at $19.99, the Original SPIbelt won't bust your budget.
9. Let Him Choose a Gift Card
Over 35 percent of dads are hoping to get a gift card or gift certificate for Father's Day, according to RetailMeNot. If your dad is a traditional shopper, give him a gift certificate or gift card to his favorite store or restaurant.
Make Your Money Work for You
If your dad is tech-savvy or does a lot of shopping online, give him a gift card with the Gyft app, which offers electronic gift cards in increments as low as $10. The app is also a great option if you're unsure which gift card to choose because it allows him to make his own gift card choice from over 200 options. And to make the giving extra special, you can send  a custom Father's Day note or video message along with it.
10. Help Around the House
One of the best gifts you can give your dad is to just spend time with him or offer your help. From helping him around the yard to fixing some things around the house, anything that helps is appreciated. Plus, then you can save your dad from having to do everything himself or spend money hiring a professional to do something you could easily do. And if you do work together, it will surely be a bonding experience you both will remember.
11. Detail His Car
Getting a car professionally detailed can be pricey, especially if the vehicle needs to be waxed or have the upholstery cleaned. If your dad's car could use some love, spare him a bill by rolling up your sleeves and taking the time to detail his ride yourself. Alternatively, you could just take it to get washed, including an interior clean, for under $30 at most places.
12. Invite Him to a BBQ
Father's Day is a great time to kick off the summer grilling season. Chances are Dad won't have any objections to you preparing his favorite foods and serving them fresh off the grill — from burgers to kebobs and more.
Make Your Money Work for You
13. Plan a Fun Activity
Plan a day doing things your dad enjoys. If he's a golfer, use a site like Groupon to get a great deal on a course you know he'd love. If he likes outdoor activities, plan a picnic in a park or find a cool trail to hike together. Or if he's a movie-guy, spend Father's Day watching his favorite movies or take him to a new one he's been dying to see.
14. Put Together a Photo Album
If you can't be with your dad for Father's Day 2016, give him the next best thing — a photo of you. Photos are another personal gift that can be presented in a variety of creative ways. Apart from quality time, a photo of you and your dad, or you and your siblings, can be one of the best gifts. From digital photo albums from sites like Shutterfly to a single photo in a nice frame, you have many options — and most can be kept under $25.
15. Create a Memory Book
People love to be recognized for what they do and dads aren't an exception. Create a book that gives your dad credit for the impact he's had on your life. On each page or chapter, list achievements, awards and advancements you've made and tell your dad how he contributed to each of them. You can also highlight special memories and moments you've both shared.
This can be one of the most touching do-it-yourself gifts he'll ever receive. All you need is a journal or notebook — you can get all different designs and types for under $10 — and some materials from the craft store to customize it if you wish.
Make Your Money Work for You
For Father's Day, it really is the thought that counts. Spend some special time with your dad on his day and let him know how much you appreciate all he's done, and all he does.
Keep Reading: 33 Expensive Services You Should DIY