There's More To Buying a Pumpkin This Year Than Just the Price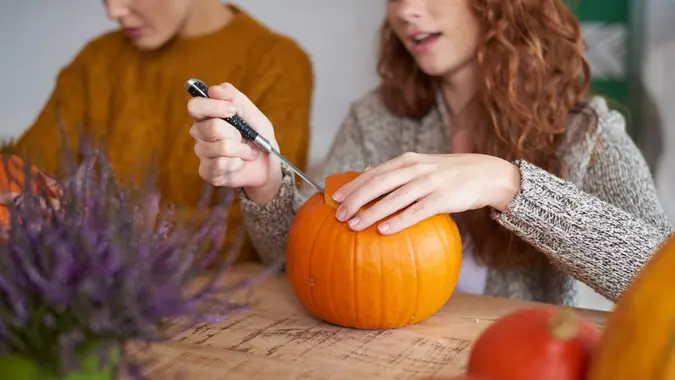 gpointstudio / Getty Images/iStockphoto
The leaves are changing, and the weather has taken a decidedly fall turn in much of the country. With Halloween around the corner, your neighbors have gotten out the decorations and transformed their well-manicured lawns into spooky graveyards filled with tombstones, skeletons and ghosts or into a jollier celebration of the season with a huge inflatable jack-o'-lantern hovering over the yard.
Find Out: Target or Walmart: Where Should You Shop This Halloween?
Read More: The Cost of Halloween in the US 
You believe in more simple decorations — pumpkins! — and that begs the question: When is the best time to buy yours? As with most things in 2021, there's no simple answer.
Pumpkin Prices
According to statistics from the U.S. Department of Agriculture, pumpkin prices in 2020 were at their lowest during the third week of October, with the average advertised retail price across the country registering $3.63. The price consumers will pay fluctuates in the weeks before Halloween and depends on the retailer as well as your area of the country.
Make Your Money Work for You
A price check in the first week of this month showed pumpkins were advertised at Aldi for $2.99 in some locations, at Walmart for $3.28 (or $3.98 for a white one!), $3.99 at Fry's Food Stores in Arizona and at home improvement store Lowe's for $5.98. Whole Foods listed its pumpkins at $8.
Fall Family Fun: 11 Cheap and Cool Ideas
Those are flat-rate prices, not dependent on the size of the pumpkin. If you truly are interested in finding the best deal, you'll have to weigh the pumpkins and calculate the price per pound.
Local farmers markets and pumpkin patches also give you the chance to support a local business and pick your pumpkin in a more festive way. Make a day of it and take the kids to the pumpkin patch, which also might have hayrides and hot apple cider, but buying your pumpkin there could cost more; 60 cents a pound or more isn't uncommon. Still, it might offer affordable mini-pumpkins — they're $1 at the Cedar Hill Farm in Hernando, Mississippi, for instance — to make it possible for the little ones to walk away from the farm with their own tiny pumpkin as a souvenir.
Make Your Money Work for You
Check Out: 10 of the Best Fall Attractions Across the US — And the Cost To Visit
Pumpkin Supply
As with many products this year, the availability of pumpkins is down, in part, because of pandemic-related supply chain issues, and if you wait until the end of the third week of October, you might get shut out of a perfect pumpkin. But it goes beyond that. A lack of workers in the field, drought in one area of the country and too much rain in another have hampered production. And television station KSDK in St. Louis reported that a fungus affecting the pumpkin crop in Illinois would wipe out some supply.
Check Out: 8 Affordable Fall Leaf-Peeping Trips
Illinois produces the most pumpkins in the country, and second place isn't even close. According to USDA statistics, 420 million of the approximately 800 million pounds of pumpkins grown in 2019 came from Illinois. Illinois' haul was more than three times that of second-place states California and Indiana, each of which harvested about 120 million pounds.
Make Your Money Work for You
One note of caution. If you decide to buy your pumpkin early to stave off potential supply disruptions, don't carve it right away and keep it out of the sun to prevent it from going bad. Real Simple magazine advises not creating your jack-o'-lantern until three days before Halloween. Until then, leave your pumpkin in the coolest and darkest area of your home to preserve it until trick-or-treat time.
Stock Up: 5 Bulk Food Items You Need To Be Buying at Costco This Fall

Passing on the Pumpkins
If the price is too high or you can't find a pumpkin that pleases you, you don't have to skip decorating for the holiday. Maybe this is the year you start to sprinkle in some nonperishable pumpkins.
Dollar Tree sells foam pumpkins for just $1, and craft stores Michaels, JOANN and Hobby Lobby all have decorative pumpkins for less than $10 that will last from year to year. Tip: Before heading to the craft stores, check their websites for coupons.
And if you decide to mix and match — maybe one grown pumpkin and a few facsimiles — keep the seeds from your pumpkin after you've carved it to grow your own next year. Website Gardening Know How recommends removing the seeds and pulp, putting them in a colander and allowing water to run over it. From there, separate the seeds from the pulp, rinse them and keep the biggest ones for planting. Put them aside for about a week — not touching each other — to dry, then store them in an envelope in your refrigerator. If you've got a sunny spot in your yard that can accommodate pumpkins, pull the seeds out next spring to grow your own pumpkins in 2022.
More From GOBankingRates
Last updated: Oct. 8, 2021 
Make Your Money Work for You