Too Into the Spirit of Giving? 9 Ways To Show You Care Without Breaking the Bank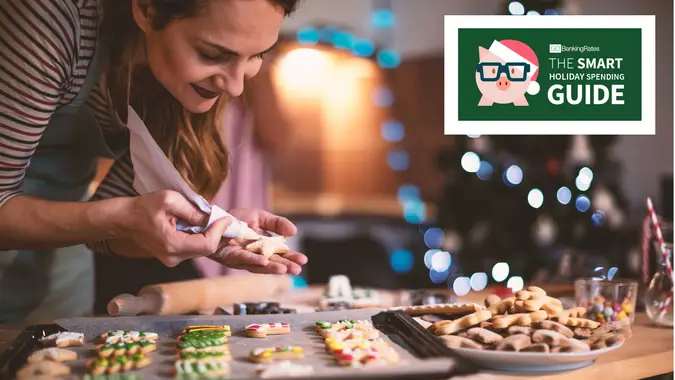 MilosStankovic / iStock.com
The holiday season is shaping up to be an expensive one, with consumers planning to spend just under $1,000 this year for their shopping, according to the National Retail Federation's annual holiday survey. The survey indicates that about $648 will go toward gifts, roughly $231 will be spent on holiday items like food and decorations and $118 will be spent on other holiday items.
Good To Know: Why Do We Spend So Much Each Year on Holiday Shopping?Tips: How To Not Overspend on Your Kids This Holiday Season

With gifts taking up the majority of the holiday spending pie, shoppers appear devoted to showing their loved ones they care. But do you really need to drop so much dough to let people know that you cherish them? No — especially if you're living on a shoestring budget as so many Americans are.
"It appears that most folks are on a tight budget these days — or at the very least, need to be," said Katie Roberts, consumer analyst with DealNews. "According to a 2021 survey from the American Payroll Association, more than 60% of Americans would find it very difficult or somewhat difficult to meet their financial obligations if their paychecks were delayed a week. In other words, the majority of the country is living paycheck to paycheck."
Read: Wrapping Paper, Greeting Cards and More Holiday Items to Only Buy at Dollar Stores
Fortunately, there are plenty of super low-cost and even free ways to celebrate those nearest and dearest to you.
Take Their Kids for the Day
"If there's a mom or dad in your life who you want to give a gift to but just don't have the budget for right now, you can give the best gift by offering to take their kids for the day or night so they can have some alone time," said Andrea Woroch, budgeting expert. "Just make sure to be proactive in nailing down a date and scheduling it; otherwise, the parent may not feel comfortable following up to plan it since they may feel like they're taking advantage of you. As a mom of 2 young girls, I can tell you that this would be my top rated gift."
Make Your Money Work for You
The gift of babysitting is free to give, and can potentially save your friends the cost of a babysitter or nanny.
Discover: How to Get Ahead on Budgeting for Holiday Shopping (and Shipping) in Advance
Plan an Outing
"More people than ever appreciate getting together with loved ones in person these days and planning an outing which doesn't have to cost a lot is a great gift alternative to giving things," Woroch said. "Activities like a hike and picnic or visiting art galleries are fun ways to spend time together without spending a lot of money. Put it on their calendar so it's set in stone."
Hiking trails don't cost a dime. Additionally, most museums are free, at least at certain times of the week, so this could be the perfect, literally priceless excursion.
Read: Where To Get Unique Holiday Gifts Without Leaving Your House
Get Crafty
"You don't have to be an artist to be crafty," Woroch said. "There are so many inexpensive kits you can buy at craft stores or dollar stores to make your own gifts such as ornaments or keepsake boxes. Crafts from little kids to grandparents are especially sweet."
For ideas and inspiration, Woroch suggests running a search on Pinterest. The price of this gift depends on what you make, but it's sure to be a lot cheaper to DIY a trinket than to purchase it ready-made.
Find Out: 29 Ways To Save On Holiday Gifts
Tackle a Chore
"If there is something your loved one has been talking about tackling but keeps putting it off– such as organizing their closet or garage, purging and donating toys, painting the laundry room, etc., offer to do it for them," Woroch said. "Since your loved one may not feel comfortable planning it, I recommend being persistent or just showing up one day to do it."
Make Your Money Work for You
Find Out: How Much You'll Need To Pay To Get These 10 Top Christmas Toys Before They Sell Out
Make a Scrapbook
"Is there a special memory or trip you recently shared with a friend or family member? If so, make a scrapbook about it to share with your loved one as a gift," Woroch said. "Aside from the cost of printing pictures and materials like an album, this is an inexpensive gift that packs a lot of punch and will keep giving back for years to come since they can flip through it to relive those memories."
Woroch shared that one of the things she plans on doing this year is making a scrapbook for her mother. She'll be asking for messages from family members to include throughout the book.
Be a Personal Chef for a Night
"Are you known for making an amazing dish or just an all around good cook?" Woroch said. "Why not plan a night to wine and dine your loved one with a delicious meal prepared by you. You could serve as a personal chef for a fraction of what that would actually cost. Chances are you can even raid your own pantry and freezer to pull ingredients and offset the cost of groceries."
Tips: From Airfare to Gifts to Your Tree, How To Save on Every Aspect of Holiday Spending

Offer Your Professional Services
"If you are professionally skilled in a service your loved one would benefit from," Woroch said. "For instance, an accountant can help with personal tax prep or create a tax plan, a photographer can offer to take family holiday photos and a marketing professional can help a friend get their small business off the ground."
Make Your Money Work for You
Send a Greeting Card With a Heartfelt Note
Roberts suggests going the sweet and simple route by sending a greeting card with a heartfelt note.
"Bonus points if it's unexpected," Roberts said. "Yep, we're talking about snail mail here. How exciting is it to get a 'thinking of you' card amidst all the junk mail and bills?"
Check Out: Your Complete Guide To Getting Ahead and Saving on Holiday Shopping
Buy a Gift — But Be Smart About It
"The key to gift shopping is sticking to your budget and saving when you can," Roberts said. "For example, always check for a coupon code before you buy something, compare prices for the same item at different retailers, and factor in shipping costs as part of the overall price."
More From GOBankingRates
Last updated: Nov. 1, 2021