Walmart's After-Christmas Sale: Toys, Electronics and More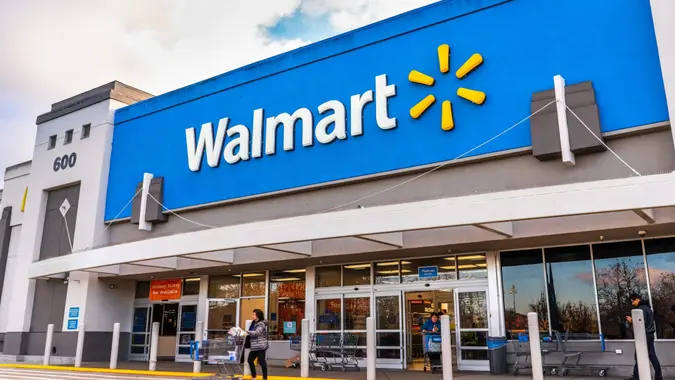 Sundry Photography / Getty Images
Christmas might be drawing to a close, but holiday sales continue in full force at Walmart. The retailer hit the ground running early this year, with October promotions and Deals for Days Black Friday specials that started in early November, hoping to lure nervous shoppers away from their computers and into stores. Although more consumers shopped in-store this year than last, in-store Black Friday shopping was down over 28% compared to pre-pandemic levels, according to an analysis by Sensormatic Solutions. Analysts think that early promotions spread out the shopping season, making particular discount days less relevant than in previous years, according to CNBC.
Discounts were lower this year, too. Cyber Monday discount levels on electronics fell from 27% last year to 12% this year, and TV discounts fell from 18% to 13%, CNBC reported.
Read on to find out what products you're likely to see discounted this year and how much you can expect to save on after-Christmas deals.
How a Walmart After-Christmas Sale Works
The day after Christmas is one of the busiest shopping days of the year and one of retailers' last opportunities to move massive amounts of merchandise. Christmas sale decisions are made at both the corporate level, which supplies stores with markdown lists, and at the stores themselves, based on how well the merchandise has sold so far and on inventory leading up to Christmas.

Make Your Money Work for You
The day of the week Christmas falls on also influences markdowns. Christmas falls on a Saturday this year, which means many people have the following day off, giving stores a better chance to cash in on Christmas merchandise sales.
The Saturday before Christmas, known by retailers as Super Saturday, is typically the second-busiest shopping day of the year, after Black Friday. However, Super Saturday was down 26.3% from pre-pandemic levels, according to Sensormatic Solutions. Coming on the heels of a disappointing Black Friday, this lackluster performance might prompt Walmart to use aggressive discounts to draw customers into stores on Dec. 26 and beyond.
Regardless of the day of the week, after-Christmas discounts typically are steeper than discounts leading up to the holiday.
"Before the holidays, brands are competing for your dollar against their competitors, but after the holidays, they have to convince you to buy altogether," said Estee Goldschmidt, CEO and co-founder of ShopDrop, a shopping app that helps urban fashion lovers discover sample sales.
Of course, that might be a little easier this year than in previous years. Consumers have cash to spend, and they might spend more of it in stores if the omicron variant prompts them to rethink travel and entertainment spending.
Make Your Money Work for You
Walmart After-Christmas Sales 2021: What To Look For
Preseason sales are often indicative of the kinds of sales you're likely to see after Christmas. Use the following guide to find the best deals the day after Christmas and beyond.
Electronics
Home entertainment and home office tech products top the list of pre-Christmas deals, with especially good discounts on streaming devices. But you'll also find surprisingly good deals on wearables, including high-end earbuds and an Apple watch.
Pre-Christmas TV discounts were generally smaller this year than they were last year, but there are a few exceptions that could carry over to after-Christmas sales. Walmart also marked down a number of smartphones.
Video game systems were discounted over the holidays last year. This year, Walmart offered some Black Friday "special buys" on game systems and games rather than dollars-off discounts, but accessories and PlayStation Plus membership cards were marked down. Depending on how well video game merchandise did before Christmas, the deals could be a little more generous come Dec. 26.
Also keep an eye on home automation products. They were heavily discounted before Christmas and might be after, too.
Here are some specific electronics products to watch:
Make Your Money Work for You
Health and Beauty
Holiday-packaged cosmetic and bath gift sets are excellent choices for your after-Christmas shopping list because they'll automatically be marked down come midnight on Dec. 25. Other items to watch for include personal care products like electric toothbrushes, massagers and genetic ethnicity test kits, all of which were discounted before Christmas.
Here's where you might see some of the biggest after-Christmas price reductions on health and beauty merchandise:
Toys
Walmart advertised few toy discounts in its 2021 Black Friday circular, but it did feature special purchases on items. As late as Dec. 23, a modest number of toys on Walmart's 2021 Top-Rated by Kids Toy List were on sale, including popular brands like Star Wars, Lego, Fisher-Price and Disney. Beyond the list, dolls were discounted up to 40% and games and Nerf products were up to 50% off. Electronic toys from V-Tech were also on sale.
In light of sluggish in-store shopping so far this season, Walmart might offer discounts on additional items after Christmas — and deepen discounts on toys already on sale.
Here are some popular items that were marked down before Christmas and should be afterward as well.
Home
The first thing many after-Christmas shoppers do is head for the holiday-decor clearance shelves, but cookware, small appliances and furniture should also figure prominently in Walmart's after-Christmas sales. Black Friday deals were mostly for special buys that didn't list savings. As Christmas drew nearer, however, discounts were some of the steepest of any category in this roundup. Air fryers and vacuums were hot items, and celebrity-chef-branded products were marked down as well.
Pay particular attention to these home items after Christmas:
Other Products
Some of Walmart's best after-Christmas sales might include jewelry, clothing and sporting goods. Jewelry, for example, was still heavily discounted after Cyber Monday, with fine jewelry marked down 80% or more.
In clothing, winter items are most likely to go on sale after Christmas. "Sweaters, coats and boots tank in price after holidays," said Goldschmidt.
Indoor items like game tables and exercise equipment are good bets for after-Christmas sales, with pre-Christmas discounts in both categories reaching 50%. Basketball systems and outdoor play equipment like trampolines are also likely to be discounted, based on pre-Christmas sale prices with 10% to 30% reductions and a smattering of steeper markdowns.
Check out these prospects for after-Christmas discounts:
Beyond Walmart Sale Prices
The price might drive consumers' primary motivation to purchase, but convenience, health and safety are also important. By offering curbside pickup and delivery, increasing the number of staff on hand to assist shoppers and implementing touch-free payment, Walmart hopes to give consumers more reasons than ever to shop its stores and its website.
Deals and prices are accurate as of Dec. 27, 2021, and subject to change.
Make Your Money Work for You