Whole Foods Will Pay You for Messing Up Your Thanksgiving Turkey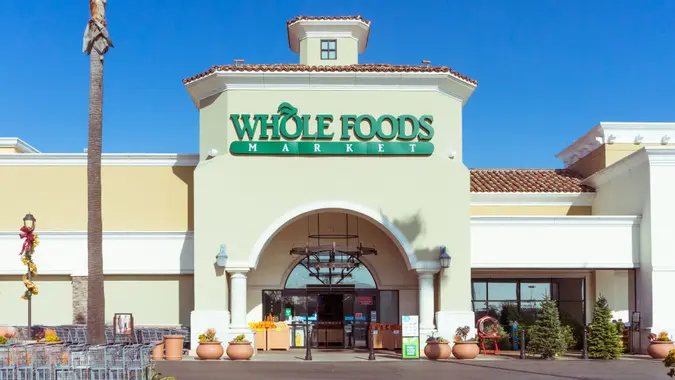 Sue Hwang / GOBankingRates
Due to the ongoing pandemic, more people will be staying home this Thanksgiving. That means more intimate gatherings and plenty of first-time chefs. A survey conducted by OnePoll for HelloFresh found that 18% of respondents will be cooking their own Thanksgiving dinners for the first time this year. The pressure is on to make droves of dishes including a whole turkey — which if prepared wrong can make you seriously ill. There's a silver lining though (or at least, a very savvy marketing agenda): If you buy your Thanksgiving turkey from Whole Foods and "commit a turkey cooking fail," Whole Foods, partnered with insurance giant Progressive, will grant you a $35 gift card. 
Restrictions (and plenty of them) do apply. To be eligible for the "turkey protection plan" and nab the free gift card, customers need to do the following: 
Purchase the turkey from Whole Foods between Nov. 11 and Nov. 22.  

Keep your receipt.
Mess up your turkey by either overcooking it, undercooking it, burning it or serving it too dry.
Write a brief explanation of how you failed.
Submit the explanation along with your Whole Foods Market receipt and a photo of the failed turkey to Whole Foods. This must be done by visiting the Whole Foods Turkey Protection Plan website between Nov. 26 and Nov. 27.
Oh, and only the first 1,000 claims will be honored, presumably because either quite a lot of people will end up accidentally screwing up their turkey this Thanksgiving, or because they will do so on purpose to get $35 from Whole Foods. The latter scenario makes little-to-no sense when you consider that a Whole Foods turkey costs up to $7.99 a pound — likely adding up to far more than $35.
Read on to check out other ways you can save and have a blast this Thanksgiving.
More From GOBankingRates
Make Your Money Work for You