6 House Items Buyers Never Regret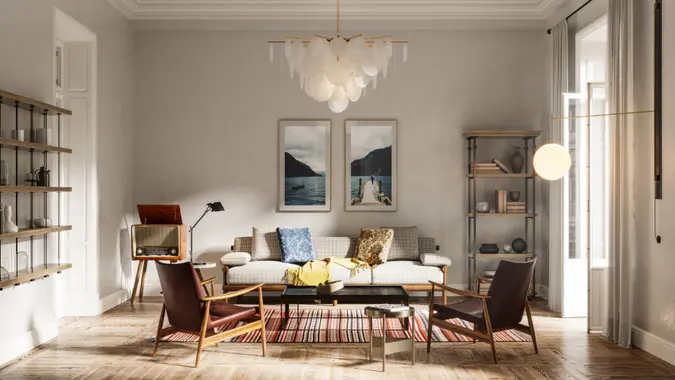 alvarez / Getty Images
Items for your home, decor or necessity, are the kind of purchase that crops up more often than you'd think. Not only do things break a lot, but we've all been on that harrowing Target trip where more things just magically keep appearing in the cart…it's exciting for a moment – until you look at the numbers on the receipt. 
Explore: GOBankingRates' Best Credit Cards for 2023
Read: Should You Still Buy a Home in Today's Market?
There are some household items, however, that are simply too good to pass up. Here are a few you won't regret buying afterward (even if they get a little spendy).
1. Window Coverings
Having plenty of light and views to the outside world is essential…until it isn't. When it's time to go to bed or switch outfits, you'll definitely want some privacy.
Make Your Money Work for You
Blinds are an inexpensive way to keep the sun out of your living spaces and the temperature from not going up, with some slightly more expensive options to help muffle outside noise. 
Another option is to go with curtains or drapes, depending on how heavy of a fabric you want to hang and how much light you want to filter out. Shades are the middle-of-the-road option, able to go up and down with the plug of a string and available to fit a variety of windows.
Take Our Poll: Do You Think People Should Invest In Crypto?
2. Cleaning Products
Depending on how much you're willing to spend on a housekeeping service, your budget might gear toward a DIY style of cleaning. Even if you do have a cleaning crew spruce up your home every day, you can never anticipate when an accidental mess might occur.
Cleaning products to keep on hand at all times are multi-surface cleaners, including glass cleaners, and disinfection sprays for areas like the bathroom or kitchen. And don't forget all the soaps — hand, dish and body — so you can keep your insides and outsides clean as well.
Make Your Money Work for You
While shopping for these household items, don't forget to buy…
3. Cleaning Tools
…the things you'll need to apply the products and make your home sparkle.
This includes cleaning essentials, such as a multi-use vacuum cleaner for your floors, rugs and furniture. For the non-fabric floor surfaces in your dwelling, a mop, broom and dustpan are necessities for maintaining an organized living space.
Lots of brands like Swiffer and Dirt Devil offer a variety of appliances that are adaptable to cleaning up any nook or cranny; but in a pinch, don't forget the old stand-by: paper towels, the Swiss Army knife of household cleanliness.
4. Lighting
Outside of the kitchen, chances are that most of the rooms in your home have a single built-in lighting fixture that provides less-than-ideal illumination. That's why personal lighting touches are must-haves, but there's lots of options depending on where and what lighting you want. 
Are you looking to set a mood? Do you need extra light for working on a project or task? Should there be accent lighting or just a general wash?
Make Your Money Work for You
More so than the fixture it's in, the type of lighting comes down to the bulb: traditional incandescents that have been adding warm light to homes for years, compact fluorescent bulbs (CFLs) that are long lasting with 75% less energy usage, LEDs that create the same effect as CFLs while lasting three times longer and Halogen bulbs that function as daylight recreation and use up to 20% less energy than incandescents.
Try out a few different options in a variety of rooms and see which one you like best before buying a whole box of bulbs that might be too much or not enough.
5. Fix-It Kits
You might not consider yourself a handy person or you might love to go around finding little projects work on in your home. No matter your final grade in high school woodshop, it's always important to have a tool box within reach at your home, complete with a hammer, screwdriver, pliers, wrench and measuring tape. From hanging a picture on your wall to tightening a leaky pipe, you don't want to be caught without some basic tools.
Same goes for touch-ups on those who live in the home, too, which means having a first aid kit (or several) easily reachable in your humble abode. Band-aid, gauze, disinfectant, tweezers and rubber gloves should always be available for an injury or accident that might happen in or around your home. Just make sure to regularly update the inventory and check expirations on certain contents so nothing is out of stock in an emergency.
6. Energy Accessories
All that power in your walls and nowhere to take it. Most things electric in your home should have a couple of accessories attached to them. This could be an extension cord to allow an appliance to function in its proper space. It could be AA or AAA batteries to keep mobile devices up and running. Or it could be a surge protector to keep your computer safe if the power should spike at any point.
More From GOBankingRates
Make Your Money Work for You