15 Tips and Tricks to Talk Your Way Into Free Hotel Upgrades

10 min Read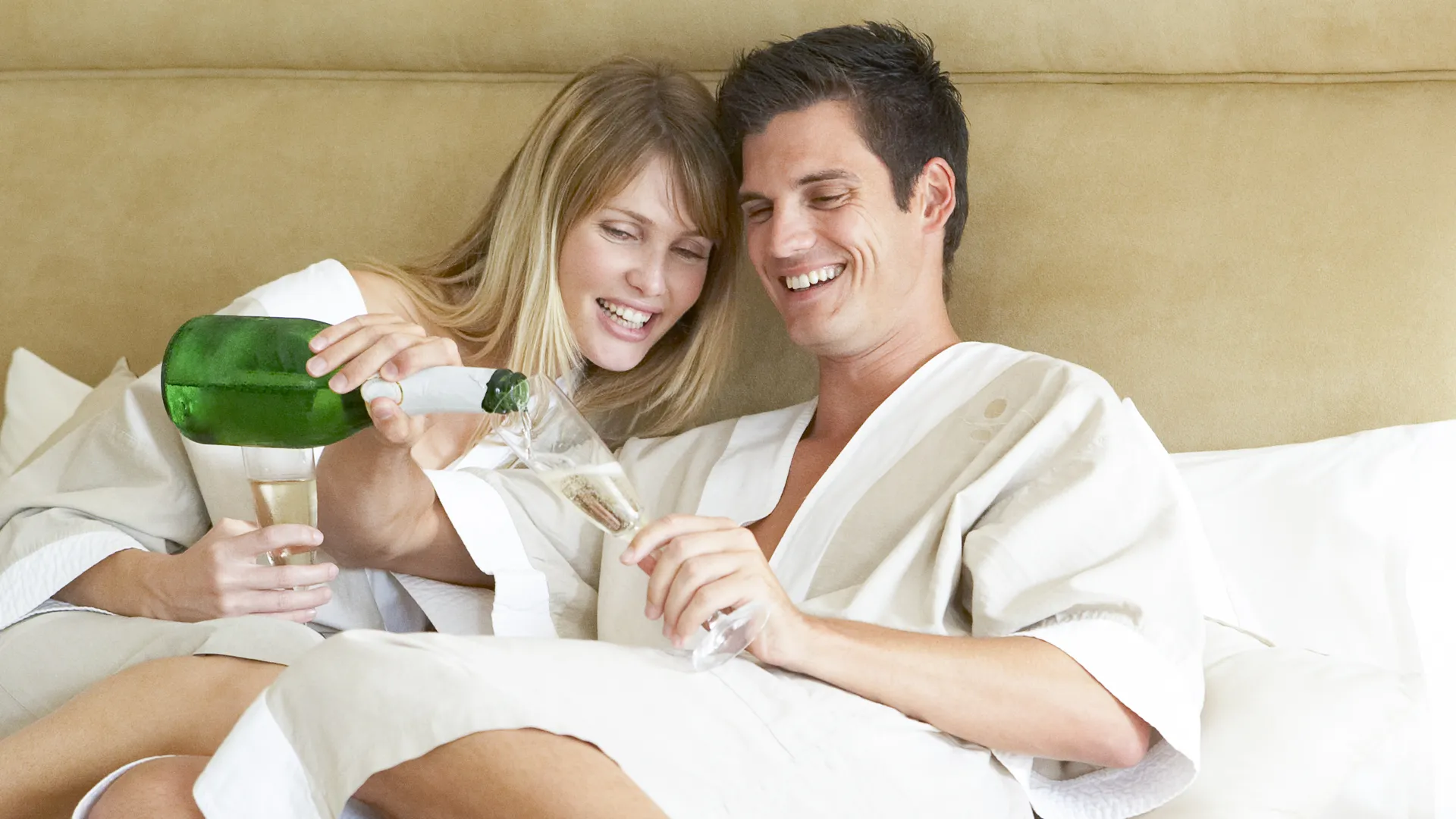 Reservations agents and hotel desk clerks aren't likely to reward timid travelers who are afraid to ask for a free hotel upgrade. That's why vocal vacationers know the best way to score a complimentary room upgrade or other premium perk is to respectfully request it.
Although hotel staffers can't always move every guest into a spacious suite or reward loyal customers with a free hotel room, travel experts say using these tips and tactics when booking a room or checking in will go a long way toward getting gratis goods and deluxe digs during your next hotel stay.
Make Your Money Work for You
1. Mind Your Manners
Hospitality workers appreciate travelers who treat them like individuals rather than just someone standing between them and the minibar, said Clem Bason, CEO of the value hotel search site goSeek and the former president of Hotwire.
"First, truly connect with the person at the front desk," he recommended. "Be friendly. Ask how they're doing. Ask if they're busy and if the hotel is full. Take a genuine interest. Frankly, you should do this no matter whether you're trying to get an upgrade or not."
The same goes for customers booking by phone. Reservation agents might be more likely to offer deals and perks to patient, polite people.
2. Report Room Issues, But Don't Be Rude
Along those same lines, respectfully pointing out a legitimate problem with your assigned room can earn you an upgrade, said Jessica Bisesto, senior editor at the travel deals site Travel Pirates.
"Hotels appreciate knowing when something isn't right in a room," she said. "Maybe a light bulb burned out, or maybe the air conditioning isn't up to par. A simple call to the front desk can result in a free room upgrade as long as you're courteous and empathetic. Just like in your own home, things happen that are out of your control."
Common problems include dirty rooms, broken appliances or bathroom fixtures or disturbances such as noisy room renovations happening nearby. Travel experts say hotels will also sometimes upgrade guests if they don't have a room of the type booked ready at check-in time or if they inadvertently send guests to the wrong type of room — like one with fewer beds than requested in the reservation.
3. Book a Mid-Range Room
Hotels typically offer multiple classes of rooms and other options. If you want a top-tier upgrade, don't book a bargain-basement room, said Bisesto, who spent more than six years working in different customer service roles at hotels, including a 3½-year stint manning the front desk. Based on that experience, she said it's much more common for staffers to offer a free hotel upgrade into the next-best class of rooms than to bump customers up several classes.
"By booking a middle-of-the-road room, you're more likely to receive an upgrade to the highest room category than if you book the cheapest room possible," she said.
For instance, it's much more feasible to ask for an upgrade into a one-bedroom luxury suite if you already have a basic one-bedroom suite booked.
Also in Travel: Luxury Hotels That Offer Free Perks
Make Your Money Work for You
4. Keep Your Options Open
Similarly, don't make too many room requests when booking if you want to ask for an upgrade at check-in, Bisesto said. Keeping your options open gives desk agents more flexibility and a bigger pool of room upgrades to choose from. If a specific view or amenity is very important, you can always make a request at check-in.
"When front desk agents see a guest requesting a very specific room or view from the balcony, that automatically reduces the possibility of room upgrades, as higher-grade rooms may not have the exact features desired by the guest," she said.
5. Be Discreet
You're more likely to get an upgraded room or premium perks if the front desk is deserted, Bisesto said. You might have the best luck waiting until late afternoon to check in, avoiding any rush that might occur around the hotel's earliest possible check-in time.
"Don't ask for an upgrade in front of other guests, as there may not be enough to go around," she said. "It could be upsetting to the other guests in the lobby if they reserved and paid for a more expensive room, to hear that the hotel is offering that same room type to other guests without charging more money."
6. Time Your Arrival
It might be tempting to arrive early to try getting dibs on the best digs. But, by late afternoon, the previous night's guests have checked out and an influx of last-minute reservations for high-end rooms is less likely, said Natasha Rachel Smith, a personal finance expert with the rebate and coupon site TopCashback.
"Sometimes, being early to check-in is not in your best interest if you're aiming for a free upgrade on your hotel stay," she said. "Instead, to give your chances of being bumped up to a better room a boost, arrive between 3 p.m. and 5 p.m., as that's when the receptionist has a better idea of what rooms are likely to stay empty overnight."
Don't Miss: 50 Things Your Hotel Will Give You for Free
Make Your Money Work for You
7. Try Something New
Smith said that you shouldn't be afraid to try new hotels. New hotels trying to build their brand might be more likely to award upgrades and perks to build buzz.
"Consider trying new properties that are building their reputation," Smith said. "Hotels that are new may be more willing to offer free upgrades to casually motivate customers to talk about their property. So take a chance and book your next stay somewhere new."
And some new properties might also offer introductory rates. For example, the Guest House at Graceland in Memphis offered room rates starting at $135 following its opening in late 2016 compared with its current best available rate of $179.
8. Be Social
Don't just rely on word of mouth. Take praise public when you enjoy your stay, Smith recommended.
"One of the best ways to ensure you become known to a hotel team is by spreading positive feedback," she said. "Leave a happy guest review on websites like TripAdvisor, Yelp and Facebook to get noticed. When you return, you are more likely to get upgraded to better perks — especially if you mention the review in passing conversation."
9. Play Your Cards Right
Travelers often leave upgrades and perks provided through credit cards unclaimed, Smith said. Review your credit cards' benefits before you book.
"Consumers make the common mistake of thinking that only expensive credit cards, such as American Express, have benefits. But other rewards credit cards offer the same perk," she said.
For example, the American Express Platinum Card comes with plenty of perks, but an annual fee of $550. By comparison, Capital One's Venture Card has no annual fee for the first year and a $59 annual fee afterward. It offers Visa Signature benefits at more than 900 properties in the Visa Signature Luxury Hotel Collection. Properties in the collection provide cardholders amenities such as complimentary continental breakfasts and food and beverage credits. Perks can also include automatic room upgrades and late checkout, when available.
Related: Travel Experts' Secrets to Scoring Free Perks and Upgrades
Make Your Money Work for You
10. Skip Online Booking Sites
If you want VIP treatment during your hotel stay, contact the hotel directly and mention how you came across the property, said Andre Arriaza, co-founder of Barcelona Eat Local Food Tours. Specifically mention you read favorable reviews or a glowing post from a travel blogger, for instance.
"You shouldn't ask for anything because if they are great, they will treat you [to a discount]," he said. "The secret is that when you book a room directly, they are not paying the fees of the booking engine — many times above 20 percent — so at least a 15 percent [discount] should be given to you."
If the reservations rep doesn't offer a deal, discount or upgrade, move on to the next hotel on your possible properties list.
11. Use Travel Sites to Research Rates
Savvy travelers should search for the lowest room rates online, then take a screenshot of a lower price. Then they should call the hotel and try to negotiate an upgrade. Bason, goSeek CEO, advised taking an approach like this one: "I found a lower price for my stay with you on another online travel site. I'm not asking you to match it, but wonder if you could offer an upgrade if I made the choice to book with you directly."
The value of the upgrade could outweigh the difference between room rates found online.
12. Contact the Competition
If you've already booked a refundable rate, Bason suggested calling neighboring hotels to see if they can woo you away. He calls the competition with this simple question: "If I switched to you and booked directly, would you be willing to offer a free upgrade?" The worst a reservations agent can say is no, which doesn't throw a wrench in your plans since you've already arranged accommodations.
When using this strategy, it's important to make sure your original booking is refundable. For example, the Renaissance Chicago Downtown Hotel offers advance purchase rates that aren't refundable unless the refund is requested within a day of booking. By comparison, its regular rate bookings can be canceled at no charge up to three days before arrival.
Make Your Money Work for You
13. Go Platinum
Booking rooms with platinum-level rewards credit cards often comes with automatic upgrades. For instance, American Express Platinum Card benefits include a free hotel stay on the third or fourth night of a booking at some properties and getting a free room upgrade upon arrival, when available, for many room classes.
Along those same lines, people can sometimes parlay their platinum-level status into upgrades at a hotel chain that's hoping to win the loyalty of a frequent traveler. For example, travelers earn platinum status in the Starwood Preferred Guest program after staying for 50 eligible nights or 25 eligible stays at a Starwood property during a calendar year.
14. Open Your Wallet
Dan Boland, a pilot and founder of the travel deal site Holiday Promo Code, said being polite and positive when checking in can help earn last-minute perks. He also uses the same strategies when traveling on his own dime.
"To be honest, the biggest tip is to give tips," said Boland, whose resume includes an early stint as a front desk agent at his hometown hotel. "If you give us tips, then we feel that you are valuing our position and authority to upgrade you. Who doesn't feel willing to help someone else out if they help us first? Even if we can't give you a better class of room, we can certainly arrange for a better room layout, view or position in the hotel. We also can arrange freebies like food, drinks or discounts on hotel facilities."
Even a modest tip can make a front desk agent feel appreciated, he said. For larger upgrades, it might make sense to tip 5 to 10 percent of the price difference between the rate for the room you booked and the room you're requesting.
Make Your Money Work for You
15. Don't Be Afraid to Ask
Hotels want to keep customers coming back, so they'll often offer upgrades or other perks to ensure guests have a good experience, said Sara Skirboll, shopping and trends expert at the coupon and promo code site RetailMeNot.
"The hotel business is big business, and hotels big and small are aggressively competing for customers every day of the week," she said. "All you need is a bit of courage and a smile, and more often than not, the front desk staff will do what they can to give you a little something special. Whether that means upgrading your room or simply offering free breakfast, a small and polite ask may go a long way."
Up Next: 50 Hotel Secrets Only Insiders Know
Editorial Note: This content is not provided by American Express. Any opinions, analyses, reviews, ratings or recommendations expressed in this article are those of the author alone and have not been reviewed, approved or otherwise endorsed by American Express. American Express credit card products are not available through GOBankingRates.com.
About the Author