6% of Pet Owners Spent Over $2,000 on Their Pets This Year: 10 Luxury Brands To Pamper Your Pet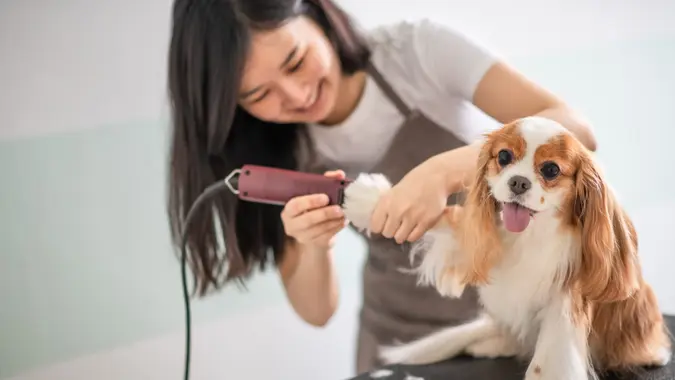 When it comes to their furry friends, some pet parents spare no expense. More than just an animal, these pets are valued loved ones — and the amount of money spent on them makes that clear.
Specifically, 6%of pet owners spent more than $2,000 on their pets this year, according to a recent GOBankingRates study.
If you're having trouble comprehending this, try to look past the dollar signs and into the deeper meaning.
"At the heart of it all is a blend of deep love and gratitude," said Thomas Phillips, founder and CEO of Pet Portraits. "While the basics like grooming and quality nutrition are a given, the essence goes beyond these necessities."
He said owners aren't viewing their animals as pets, they consider them steadfast companions and cherished family members.
"Every day, my Cavapoo Leo greets me with infectious enthusiasm, and his antics never fail to bring a smile," he said. "From celebrating his birthdays to ensuring he's part of our holiday festivities, he's woven into the fabric of our family."
Clearly, many people are willing to spend top dollar on their loved ones, and that includes their pets.
Luxury Pet Brands to Pamper Your Pet
If you're willing to pay top dollar for your pet, there's no shortage of brands that offer luxury items for them. Here's a look at a few you might consider.
Make Your Money Work for You
Food
"High-quality pet food and treats can be expensive, especially for larger or more exotic pets," said Dr. Bethany Hsia, DVM and co-founder of CodaPet. "The cost of food and treats can range from $50 to $100 per month, depending on the size and breed of the pet."
She said you can also use subscription services to feed your pet.
"Services like Farmer's Dog and Nom Nom deliver natural and organic food daily," she said.
They're not cheap, but your pet will probably enjoy being spoiled with these fancy brands in their bowl.
Just Food For Dogs
Just Food For Cats
The Farmer's Dog
Nom Nom
Smalls
Clothing & Accessories
"Pet owners may also spend money on toys, collars, leashes and other accessories for their pets," she said. "These items can range in price from $5 to $50 or more, depending on the quality and type of item."
She noted that toys and accessories can quickly add up. This is especially true if you're shopping from the following brands.
Ralph Lauren
Gucci
Fendi
Louis Vuitton
Pottery Barn
4 Other Ways Pet Owners Spend Money
High-end food and accessories aren't the only pet-related bills some owners are footing. Here's a look at a few other costs that add up fast.
Veterinary Checkups
As living beings, pets need to go to the doctor, just like humans.
"Veterinary expenses include regular check-ups, vaccinations, and any necessary medical treatments for their pets," Hsia said. "On average, the cost of veterinary care for a pet can range from $500 to $1,000 per year, depending on the type of pet and its health needs."
Make Your Money Work for You
Grooming
"With dogs accompanying owners everywhere, from cafes to offices, regular grooming has become more of a necessity than a luxury," said Chris Allen of OodleLife. "Not just for looks, but also for health and hygiene."
He said the modern dog has a glamour budget that includes everything from regular trips to convenient paw wipes.
"Demand for specialized grooming products to match certain breeds and coat types has never been higher," he said. "Even DIY care for a non-shedding dog like a Goldendoodle will be hundreds per year."
Dog Daycare
"I have seen an incredible rise in the use of dog walkers and dog sitters," Allen said. "It's a strong trend of pet parents finding that daycare is the best place for their dogs to socialize and stay active, rather than staying home alone."
He said it isn't uncommon for people to spend $50-$100 per week on dog daycare.
Travel and Adventure Gear
As pets are often viewed as a constant companion, Allen said it's becoming increasingly common for them to accompany their owner on every trip.
"The rise in pet-friendly travel options means more owners are taking their dogs on adventures, necessitating durable gear, safety equipment — life jackets and snow gear — and extra transport costs," he said. "If you take your delightful dog on every holiday, beach trip and even overseas getaway, the costs add up quickly."
While it's not necessary to an exorbitant amount of money to care for your pet, that won't stop many pet parents from going all out. No matter what your stance on the matter, making your pet feel loved should always be your top priority.
Make Your Money Work for You
More From GOBankingRates