15 Extra Wedding Costs You're Probably Forgetting About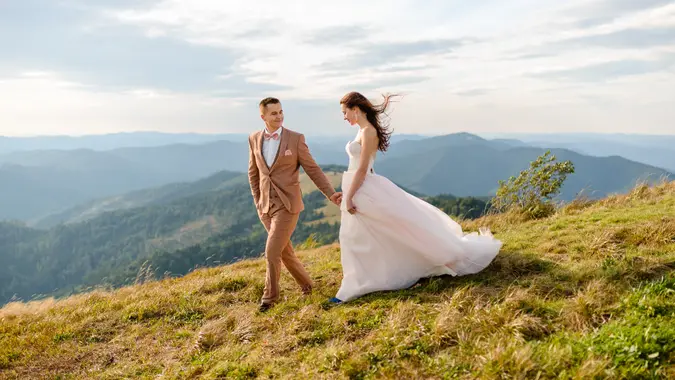 wolfhound911 / Getty Images/iStockphoto
Weddings are nothing short of full-blown celebrations, and they tend to cost a fortune. In 2021, the average cost of a wedding was $28,000 (but $34,000 if you count the engagement ring), according to research by The Knot. That was about the same as 2019, before COVID struck, which goes to show that though the pandemic temporarily shut things down, true love (and mega-parties) are back up and running again.
Find Out: Should You Still Buy a Home in Today's Market?
Find: If Your Credit Score Is Under 740, Make These 4 Moves Now
What makes a wedding so expensive? We all know the answers to that question, in part — the venue, the dress, the catering, the entertainment. But the list indeed goes on and on, and some of the standard costs associated with weddings aren't so obvious. Here are several under-the-radar expenses a couple can expect for their big day. Keep them in mind during the all-important wedding planning.
Make Your Money Work for You
Inflation 
Professional wedding planner Allison Williams has been planning her own wedding for over a year and is learning that vendors are adding on the costs of inflation to her and her partners' tab. 
"Without a doubt, one of the biggest hidden fees is inflation fees or costs that the vendors have to pass over to you," Williams said. "This happened to us, with all of our vendors. We agreed on a price and then were told the prices were increasing at the time of payment. We were told this was because their costs had gone up, and this was being passed on to us. We had to pay an additional 10% but they could not be avoided." 
Take Our Poll: Do You Think You Will Be Able To Retire at Age 65?
Site Permits 
"City parks, public places, beaches, or even at-home weddings may require a permit to ensure your event is legally allowed to happen," said Jessica Bishop,), founder of TheBudgetSavvyBride.com. "Depending on the location, event use permits can range from $50 to $250 or sometimes more. Check with your city about the restrictions and permits needed if you're going with a nontraditional location for your wedding. A professional venue will have all necessary permits and licenses in place, and will likely be baked into the cost of your event, so it's not avoiding the cost, but it's one less thing to worry about."
Make Your Money Work for You
Postage 
"We ordered all of our stationery from a graphic designer [and] while they were amazing, we needed to package and send them to all of our guests, which incurred a cost, each time," Williams said. "I think we paid an additional $100-$150 on this, plus all the time that went into it. The only way this could have perhaps been avoided is to have negotiated with the graphic designer or sought out a service that may have done it a little cheaper."
Marriage License 
"The cost of the marriage license can be a hidden cost when planning your wedding," said Sarah Jones, founder of WeddingTagMaker.com. "The marriage license fee can vary from state to state. In most cases, the fee for the marriage license is approximately $50."
Corkage Fees
"A cost that may get overlooked is corkage fees," said Sandy Yong, aka, The Money Master. "This covers the cost of storing the beverages (whether at room temperature or chilled), uncorking it and serving it to your wedding guests. Typically, this is when you have one vendor who supplies the alcohol or if you supply your own, while the other vendor (such as the venue or catering company) who will serve the alcohol. This is when you pay for the alcohol based on consumption, meaning that you pay for when alcohol is entirely consumed, opened and unable to be returned."
Make Your Money Work for You
Note that you can likely avoid corkage fees if you opt for a venue or catering company that supplies the booze at your reception for your big day.
Venue Requirements 
"When it comes to choosing a venue, people usually think of the base rental fee and that's it, but some venues may have odd requirements that can increase your costs," said Julie Ramhold, consumer analyst with DealNews.com. "Think minimum number of guests, restrictions on catering, tent requirements and even extra charges for bringing your own equipment or having an outside rental company provide things like linens and chairs."
Talk with your venue coordinators in depth and read the contract's fine print before signing to make sure you can cover these quirky add-on fees.
High Chairs (if Young Children Are Attending) 
"A hidden fee during my wedding was the cost of high chairs," said Jacqueline Gilchrist, MBA, the founder of Mom Money Map. "I needed eight high chairs to accommodate the guests that were bringing children. I assumed that the venue had these available as the tables and chairs were included in the price."
Alas, the venue did not have these chairs on hand, and Gilchrist was cornered into renting them last minute. "I paid a high chair rental company $10/high chair. In hindsight, I should have bought used high chairs and resold them afterwards," Gilchrist said. "When I had my daughter, I found many used high chairs for $10-20 at yard sales, on Facebook Marketplace and other online marketplaces."
Trial Fees
"These include things like beauty and tasting trial fees as you try to determine what you want your hair and makeup to look like, as well as what you want on the menu and what flavor of cake (or your dessert of choice) you want to serve," Ramhold said. "Vendors don't usually do these for free out of the goodness of their hearts so be prepared to pay for each trial and potentially every sample you try as well, rather than a blanket fee."
Favors
"Speaking from experience, this is something that adds up super quickly," Ramhold said. "There are tons of ideas for cute favors, but if you're on a tight budget and have a lengthy list of guests you want (or need) to invite, be prepared for this to take up a huge chunk of your budget. If you can, consider DIY favors instead."
Wedding Insurance
"You don't need wedding insurance, but depending on the level of event you're having, you may want to invest in it," Ramhold said. "It will protect against things like cancellation in case you have to cancel your wedding, which is definitely valid in the time of a global pandemic. But insurance can also cover things like liability claims if damage or injury occurs at the event. If your guests get rowdy, this may be the way you want to go to ensure you don't have to foot other massive bills."
Lighting
"We've all seen images of rustic wedding locations in barns with high ceilings and sparkly lights strung across bare beams, but if this is what you picture for yours, you should be prepared to pay for the lighting," Ramhold said. "It may be that you have to buy the lights yourself, or that you have to furnish candles and holders for the centerpieces, but be prepared for this to be a possibility."
Transportation
"Odds are good that unless you're staying at the venue, you'll need transportation and depending on where your reception is and what you have planned, you probably don't want to have to worry about driving when the day is done," Ramhold said. "If you're going to need to rent a vehicle of any kind, be sure to factor that in."
Cake Cutting
"This is something that surprises a lot of couples that are just beginning their wedding research, but many caterers charge a cake cutting fee — and it's not usually a flat fee," Ramhold said. "In fact, it tends to be more like $2 to $5 per slice, which can add up quickly if you have a large guest list."
Tips
"You'll need to tip every vendor that assists with your wedding, so be prepared ahead of time to dole out cash in envelopes that are clearly marked for them," Ramhold said. "Set aside between 10% and 20% of your budget for each vendor."
Setup and Teardown
"If you aren't handling the setup and breakdown yourself, you'll be paying for it, so be sure to factor that into your overall budget," Ramhold said.
More From GOBankingRates
Make Your Money Work for You