How To Navigate a Relationship With Someone From a Different Financial Background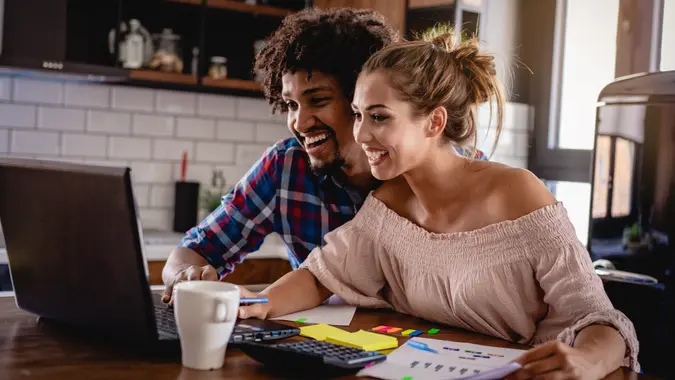 blackCAT / Getty Images
It may not seem like a big deal when you fall in love with someone who grew up in a different economic situation than you. You have shared interests, values and qualities that brought you together, and those will carry you through when you encounter your differences. Right? 
That would be great, but as relationships progress into stages where you're faced with making important financial decisions together, these differences can become more glaring and more challenging. Even small habits can become contentious, like whether you're buying premium or budget brands at the grocery store or how much to spend on a birthday gift. 
SNAP Benefits: How Long Do They Last?
Read: 7 Surprisingly Easy Ways To Reach Your Retirement Goals
The growing field of financial therapy is helping to acknowledge and address the fact that how a person approaches spending, budgeting and saving often comes from deep-rooted memories, past experiences and traumas — and that it's all part of the package when it comes to relating to your partner. 
Make Your Money Work for You
While improving your financial literacy can help, it's only a small part of the picture, said Ed Coambs, a couple's therapist and author of "The Healthy Love and Money Way."  
"There's a bigger narrative that financial literacy is the key to solving people's financial problems," he said. "But that doesn't solve for relationship health and mental health issues that often interfere with a couple's ability to navigate the money thing and communicate effectively."
Here, two finance and relationship experts offer their advice for addressing these differences like the dream team you and your partner want to be. 
'Difficult' Conversations 
"Money, along with other kinds of conversations, tend to be labeled as 'difficult', said Preston Cherry, a certified financial planner who specializes in money psychology. "I would say instead that they're 'necessary.' When they're labeled as' difficult' they're often not entered into at all." 
By redefining the conversation before it even begins, both partners can set the stage with a greater sense of openness and less anxiety. 
Coambs suggests being mindful of how you first approach your partner about having that conversation to gauge their receptiveness.  
Make Your Money Work for You
"First, make sure you're not blind sighting your partner," Coambs said. "You can say something like, 'I've been thinking about the way we deal with money. I'd like to find some time to really talk about how we do our financial life together. I'd like to find a way to collaborate better.'" 
Take Our Poll: Do You Think You Will Be Able To Retire at Age 65?
Common Goals 
Start your conversation with a discussion of what you want to achieve. Whether it's a large goal like buying a home or just planning a vacation or a date night, establish that you share an objective. That will help you start from a collaborative mindset. 
"In general, you want to maximize your well-being, both individually and as a team. You have life aspirations and you want to have the money to support those aspirations and increase your well-being," Cherry said. "You might realize that at the core, you're saying the same thing, but you're at each other's throats for the wrong reason." 
Make Your Money Work for You
Financial Empathy 
The conversation that happens around improving your financial relationship should happen in a safe space where both partners can be vulnerable and nonjudgemental, free of shame or guilt.
Coambs points out that money conversations can bring up a lot of intense emotions for people, and even past traumas. 
"We all have money memories. Memories in general serve to guide us in life," Coambs said. "So our money memories, especially ones that have strong emotion attached to them, whether positive or challenging, are what create our hopes, dreams, aspirations, and our fears and anxieties, places of shame. That's where we're going to get hung up."
It's important for each partner to work to understand their partner's emotions and experiences and practice an empathetic response. 
Cherry also stresses that the more discovery of these experiences that a couple can do in the early phases of a relationship, the better the stage will be set for continuing the conversations throughout. 
Find Your Approach
Come back to your shared goals. From a better framework of mutual understanding, you can better collaborate on how to accomplish them. 
Cherry reminds couples to give each other space to speak about one another's approach to accomplishing that goal. "What influenced that approach? What's the perspective of one another? Appreciate how each other thinks differently and perceives differently," Cherry said. 
At this point you may have to compromise, but even better, he says, is coming together. "Compromise is saying, 'I have to give up something.' However if the goal is common, maybe it's not seen as giving up something. We're coming together to accomplish a goal."
Every couple comes to the table with unique experiences and histories, and there's no one-size-fits-all formula. But approaching financial decisions with the recognition that there are many learned behaviors and complexities at play on both sides can help pave the way for more harmonious resolutions.
More From GOBankingRates
Make Your Money Work for You