15 Everyday Things That Empty Your Wallet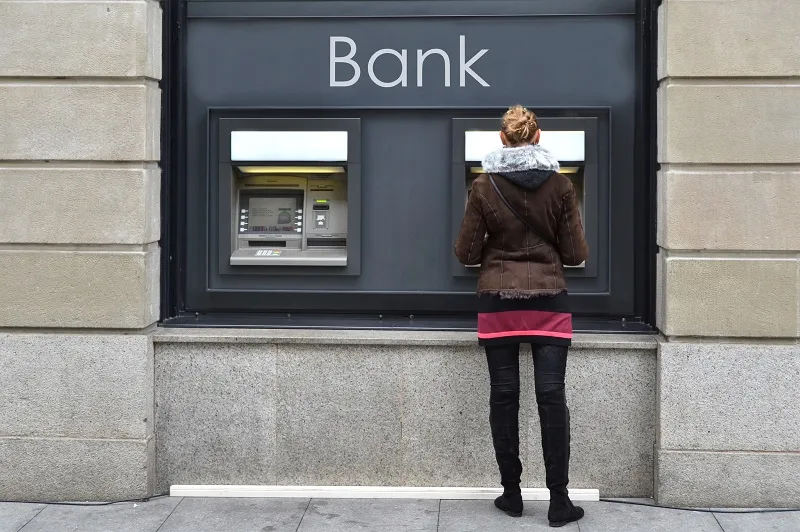 If you're trying to save money, start by looking over your everyday spending. You're likely buying plenty of things you don't need, paying more than necessary for what you do need and getting hit with fees that can easily be avoided.
Consider these 15 fees and expenses that might be emptying your wallet unnecessarily. Many of these can be eliminated from your life with minimal effort.
Read: 1 in 5 Americans Fear Living Paycheck to Paycheck Forever
1. ATM Fees
Getting cash from an ATM that's not in your bank's network can cost you, said financial expert Deacon Hayes of WellKeptWallet.com. Not only will your bank charge you for using an out-of-network ATM, but you'll also get hit with a fee from the bank ATM you're using. On average, the combined fees top $4.
These charges can add up quickly if you hit the ATM frequently. Apps such as the free ATM Hunter can help you find your own bank's ATM to avoid charges. Or consider getting cash back when you're paying for groceries at a supermarket without paying a fee.
Make Your Money Work for You
Read: 31 Worst Fees in America
2. Checking Account Charges
The average checking account has about 25 fees, according to one report, and some checking accounts host up to 50 different fees. If you're seeing charges on your bank statement, find out why. If you're not meeting a minimum balance requirement, for example, that's an easy fix unless you can't afford that amount. In that case, you might want to switch to a bank that doesn't hold you to a high balance. If you're facing hefty overdraft fees, sign up for online alerts.
Don't "opt in" to give your bank authorization to charge overdraft fees on debit card purchases or ATM withdrawals. You shouldn't be charged a fee if you don't opt in to overdraft protection and your transaction is declined. Also, consider taking your business to credit unions or online-only banks that charge fewer fees. One estimate said cash-strapped consumers whose balances often fall to zero could potentially save as much of $348 per year in fees.
3. Modem Rental Fee
An everyday expense that consumers might be paying for unnecessarily is a modem rental fee, said frugal living expert Lauren Greutman of IAmThatLady.com. For example, cable and internet provider Comcast charges $10 a month, or $120 a year, for a modem rental. Other cable providers could charge more.
Make Your Money Work for You
Buying a modem can cost you less. The Arris SURFboard Modem costs about $70 on Amazon.com, saving you $50 a year over a rental. Make sure the model is compatible with your provider's network before you make that purchase.
4. Cable TV
It doesn't make sense to pay for the premium cable package if you're only watching a select few channels. Consider watching TV shows and movies for less with on-demand streaming services. Market research group NPD estimates that the average pay-TV bill will top $123 a month in 2015. Services such as Netflix, Hulu Plus and Amazon Instant Video cost less than $10 a month, though you can only watch previously aired TV shows with these services.
You can get live programming with Sling TV, an internet-only service that costs just $20 a month and offers 23 channels, such as CNN, ESPN, HGTV and Disney.
5. Subscription Services
Your cable TV isn't the only subscription service for which you're likely paying too much. Consumer expert Andrea Woroch recommends evaluating your subscriptions for magazines, newspapers or even services such as Amazon Prime to make sure you're actually using them and getting your money's worth. She said that her husband recently told her he was paying $8 a month for a pet-tracker gadget that he hadn't used in more than six months.
Make Your Money Work for You
6. Bottled Water
Drinking water rather than soda or juice is a great way to save money as long as that water is from the tap. Bottled water at $1.50 for a half-liter might be costing you 10,000 times more per gallon than your tap water, according to the Natural Resources Defense Council (NRDC).
Buy a reusable water bottle that can be filled with filtered tap water for a fraction of the cost of bottled water.
7. Name-Brand Grocery Items
If you're not giving generic food items a chance, you're missing out on savings of up to 60 percent, Woroch said. "Compare ingredients of a name brand with the store or generic version and you'll see they're often identical," she said. Some of the items you should buy generic are baking essentials such as sugar and flour because they are single-ingredient goods.
Woroch also said items such as washed and cut vegetables could cost twice as much as those in their natural form.
8. Restaurant Meals
An occasional meal out can offer a nice break from cooking. But eating at restaurants regularly can add up quickly. According to the Bureau of Labor Statistics, the average consumer spent some $2,800 on food away from home in 2014.
Make Your Money Work for You
Cook meals at home to eliminate this big expense and make more than you need for dinner so you can have leftovers to take to work. If you do eat out, look for discounted restaurant gift cards at Gift Card Granny and other sites to save money.
9. Wasted Food
When you throw away food, you might as well be throwing away money. The average American tosses $28 to $43 worth of food each month, according to the NRDC.
Woroch said you can avoid this waste by planning your meals with tools such as the free Pepperplate app so you're buying just what you need. Resist purchasing food in bulk at a warehouse club. Those items may cost less per unit but those savings will disappear if you can't eat the food you buy before it goes bad.
10. Credit Card Late Fees
Credit card holders can avoid hefty late fees by paying their bills on time. Some credit card companies charge $25 for the first payment that's at least 21 days late and $35 for a second late payment in six months.
Setting up automatic bill pay to make at least the minimum monthly payment will prevent this charge. If you don't have a history of incurring late fees, LowCards.com CEO Bill Hardekopf recommends calling your card issuer to ask that the charge be removed. Point out how long you've been with the issuer, how loyal you are and how you rarely pay late, he said.
11. Wireless Data Overage Fees
If you tried to save money by signing up for a wireless plan with the least amount of data, you might have found that you exceeded your data allotment and got hit with fees as a result. For example, Verizon's "More Everything" plan charges a minimum of $15 for exceeding data limits. The more you exceed your limit, the more you'll be charged.
To avoid data overage fees, you can use the free My Data Manager app to track your data use and get alerts before you go over your limit. It also identifies which other apps on your phone are consuming the most data.
Make Your Money Work for You
12. Wireless Data You're Not Using
Paying for more data than you need might be emptying your wallet. Woroch said that 85 percent of mobile phone users buy more data than they're using, costing them $20 per month.
To find out how much data you're wasting, use apps such as Onava Count or 3G Watchdog to monitor your use. You also can visit MyRatePlan.com to find the right mobile plan based on the number of minutes, text messages and data you use.
13. Energy Vampires
You probably have electronic devices that are sucking energy even when they're turned off. Energy vampires such as cable TV boxes, DVD players and video game consoles account for up to 20 percent of your energy bill, according to Duke Energy, the nation's largest electric company. Since the federal Energy Information Administration figures the average monthly electric bill to be $111, you could save about $22 a month by unplugging all of your energy vampires.
For help identifying which devices suck energy in your home, read the list on Duke Energy's website.
14. Gym Membership
Are you still using that gym membership you signed up for on Jan. 1, when you resolved to lose weight? If not, you're wasting money.
Even if you do get in a regular workout at the gym, you might be spending too much. The average cost of a membership is $58 a month, according to Statistic Brain Research Institute. Instead, take advantage of running trails or fitness DVDs from the public library to exercise for free. Your city's recreation department might offer a fitness facility membership that's a fraction of your gym's costs.
15. Unused Daily Deals
Many consumers take advantage of daily deals from sites such as Groupon to score big savings on products and services. These deals go to waste when the person doesn't get around to using them.
Woroch recommends selling those unwanted daily deal purchases at sites such as CoupRecoup.com, then unsubscribing from daily deal sites to avoid the temptation.
Editorial Note: This content is not provided by Chase. Any opinions, analyses, reviews, ratings or recommendations expressed in this article are those of the author alone and have not been reviewed, approved or otherwise endorsed by Chase.