10 Amazon Scams To Avoid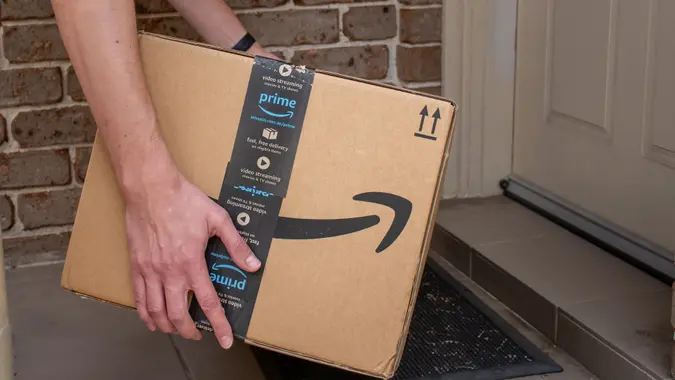 Daria Nipot / iStock.com
Amazon tends to make any delivery seem possible. With so much convenience there can come consequences. Amazon is a huge global conglomerate which also makes it a huge target for scam artists. 
Read: How To Get Free Gift Cards From Your Everyday Purchases
In an ideal world, you wouldn't have to worry about people trying to constantly take advantage of your account information while you are just ordering some socks, but in the real world, you must exercise some caution. Whether you are an Amazon Prime member or simply about to use your Amazon credit card, you should be aware of these red flags.
10 Amazon Scams To Avoid
Anytime a scam is successful it creates more probability it will be used again. Here are some common Amazon scams from which you should steer clear.
Amazon invoice scam
Amazon job scam
Amazon review scam
Brushing scam
Order confirmation scam
Prize notification scam
Overpayment scam
Porch piracy scam
Prime Video sign-up scam
Suspicious account activity scam
1. Amazon Invoice Scam 
This scam comes in the form of a phishing email claiming you ordered something from Amazon that you did not order, and that there is a problem with it. It asks you to click on a link to fix any errors and it will then prompt you to give personal information. Do not do so. Here are a few signs that the Amazon invoice is fake and part of a phishing scam.
When you hover your cursor over the sender's email address and it is long and coded or doesn't look like a professional email account.
The email is filled with spelling or grammatical errors.
The email isn't formatted like other emails you have received from Amazon.
Make Your Money Work for You
2. Amazon Job Scam 
Looking for employment is difficult enough without having to worry about this fake Amazon job scam. This scam is where a fake ad lists a job opening at Amazon. When you apply for the job, the scammer then asks you for your personal information such as your Social Security number or bank account information. To avoid this scam and getting your identity stolen, never give this information through an unsecured channel.
3. Amazon Review Scam 
The fake Amazon review scam essentially is when third-party sellers send people free items in exchange for very positive five-star reviews. One reason this scam is so successful is that people undoubtedly like free stuff. Because so many people use Amazon's review section to determine if they will buy a product or not, you can see where this would be misleading or even fraudulent.
4. Brushing Scam 
Ever receive a package you didn't order? Well, you could have been a victim of a brushing scam. This is when a package that you didn't order or weren't expecting from a friend or family member arrives. Cybercriminals do this to get more unearned reviews so they can mark you as a verified purchase. This improves their sales statistics. It is typically a small item that is not of much value, but if you receive one, you should report it to Amazon.
Make Your Money Work for You
5. Order Confirmation Scam 
Similar to the phishing fake invoice scam, the order confirmation scam is when you receive an email, or sometimes even a text or call, confirming an order you didn't place. If you feel like you might be a target of this scam, it might be a good idea to navigate to the orders section of your Amazon account and verify there hasn't been an order placed.
6. Prize Confirmation Scam 
Who doesn't like winning prizes? Well, don't rush to claim your alleged winnings until you are sure it is not a prize confirmation scam. Here are some signs the prize you are being offered is fake.
Paying for taxes or shipping and handling: You are asked to pay for the prize by way of taxes or shipping and handling charges. Real prizes should be free, and you should never give your information to pay for just part of the prize.
Paying to increase your odds of winning: Even though the prize is claimed to be free you are then asked to pay more to increase your odds of winning something from Amazon. Amazon does not solicit in this way for prize giveaways so don't give out your information to get this sort of fake prize.
7. Overpayment Scam 
If you receive an email or message that you are entitled to a refund as you overpaid or were overcharged for an item you ordered on Amazon, exercise caution. This could be the overpayment scam in action, and in this message, they will ask you to click on a link. Do not click as it will prompt you to divulge more personal information or even give them remote access to your computer.
8. Porch Piracy Scam 
Porch pirates are those that send packages to the wrong address, wait for them to be delivered and then steal it off of their porch or from the front of their home. The person to whom it was delivered is then subsequently charged for the item. If you see something pop up in your Amazon account that you did not order, make sure to report it to Amazon straight away to refute the charges.
Make Your Money Work for You
9. Prime Video Sign-Up Scam 
Cybercriminals often target customers who are signing up for Prime Video. There are several fake ads, internet connectivity alerts or pages that look similar to the Prime Video page but are not part of Amazon. They will then prompt for personal information such as bank details, passwords or other payment information. To avoid this, always put the Amazon URL directly in your web browser so you know you have not left Amazon for an Amazon scam.
10. Suspicious Account Activity Scam
The suspicious account activity scam often shows up in the form of a text falsely letting you know there is activity on your account that you have not authorized. You'll then be asked to click on a link or verify the charge. Don't click on this link as it is designed to steal your identity and login information.
Final Take
Amazon is not alone in having scam artists target their customer base. Scams are sadly an everyday part of participating in commerce. Don't despair or cancel your Amazon account just yet as there are many ways to avoid getting scammed or undoing the damage if you already have been scammed.
FAQ
Here are the answers to some commonly asked questions about Amazon scams.
What are the most common Amazon scams?

Unfortunately, many scams use Amazon as a guise, but here are some of the more common ones:

-Amazon invoice scam
-Amazon job scam
-Amazon review scam
-Brushing scam
-Order confirmation scam
-Prize notification scam
-Overpayment scam
-Porch piracy scam
-Prime Video sign-up scam
-Suspicious account activity scam

How do I know if I am being scammed on Amazon?

Here are a couple of indicators you are potentially the victim of a scam:

-The email you receive is messy, not well-formatted and filled with grammatical errors.
-Someone calls you to complete payment for an Amazon purchase -- Amazon doesn't cold call or complete purchases that way.
-You receive an invoice, text, call or email for an item you did not order or purchase.

Will Amazon ever contact you by phone?

No, Amazon will never call customers or ask to complete any payment or get any personal information over the phone.

What are the top ten scams?

The top ten most common scams associated with Amazon are the following:

-Amazon invoice scam
-Amazon job scam
-Amazon review scam
-Brushing scam
-Order confirmation scam
-Prize notification scam
-Overpayment scam
-Porch piracy scam
-Prime Video sign-up scam
-Suspicious account activity scam
Editorial Note: This content is not provided by any entity covered in this article. Any opinions, analyses, reviews, ratings or recommendations expressed in this article are those of the author alone and have not been reviewed, approved or otherwise endorsed by any entity named in this article.
Our in-house research team and on-site financial experts work together to create content that's accurate, impartial, and up to date. We fact-check every single statistic, quote and fact using trusted primary resources to make sure the information we provide is correct. You can learn more about GOBankingRates' processes and standards in our editorial policy.
Make Your Money Work for You