Geek Squad Email Scam: What Is It and How To Avoid It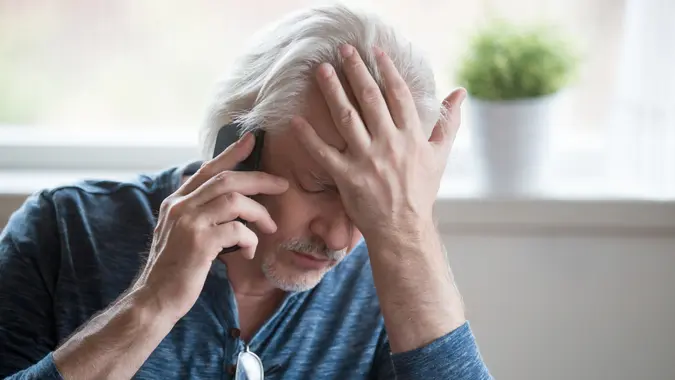 fizkes / Getty Images/iStockphoto
The Geek Squad scam email is a common variation of the standard email phishing scam. This common scam relies on a consumer's sense of panic when they believe that there might be an errant charge on their account, which they then call the scammer to "correct." The scammer's primary goal is to take money and personal information from the victim, either to use or to sell to another cybercriminal.
Read: 3 Ways Smart People Save Money When Filing Their Taxes
What makes this scam so popular? Can you get scammed by clicking on an email? What are the common signs of other scams? This article explains how the Geek Squad scam works and how smart customers can avoid it when shopping online.
How Does the Geek Squad Scam Email Work?
During the Geek Squad email scam, a scammer will send you an email claiming to be from Geek Squad, an offshoot of Best Buy designed to provide in-person and over-the-phone tech support. The scammer will often "spoof" their phone number or email address using software to make it look like the call the customer is receiving is genuinely from the real Geek Squad.
Make Your Money Work for You
The scammer will claim that there has been a major charge on the victim's credit card account. They may do this by claiming that the charge was made in error or they may send a phony invoice that makes it look like the victim will see a major charge on their card. In a panic, the victim responds to the scammer to correct the charge. 
After connecting with the scammer over the phone or via email, this scam can take many forms depending on what the scammer wants. Most commonly, scammers will claim to be able to reverse the charge if the victim provides their credit card information. Of course, no charge is ever reversed, because there was no errant charge in the first place. 
Some nefarious cybercriminals might instruct the victim to provide remote access to their computer or download a specific software program to correct an internal error on the user's account. Once the scammer has full access and control of the user's PC, they can easily steal personal information, download additional phishing software and viruses on the computer or hold access for ransom.
What To Do If You Are the Victim of a Scam
Here are some actions to take if you feel like you may be the victim of the Geek Squad email scam:
Call your bank or credit card company to freeze your accounts if you have shared any information.
Check your computer for viruses and disable your webcam.
Change your login details to any corresponding accounts if you clicked on a link and logged in.
If you have only spoken to scammers, do not follow any instructions or take any actions they tell you to do.
Make Your Money Work for You
How To Spot and Avoid the Geek Squad Email Scam
While the Geek Squad scam has already seen its fair share of victims, there are many warning signs that consumers can keep their eyes out for to avoid being scammed. Some of the most common "red flags" consumers should be aware of include the following.
Unprompted communication
Asking for credit card or bank statements
Inconsistent details
Sense of urgency
Threats
1. Unprompted Communication
One of the most obvious signs of the Geek Squad email scam is unprompted communication from someone claiming to be from the company. Customers who have received an email from Geek Squad without requesting communication should immediately be wary of responding. 
2. Asking for Credit Card or Bank Statements
This email scam largely relies on a sense of fear and panic overwhelming the victim's logic. Instead of responding to the email, customers are encouraged to check their credit card and bank statements to see if there is an errant charge from Best Buy or Geek Squad processed on their accounts. In most cases, there will be no such charge and customers can safely ignore these emails. If a customer does find a charge they believe was billed in error, they should contact Geek Squad or Best Buy directly using the company's official communication channels.
Make Your Money Work for You
3. Inconsistent Details
Since scammers are not associated with Best Buy, they have no access to a customer's specific personal details. The scammer may use inconsistent names or titles or confuse the victim's Best Buy location or the credit card they are attempting to take information from. These red flags indicate that the customer should delete the email and refuse continuing contact with the person on the other end of the email chain. Also, check for spelling or grammatical errors as this is a good indication of illegitimate correspondence.
4. Sense of Urgency
Scammers may claim that the customer will not be able to get a refund unless they surrender personal information immediately. Needless to say, genuine Best Buy representatives will never coerce customers over the phone or otherwise in a menacing manner. Best Buy representatives are not the police and have no power to arrest customers based on nonpayment of bills.
5. Threats
After making a connection with a scammer, customers might find themselves on the receiving end of financial or legal threats. They may threaten additional fines or even an arrest if they do not comply as soon as possible, which is not how a legitimate business would approach you. If you are feeling intimidated, it is more than likely a scam.
Final Take 
Phishing scams like the Geek Squad scam email are exceptionally common — in 2021, the United States FBI reported a sharp increase in cybercrime. One of the best ways for customers to protect themselves and their personal information is to make it a policy never to respond to unprompted communication from anyone claiming to be a corporate entity. Customers who believe that they may have had money taken by a criminal or who have been the victim of cybercrime are encouraged to file a complaint with the Internet Crime Complaint Center.
Geek Squad Scam FAQs
How do I report scam emails?

Customers can report scam emails to the Internet Cyber Complaint Center, an offshoot of the FBI developed to help citizens fight back against online fraud and scams.

Is Geek Squad trustworthy?

Though Best Buy does employ many qualified people for their Geek Squad, there is still risk anytime you submit your personal data. It may help to read customer reviews of your local Best Buy before you decide to use their Geek Squad or not.

What is a phishing email?

A phishing email is a

type of online scam where scammers impersonate legitimate organizations via email in order to steal banking, credit card or personal information. This is usually done by including a link that will appear to take you to the company's website to fill in your information.

Does Geek Squad send invoices?

No, Geek Squad does not send invoices. Customers who purchased an annual subscription will see an auto-renewal charge on their credit card or bank statement if they have approved such a charge.
Caitlyn Moorhead contributed to the reporting for this article.
Information is accurate as of Jan. 31, 2023.
Editorial Note: This content is not provided by any entity covered in this article. Any opinions, analyses, reviews, ratings or recommendations expressed in this article are those of the author alone and have not been reviewed, approved or otherwise endorsed by any entity named in this article.
Our in-house research team and on-site financial experts work together to create content that's accurate, impartial, and up to date. We fact-check every single statistic, quote and fact using trusted primary resources to make sure the information we provide is correct. You can learn more about GOBankingRates' processes and standards in our editorial policy.
Make Your Money Work for You