Online Stores That Accept Klarna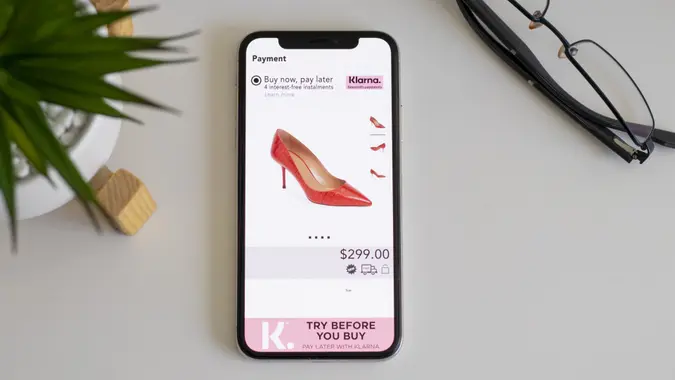 Ross Tomei / Getty Images
Online shopping has gained in popularity since the pandemic began, and it's still on the rise. In fact, e-commerce payments could grow 55% by 2026, according to a January study from Juniper Research. As consumers abandon cash and scale back their credit card usage, a growing number of those payments will consist of "buy now, pay later" payment plans.
See:
One of the largest BNPL providers to emerge from this trend is Klarna, a Swedish company founded in 2005. Klarna has 150 million active customers, 25 million of whom reside in the U.S. While Klarna doesn't have the name recognition of PayPal or Mastercard, it does have the backing of financial powerhouses Visa and Sequoia Capital — not to mention a network of over 450,000 merchants that accept Klarna as a payment method.
What Is Klarna and How Does It Work?
Klarna is a free buy now, pay later mobile app and browser extension that let you pay for your purchases over time. There's no application to fill out — Klarna treats each payment-plan request as a separate credit decision rendered at the time of purchase.
The Klarna app also serves as a dashboard where you can track your orders, manage returns and payments and access customer service 24/7. You can even join Klarna's rewards program and set up notifications to alert you when prices drop on your saved items.
3 Ways To Buy Now, Pay Later
Klarna gives you the option of paying instantly through the app using your debit or credit card, or you can choose one of three BNPL plans.
Make Your Money Work for You
The first is Pay in 4, a standard BNPL plan that splits your purchase into four interest-free payments. You use your own debit or credit card at checkout and make the first payment at the time of your purchase. Three additional payments, one every two weeks, are automatically debited from your card or bank account. Alternatively, you can apply for the Klarna Card, which offers interest-free Pay in 4 with no down payment for a $3.99 per month fee. The first 12 months are free.
Pay in 30 Days is available at merchants offering "Pay later in 30 days with Klarna" as an option. Klarna will send you a digital invoice 30 days after the merchant confirms that your order has shipped. You'll pay the invoice using a debit or credit card or bank account. There are no fees or interest, and you can return any part of your order you're not satisfied with and pay just the final balance.
The Monthly Financing plan is a credit account, similar to a credit card. Depending on the purchase and the merchant, you could have a choice between six-, 12- and 18-month financing. The plan offers a 23-day grace period for new standard purchases you finance. After that, your balance incurs interest. The annual percentage rate as of Sept. 20 is 19.99%.
One-time cards are available for use with Klarna payment methods. The single-use virtual cards are available in the Klarna User Portal, where you'll specify the store where you'll be shopping, the amount you want to spend and the payment method you wish to use.
Where Is Klarna Accepted?
Over 450,000 merchants accept Klarna, so you'll have plenty of choices when you're ready to shop. You can use the app to pay for in-store purchases at any of Klarna's partner retailers, which you can search in the app. Notably absent are retail giants Target and Walmart.
Make Your Money Work for You
To make purchases from any online store in the U.S. that accepts prepaid cards, use either the app or the browser extension, which is compatible with Chrome. Not all online stores list Klarna as a payment method — Amazon, for example, has its own BNPL program called Monthly Payments. However, you can still use Klarna at these stores by generating a one-time card.
Online Stores That Accept Klarna
You can use the Pay in 4 option with any online store that accepts prepaid cards. The Pay in 30 Days plan, on the other hand, is available only through Klarna partner merchants that offer "Pay later in 30 days with Klarna" as an option. Here are 30 online stores that offer Klarna as a payment method at checkout, along with the Klarna payment plans they accept:
Aeropostale:

Pay in 4

Anthropologie: Pay in 4
Beauty Creations: Pay in 4
Citizen: Pay in 4
Converse: Pay in 4
Dr. Martens: Pay in 4
French Connection: Pay in 30 Days, Monthly Financing (three installments within 60 days)
Frette: Pay in 4, Pay in 30 Days
Fully: Pay in 14 or 30 days, pay in 3 or 4 interest-free payments (plan options vary by country)
Furman's Goods: Pay in 4
Goat: Pay in 4, Pay in 30 Days, Monthly Financing
H&M: Pay in 4, Pay in 30 Days
Honest: Pay in 4
James Avery Artisan Jewelry: Pay in 4
KonMari: Pay in 4, Monthly Financing
Microsoft Store: Pay in 4, Monthly Financing
Nadula: Pay in 4
Nautica: Pay in 4
Nike: Pay in 4
Petco: Pay in 4
Psycho Bunny: Pay in 4
Rack Room Shoes: Pay in 4
Road Runner Sports: Pay in 4
Rooms To Go: Pay in 4, Monthly Financing
Scandal Candles Co.: Pay in 4
Sephora: Pay in 4
Steve Madden: Pay in 4
Urban Outfitters: Pay in 4
Vans: Pay in 4
Wayfair: Pay in 4
How To Be Approved for Klarna Payment Plans
Since you won't find out whether you're approved to buy now, pay later with Klarna until you're ready to check out, it's a good idea to know what Klarna is looking for when it evaluates your payment requests:
Age 18 or older
History of on-time credit payments
Low debt balances
Bank account connected with Klarna account
In the event your request is denied, remove items from your shopping cart and try again — you might qualify for a smaller purchase.
Does Klarna Do a Credit Check?
Klarna does a soft check, which won't affect your credit score, when you opt for Pay in 4 or Pay in 30 Days or when you apply for Monthly Financing. It does not check your credit when you sign up for Klarna or download the app.
How To Sign Up With Klarna
The easiest way to sign up with Klarna is to download the app and tap "Create an account" on the first screen. Then follow the prompts. Once your account is up and running, navigate to "Settings" to add payment methods like credit and debit cards and a bank account.
You can shop directly from the app, but if you prefer not to, you'll still use the app to create a one-time card with a card number you can use to check out. Otherwise, you'll simply select the "pay with Klarna" option and choose a payment plan from the available options.
Is Using Klarna a Good Idea?
Klarna's buy now, pay later plans might be a good idea for shoppers who want to stretch out payments without having to pay interest on their balance. The repayment terms are straightforward, and because payments are automatically debited from your preferred payment method, you don't have to worry about forgetting to pay. Plus, Klarna won't do a hard credit pull — the soft check it bases decisions on aren't visible to other creditors, and they won't affect your score.
That said, buy now, pay later plans have some drawbacks you should consider. The most important one is the danger that you'll accumulate too much debt. And although Klarna's BNPL options are interest-free, you will incur late fees after two unsuccessful attempts by Klarna to collect payment.
Another downside is that BNPL programs in general lack the purchase protections credit cards offer. This can be a real burden in the event you have an issue with an order after you've accepted and paid for it.
Klarna is a nice convenience, especially for those who don't qualify for a credit card. But it's best reserved for disciplined spenders who track their purchases carefully and are sure the funds will be available when the payments are due.
Information is accurate as of Sept. 20, 2022.
Editorial Note: This content is not provided by any entity covered in this article. Any opinions, analyses, reviews, ratings or recommendations expressed in this article are those of the author alone and have not been reviewed, approved or otherwise endorsed by any entity named in this article.