How To Get Free Stuff by Joining a Buy Nothing Group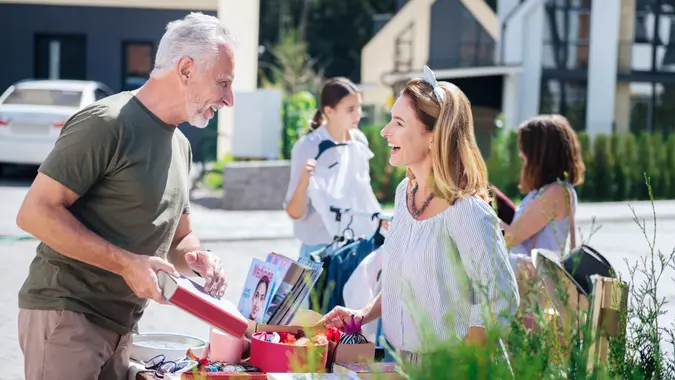 Zinkevych / Getty Images/iStockphoto
Maybe money is tight or perhaps you just don't see the point in buying new. Either way, you're hoping to buy nothing — at least to some degree.
You know there's a Buy Nothing group in your local area, but you've never tried it. This can be a great way to get items you need — and want — without paying a dime.
How Does a Buy Nothing Group Work?
The Buy Nothing movement is all about community. It helps you connect with people in your local area who have something to give, request or who simply want to show gratitude to others.
People can offer gifts of self, talent, time, community, assistance, stuff and gratitude. Do note, all offers and requests must be legal, adhering to all national, regional and local laws.
What Are the Rules for Gifting in Buy Nothing?
All gifts must be given freely. This means trading, bartering, buying and selling are prohibited.
Participants are able to offer and ask for as much and as often as they please. However, no one is required to make or fulfill requests.
When it comes to free stuff, Buy Nothing can really deliver. No two groups offer anywhere near the same items, so it's hard to say exactly what you'll find. Inventory also changes frequently, so it's important to check back often.
Generally speaking, gifts of stuff can include items in any condition — i.e., brand new, used, broken. As for the types of things you'll find, this may include everything from leftover food and event tickets to a roll of toilet paper or a marble, according to the movement's website.
Make Your Money Work for You
One person's trash is another's treasure, so you will also likely find items considered waste by a gifter. For example, instead of discarding old bricks after replacing an outdoor wall, a member might offer them as a gift. To them, the bricks are trash, but another person will likely be able to find another use for them.
Of course, free stuff doesn't always come in the form of tangible objects. For example, a yoga teacher might offer to teach a free class or a seasoned accountant might offer mentoring.
How Can You Find a Buy Nothing Group Near You?
You can download the Buy Nothing app to connect with members of your local Buy Nothing community or you can find your local group on Facebook.
No matter which way you choose to join, you'll be required to participate as yourself. This means you'll need to connect with a personal account, not a business one.
Despite this, you can share or request goods on behalf of a business or organization, as long as you do so in a manner that isn't perceived as marketing, advertising, recruiting or otherwise providing an endorsement.
Can You Join Buy Nothing Without Facebook?
Previously, Buy Nothing operated exclusively through Facebook groups. However, the organization recently debuted an app that allows you to participate without the social networking site.
Is the Buy Nothing app free? Going with the theme of the community, the app is absolutely free. A major hit, it has 850,000 downloads worldwide.
Make Your Money Work for You
Good To Know

The Buy Nothing movement is massive. The community has 7.5 million members, according to its website. In total, there are 128,000 Buy Nothing communities around the world.
Can You Use the Buy Nothing App and Participate on Facebook?
If you're already a member of your local Buy Nothing group on Facebook, you might not want to leave to start using the app. The good news is, you don't have to choose between the two.
You can download the new Buy Nothing app and become an active participant, while continuing to use your local group's Facebook page.
Staying Safe on Buy Nothing
These days, you can never be too careful. Buy Nothing participation is at your own risk, so it's important to be vigilant.
Always be careful when sharing your personal information and arranging to meet others to give or share Buy Nothing gifts.
If you encounter a user who makes you feel unsafe or treats you in an abusive manner, it's important to report them to the support team. Your case will be reviewed and action will be taken in 24 hours, if necessary.
In the event that you no longer wish to engage with a certain user, you're able to block them from seeing your profile and content. Participation in this group should be fun and hassle-free, so don't hesitate to take this step if you feel it's necessary.
Benefits of Buy Nothing
Getting started with a Buy Nothing group can feel intimidating. If you're not used to connecting with strangers online, doing so might give you a bit — or a lot — of anxiety.
However, if you're able to overcome this hurdle, there's a good chance you'll really enjoy the Buy Nothing community. This can be a great way to save money, as everything you receive through this movement is required to be completely free.
Of course, this isn't the only benefit. Since you'll only be interacting with people in your local neighborhood, you'll have the opportunity to meet people in your community that you might otherwise have never met.
You'll also be helping the environment by reducing waste. By accepting gifts through this movement, you're ensuring the giver doesn't have to throw the item away. Instead of having it sit in a landfill, you'll be putting it to good use.
Final Take
If you start using the site regularly, you'll likely become a gifter yourself. Participating in both sides of the Buy Nothing experience will allow you to reduce clutter in your home, while allowing your own unwanted items to be revived by a welcome recipient in your community.
Our in-house research team and on-site financial experts work together to create content that's accurate, impartial, and up to date. We fact-check every single statistic, quote and fact using trusted primary resources to make sure the information we provide is correct. You can learn more about GOBankingRates' processes and standards in our editorial policy.