14 Best Free Cloud Storage Options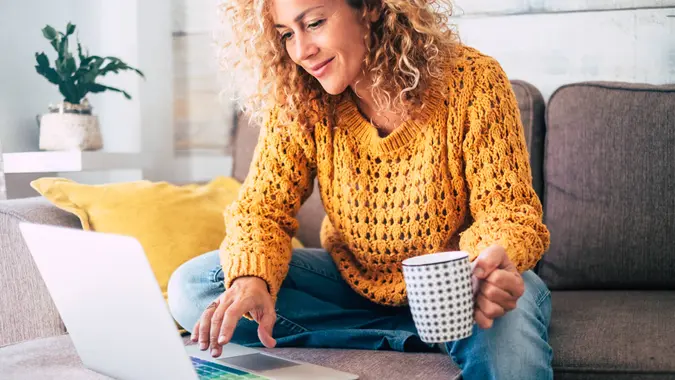 simonapilolla / Getty Images/iStockphoto
Cloud storage offers a convenient way to back up important files and photos, and even to maximize your hard drive space to store files you really need, rather than those you only access once in a while. Cloud storage is also great for sharing files (like vacation photos or celebration videos) with friends and family. Free cloud storage can also help business associates easily share and update files.
What Are the Best Free Cloud Storage Providers?
When you're choosing the best free cloud storage provider for your needs, you'll want to ensure that any system you choose:
Is encrypted and secure to protect your files
Has enough storage to meet your needs now and in the future
Is easy to use
Is accessible from any of your devices, including a laptop, desktop or smartphone
Fortunately, you can find free cloud storage through a number of companies. Here's a look at 14 of the best options.
Dropbox
Dropbox, which became available to users in 2008, is one of the household names in cloud storage. The company offers 2GB of free storage for photos, documents, videos and other files. You can share them with anyone via a secure link and access them from any device. You can also edit Microsoft Office files directly from within Dropbox.
Box
Box is another free cloud storage provider offering free file sharing and easy collaboration. Users can store up to 10GB of data, putting Box ahead of Dropbox in terms of storage capabilities for the free version. As with Dropbox, you can create an external link to share files with anyone — even if they don't have an account. Other account holders, however, can collaborate with you in the cloud and edit files.
Make Your Money Work for You
Degoo
Degoo already starts with more free storage than many other providers, offering 100GB when you first open your account. You can earn an extra 5GB (up to 500GB) each time a friend signs up for the service on your referral. Additionally, you can earn more storage for opting to watch an optional video.
You can install Degoo on up to five devices at once to upload images, documents and more. You can access files from any device.
For just $2.99 per month, you can upgrade your account to 500GB of storage, making Degoo one of the most affordable cloud storage solutions with tremendous storage capacity.
Google Drive
You can access 15GB of free storage through Google Drive for photos, documents, presentations and more. The downside is that this storage capacity is shared between your Gmail account, Google Drive and Google Photos. If you use Gmail as your primary email account, you may quickly max out your storage space.
Google makes collaboration easy through Google Drive or Google Workspace. Files can be shared for collaboration or locked against editing by unauthorized users. Google Drive is easy to use, flexible and scalable, and it integrates easily with Google apps you are probably already using.
Make Your Money Work for You
Microsoft OneDrive
Those who prefer the Microsoft Office suite of productivity apps over Google's tools might prefer Microsoft OneDrive over Google Drive. OneDrive allows you to access, edit and share files from any device. You can share files or folders with family, friends, or school or business associates via a secure link. OneDrive offers just 5GB of storage space for free to start when you open a Microsoft account.
Microsoft 365 Personal subscribers receive 1TB of storage with a subscription, which costs $69.99 per year or $6.99 per month. Alternatively, you can subscribe to the OneDrive Standalone 100GB plan for $1.99 a month to increase your storage capacity.
IDrive
IDrive has earned PCMag.com's Editors' Choice award for eight years straight. Its basic plan provides 10GB of free storage. IDrive syncs your files and data across all devices that are linked to the service.
Mega
Mega offers 20GB of free storage with end-to-end encryption for security. The service allows you to share files and also have audio or video calls with its secure chat. Mega works as a desktop or mobile app.
For just over $5 per month, you can upgrade to 400GB of storage.
Make Your Money Work for You
pCloud
PCloud offers 10GB of free storage and integrates with Dropbox, Facebook, OneDrive, Google Drive and Google Photos to back up files. The free version comes with a robust feature set, including the ability to share files through a secure link.
If you foresee yourself using pCloud indefinitely, you can invest in a lifetime of 500GB of storage for a one-time payment of $175.
Icedrive
Icedrive also offers 10GB of free storage, with the capability to upload or download up to 3GB of files daily. However, it's worth noting that a free account does not offer the client-side encryption that is advertised with a paid subscription. However, your files will still be password protected.
Internxt
If you're concerned about security, Internxt provides 10GB of encrypted file storage for free, with zero-knowledge security features similar to the technology Icedrive provides with its paid service. You can access files and photos easily from any device, with a desktop app, access through your browser, or apps for Android and iPhone.
Sync
Sync doesn't give you as much free storage as some of the other free options, but it has a clean interface and the ability to share files securely. The free plan gives you 5GB of storage for files, photos, documents and more.
Upgrade to a solo plan for just $8 per month and get 2TB storage and unlimited data transfer, plus a host of other features that allow easy file sharing, collaboration and real-time changes to your files.
Jumpshare
If you need cloud storage primarily to share files with other people, Jumpshare could be the best solution. You can instantly upload and share up to 200 different file formats with the service. It also has features like screen recording and screenshot capture, which some other cloud storage solutions do not. The downside is that Jumpshare only offers 2 GB of free storage per year, with an upload file limit of 250MB.
Amazon Photos
Amazon Prime members get unlimited storage for photos and 5GB for videos included at no extra cost with their subscription. While, technically, Amazon Photos is not free because you're paying for your Prime membership, people use Prime for so many other things — from streaming videos to free, fast shipping — that Amazon Photos is a nice add-on.
Amazon backs up your photos and videos securely so you can ensure they're safe, and you can access them across all your devices. You can also share them with friends and family members in private groups. Another bonus? If you order prints of your pictures, you'll enjoy free shipping.
TeraBox
As far as cloud storage goes, TeraBox offers the most free storage for photos or videos, with 1TB of space. This is enough to store 400,000 photos or 51,200 one-minute videos, according to the TeraBox website. You can also send and share these files online with anyone, whether or not they have a TeraBox account.
You can download the TeraBox desktop app on a PC. Mobile apps are also available for Android and iPhone users.
For a price of just $3.49 per month, you can upgrade to the premium version, getting rid of ads, doubling your storage capacity to 2TB, and gaining access to automatic video backup.
FAQ
Which cloud storage provider offers the most free storage?

With 1TB of storage space for photos and videos in the free plan, TeraBox provides the most free storage for photos and videos of any of the free cloud storage services GOBankingRates reviewed. Amazon is also a good option for photo storage, with unlimited cloud storage available to Prime members.

How do I get 100GB of cloud storage for free?

If you want 100GB of storage space, Degoo may be the best option. It offers 100GB of free storage and the ability to earn more storage capacity by referring friends to the service. 

What are the drawbacks of using free cloud storage?

GOBankingRates' research shows that you can get free cloud storage from a variety of service providers. Some of the trade-offs for free service, however, may include pop-up ads, a lack of security, or limited storage space. Choose your free cloud storage provider wisely and you can find a free, encrypted, secure service that has the capacity you need for storing and sharing files of all kinds.
Information is accurate as of Aug. 31, 2022.
Make Your Money Work for You