6 Frugal Habits You'll Actually Enjoy: Have Fun and Save Money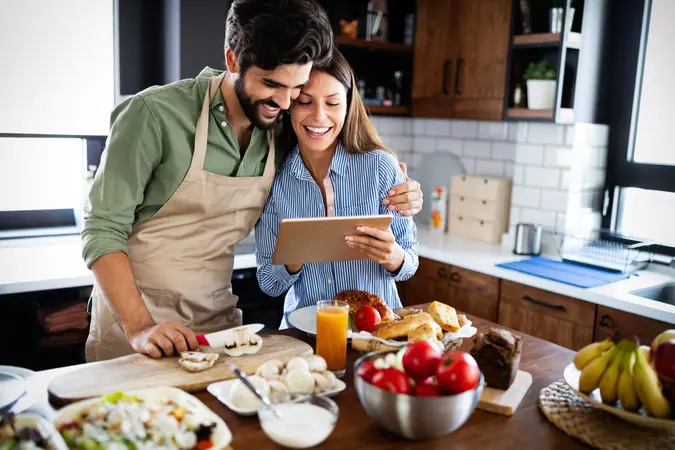 nd3000 / Getty Images/iStockphoto
No one wants to sacrifice the things they love in the name of frugality. But there are ways to spend less that can be enjoyable and become a part of your lifestyle. 
Being frugal helps you manage your money wisely, avoid debt and save for the future. By living within your means, you also gain greater independence and freedom to make choices based on your values rather than financial necessity. It also encourages you to know the difference between your needs and wants, helping you prioritize spending on items and experiences that truly add value to your life.
Here are some frugal habits you'll actually enjoy.
Cooking at Home
Beyond saving money and preparing food, cooking at home can be a fun and creative outlet that lets you experiment with new ingredients and flavors. You can develop and improve your culinary skills while also reducing expenses by using leftovers for future meals. It's also a great way to bond with family and friends as you prepare meals together.
Gardening
Growing your own fruits, veggies and herbs offers a relaxing and inexpensive way to enjoy fresh, organic produce. Gardening allows you to significantly reduce your grocery bill since it encourages you to eat what's in season, which is often cheaper than buying food that might end up going to waste in your fridge.
Make Your Money Work for You
More than that, it also has therapeutic benefits, helping you reduce stress and improve your mental health. People who garden tend to breathe deeper when outside, which helps clear out their lungs, improves digestion and immune response and increases oxygen levels in your blood.
Thrift Shopping
If you loved treasure hunting as a kid, you'll find that thrift stores are like treasure troves full of unique and interesting items. Thrift shopping offers things at a fraction of the price you'd pay for new ones — meaning you can shop guilt-free and find high-quality things at a much lower cost.
You'll also come across one-of-a-kind items that you won't find in mainstream retail stores, such as toys or clothing from your childhood, or budget-friendly fashion accessories that give you a unique style without breaking the bank. Aside from thrift stores, you can also scour garage sales on the weekends that will be just as fun to explore.
DIY Projects
If you've been longing to decorate your home in a fun and creative way, DIY projects can be an enjoyable option to test out new skills while also saving you money and giving you a sense of accomplishment.
One study from the Research Institute for Creative Arts Therapies found that crafting can reduce stress and increase mood and self-confidence. Whether it's home improvement, crafting or repairs, you don't have to be an expert to try your hand at these projects. There's a plethora of helpful online resources that can guide you through each step. The best part? You can tackle these alone or together as a family.
Free and Budget-Friendly Entertainment
It's not necessary to dish out hundreds of dollars on concert tickets or spend the day at a pricey theme park to have a fun-filled time. Visiting parks, hiking, free community events or enjoying a movie or game night at home with friends and family are all frugal alternatives that can create equally happy memories.
Make Your Money Work for You
Some museums and galleries even offer free or discounted admission on certain days or times. There also are some options that are entirely free, such as the Smithsonian museums in Washington, D.C.
Keep an eye out for free or low-cost community events such as concerts in the park, festivals and parades. If you're more of a foodie, rather than visit an expensive restaurant, you can organize picnics or potluck gatherings with loved ones at a fraction of the cost. 
Budget Travel
Just because you want to live frugally doesn't mean you have to miss out on all the adventure. You can still explore new places without spending a fortune. Budget traveling doesn't mean sacrificing your comfort or missing out on unique experiences.
Try looking for deals online, use your rewards points, and plan trips around your budget. You also can save money on food when traveling by eating at local markets or food stalls and choosing to stay in cost-friendly Airbnbs that have kitchens.
The point is to be frugal while still exploring new places, meeting new people from different cultures and creating lasting memories without worrying about going broke.
More From GOBankingRates