Delivery Scams Are Up 427% Just in Time for the Holidays – Here's What to Watch For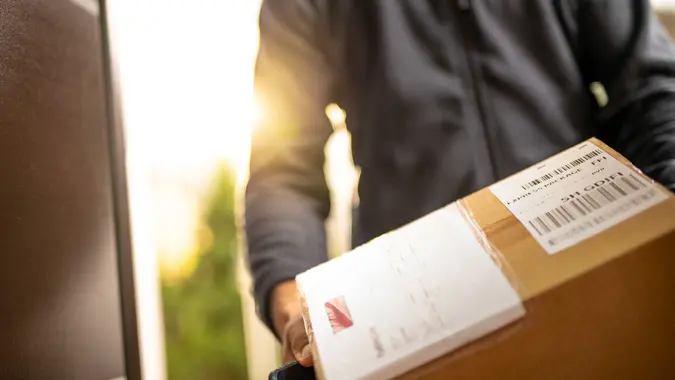 vm / Getty Images
As the raging pandemic continues to restrict in-store shopping, e-commerce is soaring, with Cyber Monday 2020 anticipated to be the single largest online spending day of all time once all the numbers come in. Unfortunately, cybercrime is also surging: New data from the cybersecurity firm Check Point Research found a 427% increase in delivery and shipping-related scams in November over October. The most impersonated brand was Amazon, accounting for 65% of all phishing emails that masqueraded as official shipping-related notifications.
Record Sales: Amazon Says This Was Its Biggest Holiday Shopping Weekend Ever
"Hackers are going after the entire online shopping experience, before and after you purchase," a Check Point Research spokesperson told FOX Business. "First, hackers will send you 'special offers' to your inbox from your favorite brands. Then, hackers will send an email about the delivery of your purchase, even if you bought from a trusted source."
Watch Out: 15 Coronavirus Scams To Avoid at All Costs
Though delivery and shipping scams are not new — the Federal Trade Commission warned about them back in 2014, they've been popping up more frequently during the pandemic, as consumers have doubled down on online ordering and home delivery. The Federal Communications Commission acknowledges fake delivery notification texts and emails in its list of COVID-19 consumer scams.
Old Dog, New Tricks: The Classic Cons Behind These Digital-Age Scams
To avoid falling prey to fraudsters luring you (and your sensitive information) in with fake notifications, shoppers should practice the following cybersecurity basics and never click on a link or call back a number from an unexpected delivery notification. Instead, call or email customer service using the verified contact details on the company website.
Make Your Money Work for You
Is Your State Listed?: States Where Identity Theft Runs Rampant
Shoppers should be vigilant and look out for other indications of bad actors including misspelled URLs, lookalike domains, and emails prompting users to reset their passwords. Shoppers should also pay attention to the grammar and language used in emails and texts, as China and Russia are the the biggest offenders in cyber scams. A recent report published by the Center for Strategic and International Studies (CSIS) determining that China and Russia have been the biggest source of cyber attacks since 2006.
More From GOBankingRates