How To Get a Refund From USPS for Late, Undelivered or Damaged Packages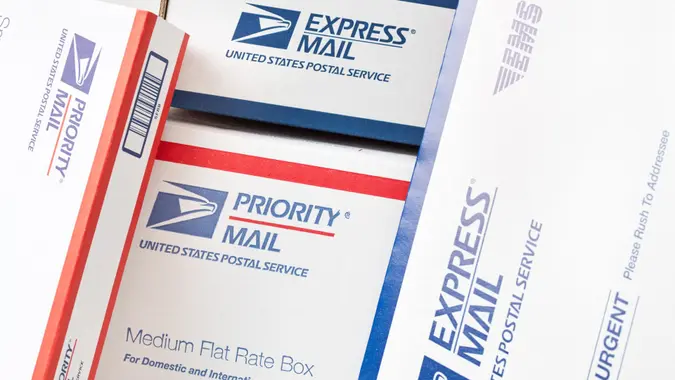 SDI Productions / Getty Images
The past few weeks have been rife with powerful snowstorms, airline disruptions and an uptick in mail theft — and all of that has added up to lost, late or undelivered packages. Checking the tracking info on a daily basis to see no movement in the item's route has become a commonplace source of frustration.
See: 10 Things To Stop Buying in 2023
Find: 3 Easy Tips To Turn Your Credit Woes Into Wows
If it's been a while, there are some actions you can take with the USPS to get a full refund (if the item was insured) or get the postal fees returned. 
According to Reader's Digest, the USPS has a policy that typically gets packages in motion or returned within a week. If it's still not tracked back to you (or the original source of departure), you can also submit a "missing mail search." Postal employees are human after all, and mistakes can be made at sorting facilities — there's still a chance your mail can be found if some key info is submitted.
Reader's Digest advised that you'll want to "include specifics like the sender and receiver mail address, size and type of container, the tracking number or mailed date, or any photos to help mail carriers identify the lost mail or package."
Make Your Money Work for You
Alas, if the package is still not found after the "missing mail search," you may want to request a refund. For domestic mail in the 50 United States, you can submit a refund request by providing proof of purchase. The items you will need include:
The tracking number.
A purchase receipt.
A photo ID.
For priority items you can submit the request online, but for other types of mail, you'll need to head to your local post office.
There are certain time frames in which refund requests can be made, based on the shipping category:
Priority Mail Express (no sooner than 2 days, no later than 30 days).
Priority Mail Express with extra service (no sooner than 30 days, no later than 60 days).
All other classes of mail (no sooner than 10 days, no later than 60 days).
All other classes of mail with extra service (no sooner than 30 days, no later than 60 days).
Though the USPS says they are not responsible for mail that is in limbo because it was returned due to excess weight or insufficient postage, there are situations where they will provide a 100% refund, including:
When the USPS is at fault.
When postage/fees are paid over the "lawful price."
The mail is greatly damaged when in USPS custody.
Any time postal service to the destination is suspended.
Fees are incorrectly collected for customs clearance and delivery.
Priority Mail Express isn't delivered "according to the applicable service standard."
When Sunday premium services are not upheld concerning USPS Connect Local Services.
Make Your Money Work for You
Note: Fees for Certified Mail, Tracking, Return Mail Receipts or Signature services can be refunded when the service isn't upheld.
Take Our Poll: How Long Do You Think It Will Take You To Pay Off Your Credit Card Debt?
More: Check Your Mail: Refunds and Payments May Look Like Junk
Once approved, there are a couple ways you might be paid, according to the USPS:
Refunds requested online will come as a check in the mail.
Refunds requested in person will be delivered as cash/check/money order.
If you were denied, or only partially refunded, you do have the right to dispute the determination within 30 days of learning of the decision.
More From GOBankingRates
Make Your Money Work for You