3 Money Saving Hacks That Will Make You Go Even More Broke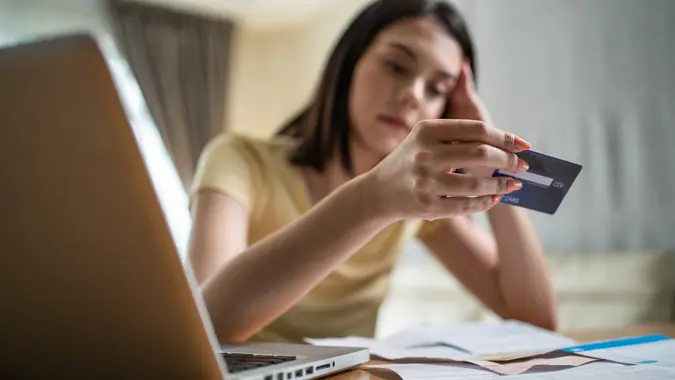 Kiwis / iStock.com
In an economy where prices for just about everything are soaring, people are seeking out money hacks that to keep more cash in their wallets. Some money-saving methods are legit, while others sneakily cost you more over time.
These savings "tips" might lead you astray in your quest for more financial stability.
Shopping Sales
When an expensive item catches your eye, you keep tabs on it to see when it goes on sale. A disciplined approach allows you to save money on what you want and need instead of paying the retail price. However, getting sucked into buying things just because they're on sale could sabotage your financial goals.
If your excuse for overspending is because "it was on sale!" you may want to reconsider how this habit impacts your financial well-being. Are you infringing on your savings goals by overspending? Are you putting it on a credit card if you don't have the cash to pay for it?
Retailers capitalize on the inflated appeal of a sale, and some of those "deals" can be misleading. In 2022, Consumer Checkbook ran a study tracking the sales prices for 24 major retailers to see if the discounts were valid sales or just deceptive advertising. Retailers like Footlocker and Old Navy advertised sales 98% and 96% of the time, respectively. That means the "sale" price doesn't offer any actual discount.
Make Your Money Work for You
Traveling Further for Cheaper Gas
You pull out of your driveway in the morning and notice your gas tank is close to E, but the gas station nearest to your house is $3.75 per gallon for regular. The gas station two miles down the road has gas for $3.65. Saving ten cents per gallon seems like a no-brainer, but going out of your way costs you time and money with very little savings on the back end.
If you fill up your 15-gallon tank at the nearest gas station for $3.75, you'll spend $56.25. However, driving two miles away to the cheaper station will cost you $54.75 –only saving you $1.50. Driving the extra two miles to the other gas station reduces the minuscule savings and cuts time from your day. For the longer drive to be worth it, the gas would have to be significantly cheaper at the other station, and you may feel the added time crunch to your morning.
Shopping Cheap Instead of Quality
When you need new household items, clothes or supplies, the cheaper options are tempting even if you know it won't last. It pays to be frugal sometimes, but quality items could last you much longer and cost less per use.
E-commerce brands like Temu, Shein or Amazon offer incredibly low prices on goods, but most people shop at these brands expecting the item won't last due to poor quality. That's when a calculation called cost per use comes in handy. This formula helps shoppers determine which purchases are good deals by dividing the price by the number of uses.
Let's say you buy a winter coat from a fast fashion retailer for $40. After wearing the coat four times, the stitching rips, and it's unwearable. Forty dollars divided by four uses is $10 per wear. Next time, you buy a quality winter coat for $200 and wear it every winter (about 250 times) for over three years. The cost per use is 80 cents, which means the $200 coat is over 12 times cheaper than continually buying the same $40 coat.
Make Your Money Work for You
Bottom Line
Money-saving hacks could be helpful when used with discipline and discernment. However, it's easy to veer off course when searching for the lowest possible price as a way to save money. Instead, focus on the long-term cost and curb overspending by avoiding the emotional rush that accompanies the "60% sale" advertisement.
More From GOBankingRates