Refusing to Wait for Congress, These Cities and States Are Handing Out COVID-19 Relief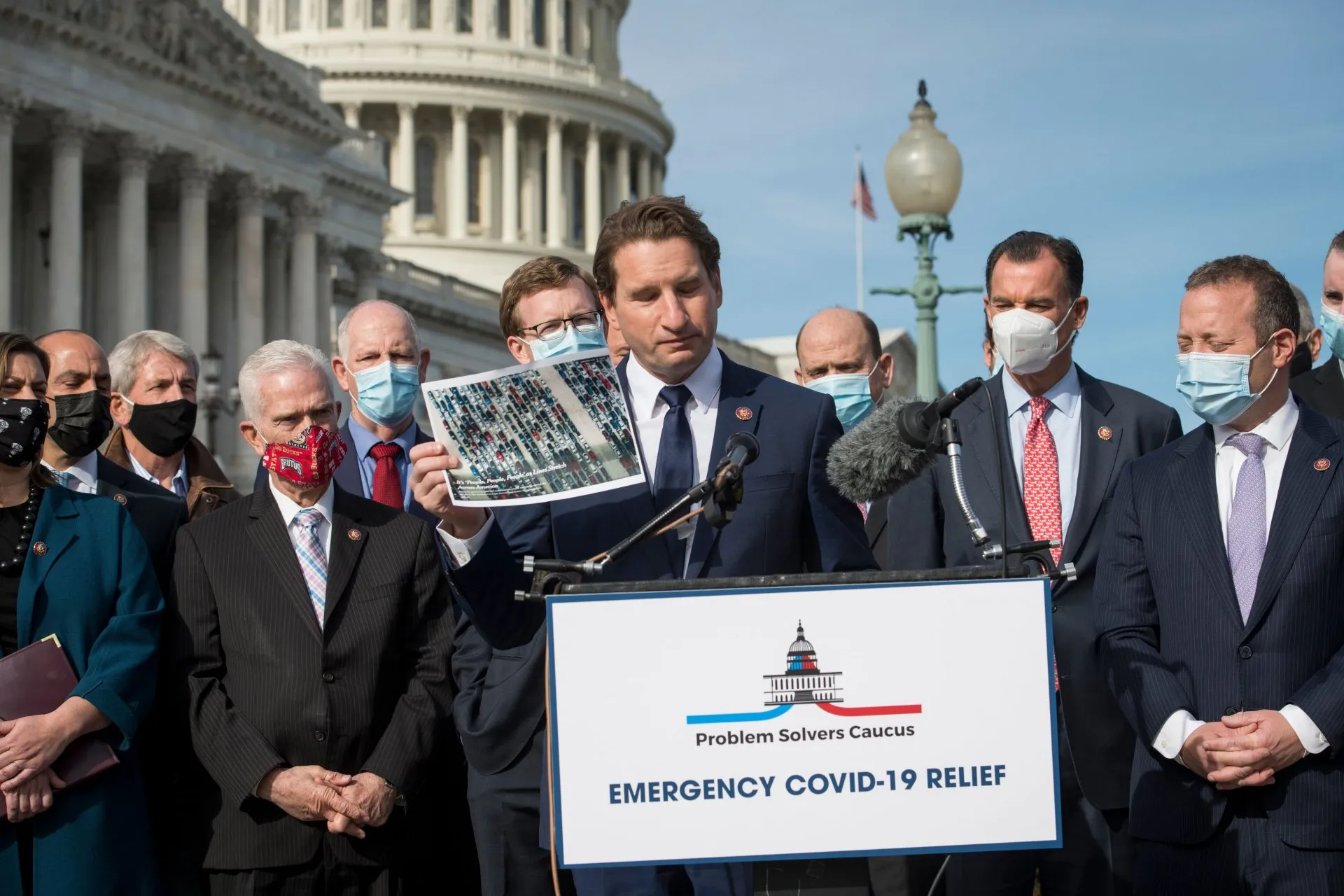 Congress passed a one-week government funding bill on Monday to borrow more time for stimulus negotiations — and avoid a government shutdown. Meanwhile, some cities and states are taking matters into their own hands. On Monday, Washington D.C. Mayor Muriel Bowser announced a $1,200 stimulus check. The one-time directed payment will be sent to roughly 20,000 D.C. residents, all of whom were deemed eligible for Pandemic Unemployment Assistance on or before Nov. 30.
"The District is committed to using every resource at our disposal to provide support to residents who have been hardest hit by the pandemic," Mayor Bowser said in a press statement. "[S]hort-term relief is not enough. We urge our federal partners to pass legislation that recognizes the needs of millions of Americans who have made tremendous sacrifices and who are struggling to get by through no fault of their own."
With the CARES Act set to expire at year's end, 66% of Americans collecting unemployment benefits will lose their aid, according to an analysis by Morning Consult. An estimated 83 million Americans are struggling to pay for essentials including food, housing and bills, according to the most recent Household Pulse survey by the U.S. Census Bureau from data collected from Nov. 11 to Nov. 23.
D.C. isn't the only area to take action and provide emergency relief to its residents. Here's a look at how other state and city legislators are stepping up to help their communities get through this brutal winter.
Anchorage, Alaska
On Nov. 30, Alaska Governor Mike Dunleavy expedited the release of $20 million in CARES Act funding to Anchorage to help businesses who have been impacted by the pandemic. Exactly how the funds will be used (and which businesses will see any of it) is up to the Anchorage Assembly and the mayor's office. Dunleavy has indicated that the expedited funding should go to businesses operating in the hospitality sector, as they are "about to enter an exceptionally difficult time that will trigger an overwhelming need for financial relief to meet payroll and keep the doors open during the holiday season," Dunleavy said in a press statement.  
Dunleavy's move to expedite funds was commended by DCCED Commissioner Julie Anderson, who said that this is the third payment Anchorage has received from the CARES Act fund, and with it, "Anchorage will have received a total of $156 million."
Make Your Money Work for You
California
On Nov. 30, California Governor Gavin Newsom announced a $500 million COVID-19 relief grant program to help businesses struggling under the strict COVID-19 restrictions. Newsom also announced a temporary tax relief for California businesses impacted by COVID-19 restrictions. The temporary tax relief provides eligible businesses with a three-month income tax extension for businesses filing less than $1 million in sales tax. The tax relief also extends interest and penalty-free payment agreements to businesses with up to $5 million in taxable sales and provides more interest-free payment options for larger businesses impacted by COVID-19 restrictions.
California is also expanding its California Rebuilding Fund by $12.5 million, boosting the state's total investment in the program to $37.5 million.
Colorado
On Oct. 28, Colorado Governor Polis signed an executive order directing the Division of Unemployment Insurance to provide stimulus payments of $375 to eligible Coloradans who are struggling to get by because of the pandemic. Prospective claimants did not have to reach out to the state, but were instead contacted by the Colorado Department of Labor and Employment if they qualify for the one-time payment. The $375 payment was issued to most unemployed Colorado residents on Tuesday, Dec. 1, at which time, around 80,000 people were enrolled in Pandemic Unemployment Assistance in Colorado. Higher income folks who received more than $500 weekly unemployment benefits (around 49,000 people) did not qualify for the check, CPR News reported.
Maryland
On Nov. 23, Maryland Governor Larry Hogan announced that $19.3 million in Maryland Eviction Prevention Partnership grants would be distributed among 17 Maryland local jurisdictions. More than 3,600 households in the Old Line State will be helped by the new program.
"Maryland has continued to be a national leader in our COVID-19 response, which is why we have responded aggressively with targeted rental relief funding," Gov. Hogan sain in a press statement. "These grants will help ensure our citizens can remain safe and secure in their homes as we continue to respond to this global pandemic."
Here's a breakdown of what counties received:
Allegany County: $39,000
Anne Arundel County: $1,200,000
Baltimore City: $2,000,000
Baltimore County: $3,000,000
Calvert County: $600,000
Carroll County: $529,592
Cecil County: $475,000

Charles County: $750,000

Dorchester County: $100,000

Garrett County: $350,000

Howard County: $2,000,000

Montgomery County: $3,473,228

Prince George's County: $2,672,725

St. Mary's County: $700,000

Somerset County: $210,000

Wicomico County: $900,000

Worcester County: $336,000
Make Your Money Work for You
New Mexico
On Nov. 25, New Mexico Governor Michelle Lujan Grisham approved an expansive relief package for New Mexicans that will provide grants to small New Mexico businesses, as well as $1,200 cash payments to the unemployed. The package also includes some emergency food provision sand housing relief.
"I know this stimulus will mean so much to so many New Mexicans as we enter the holiday season," said Gov. Lujan Grisham in a press statement. "But our work isn't done. The pandemic has never been more dangerous in our state, and the economic pain caused by the spread of the virus is felt in every corner of New Mexico. We must remain vigilant in our fight against the virus. We must continue to evaluate how we can get more assistance to more New Mexicans who need it in this time of crisis. I'm grateful to the Legislature, both chambers and both parties, for their work yesterday. New Mexico will always step up, even when the federal government won't."
The most generous relief package of any state yet, here's a look at what the new stimulus in New Mexico includes:
$100 million in grants for small businesses in New Mexico
One-time $1,200 payments to more than 100,000 New Mexicans claiming unemployment – including those whose benefits have recently been depleted
$15 million for emergency housing assistance and assistance for the homeless
$5 million for emergency food bank services
$5 million for direct assistance to low-income residents who did not receive an economic impact payment from the federal government
$10 million to the Department of Health to support COVID-19 tracing, testing and vaccine distribution
New York City
On Nov. 25, New York City Mayor Bill de Blasio announced three financial assistance program amounting to $37 million. The programs, available for eligible small businesses in low-to-moderate income (LMI) neighborhoods, are the NYC LMI Storefront Loan; the Interest Rate Reduction Grant; and Strategic Impact COVID-19 Commercial District Support Grant. Jonnel Dorris, NYC Department of Small Business Services (SBS) Commissioner, worked with de Blasio on the programs that are intended to help NYC businesses rebuild.
"Our fight against COVID-19 has been costly for the small businesses that anchor New York City's neighborhoods. We're proud to offer real relief to help these business owners keep their teams together and continue serving their communities for years to come," said Mayor Bill de Blasio.
Each of the three new programs has its own criteria for applicants. Here's a breakdown of the 39 neighborhoods that qualify as LMI:
The Bronx: Crotona, East Tremont, Highbridge, Hunts Point, Jerome Park, Longwood, Melrose, Morris Heights, Morrisania, Mott Haven, Soundview, Soundview Bruckner, Van Cortlandt Park
Brooklyn: Bedford-Stuyvesant, Brighton Beach, Brownsville, Bushwick, Canarsie, East Flatbush, -East New York, Starrett City, Sunset Park, and Coney Island
Manhattan: Central Harlem, Chinatown, East Harlem, Hamilton Heights, Inwood, Lower East Side, Morningside Heights, Washington Heights
Queens: Briarwood, Corona, Jamaica, Queensbridge, Rockaways
Staten Island: St. George, Stapleton
More From GOBankingRates