The Surprising Thing Robert Kiyosaki, Jean Chatzky and Dave Ramsey All Have in Common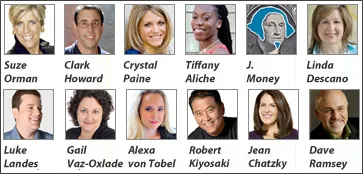 We're in the last two weeks of GoBankingRates.com's 12 Days of Finance competition. Robert Kiyosaki, Jean Chatzky and Dave Ramsey rounded out our list of the 12 competing experts. Here are some fun facts about these gurus that could be news to you.
Robert Kiyosaki
Entrepreneur, speaker, investor and author of the popular series Rich Dad Poor Dad, Robert Kiyosaki has imparted a lot of experience and knowledge to the personal finance community. As the reigning champion of the 12 Days of Finance competition, Kiyosaki has a strong fan base.
You might not know, however, that Kiyosaki had a few odd jobs early on in his career. After serving in the Vietnam War as a gunship pilot, Kiyosaki obtained a job as a salesman for Xerox in 1975. Following that venture and inspired by his upbringing in Hawaii, he started a company that sold Velcro surfer wallets that, after some success, eventually went bankrupt.
Next, Kiyosaki started another business that licensed t-shirts for heavy metal rock bands. He accomplished all this before the age of 40. It would be a few decades more before Kiyosaki began his Rich Dad and Cashflow projects.
Jean Chatzky
Among other ventures, Jean Chatzky is a columnist for Oprah.com, the financial editor for the TODAY Show and a successful author. Chatzky strives to make money understandable to people, and developed an interest in business reporting early on, thanks to a financial education that started when she was a child. Chatzky's family was careful with money. If an expense was beyond the basics, Chatzky and her siblings would have to save up and pay for it themselves.
Make Your Money Work for You
On her path toward becoming a voice in the personal finance space, Chatzky opted to report on Wall Street over obtaining an MBA to save on graduate school costs. This paid off, as she was then able to obtain the attention of publications like Forbes that had previously overlooked her.
Dave Ramsey
As the runner-up in last year's 12 Days of Finance competition, Dave Ramsey has a famously engaged following. Ramsey's approach to helping people gain control over their finances and get out of debt stems from his own experience conquering his money troubles.
By the age of 26, Ramsey had a net worth of more than a million dollars. Sounds like success; however, Ramsey had $4 million in real estate expenses that, within two years, caused him to lose all of his money. After heavily studying personal finance, Ramsey realized most of his financial problems started with himself. Since then, Ramsey has been on a quest to help others see how they can better handle their finances and obtain stable, long-term wealth.