Shark Tank Star Kevin O'Leary: You Should Hate Wasting Money on These 5 Things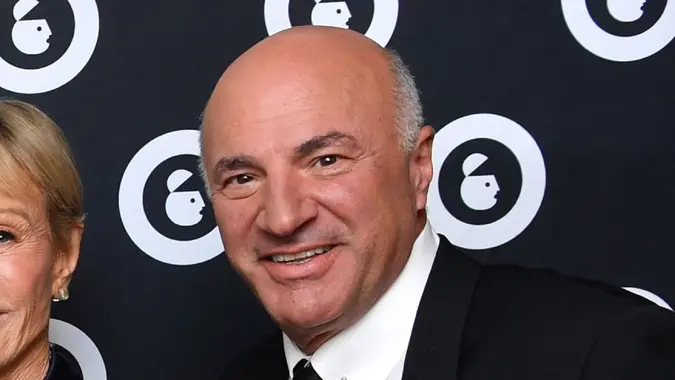 Stephen Lovekin / Shutterstock.com
Kevin O'Leary, star of ABC's "Shark Tank" and chairman of O'Shares Investments and O'Leary Ventures, has a lot to say about spending, saving and investing money. "Mr. Wonderful," as he's called (mostly by himself), frequently gives advice on social media and in interviews and talks about things he hates to spend money on — and thinks you should, too.
Here are some of the things Kevin O'Leary hates to spend money on.
Store-Bought Coffee
O'Leary famously disparages store-bought coffee and the expense it entails, and he promotes making your coffee at home. "That's such a waste of money," O'Leary said in an interview with CNBC. "I drink coffee. One cup, every day. It costs about 18 cents to make."
O'Leary claims that he invests every penny he doesn't spend on fancy coffee. If that's true, here's what that could look like. If you stop on the way to work for a $4 coffee every day, you're spending $20 a week on your daily cup of joe. That's $1,000 a year, assuming you take two weeks off each year when you wouldn't be buying coffee anyway. If you invested $1,000 per year at 6% interest, you'd have $36,785.59 after 20 years. Of this, $20,000 was contributions, so you'd have earned $16,785.59 in interest.
Restaurant Lunches
Buying your lunch at a deli or restaurant every day is another money waster akin to buying store-bought coffee, according to O'Leary. A $15 sandwich or salad five days per week, with two weeks off, could add up to $3,750 per year.
Make Your Money Work for You
In a TikTok video on money saving advice, O'Leary estimates that young professionals making $60,000 a year could be wasting as much as $15,000 of that salary on what he calls stupid mistakes that could be avoided. These include buying your lunch instead of bringing it from home.
If you saved and invested that $15,000 each year instead of spending it on lunches and other things you don't need, you could have a big impact on your financial future. Investing $15,000 per year at 6% for 10 years would net you $197,711.92, of which $47,711.92 would be earnings — money that you made by not spending on other things.
Fancy Stores and Labels
O'Leary makes no secret of the fact that he shops at Walmart. He purchases groceries and other items there rather than at pricier stores, claiming he's getting the same product at a lower price.
Knowing which stores in your area have the best prices on things you buy regularly is a smart money move. If you're going to buy paper towels, for example, buy them where they're the cheapest — or better yet, when they're on sale. You can stock up on anything that's not perishable, and just keep it until you need it. O'Leary's fellow shark Mark Cuban is fond of recommending that you buy two years' worth of toothpaste when you see it on sale for 50% off, because that's an immediate return on your money.
Once you are in a strong financial position, of course, you will be able to spend your money on certain things you truly value. O'Leary has said that he favors a particular brand of underwear that costs $170 a pair, so he splurges on those. But he wears them underneath his $20 jeans.
Make Your Money Work for You
Interest on Debt
Paying off your debt is the most important money move you can make, according to O'Leary. Carrying debt on credit cards is a big mistake. Paying off your credit card debt will improve your financial situation even more than investing. You're getting a return equal to the interest rate you were paying on the credit card immediately, and that will almost always beat the market. Once you have paid off that debt, you can start investing the extra money you have.
Impulse Purchases
O'Leary says every time he picks up something he's going to buy, he asks himself, "Do I really need this?" Every penny he doesn't spend on something he actually needs gets invested and makes more money for him. "I buy good stuff that I need, and I invest the rest," O'Leary says. "And it works."
It's hard to argue with that.
Takeaway
Mr. Wonderful is a big proponent of financial literacy, and he espouses making smart financial decisions whenever he can. He promotes the idea that financial independence is as much about mindset as anything else. Earn as much money as you can, including by starting a side hustle in addition to your full-time job. Spend as little as you can, by thinking about the long term financial picture and the impact of each and every purchase you make. Then invest every penny you can so that your money is making money for you "while you sleep," as O'Leary often says.
More From GOBankingRates