I Make $75,000 a Year in Washington State — and This Is How I Spend It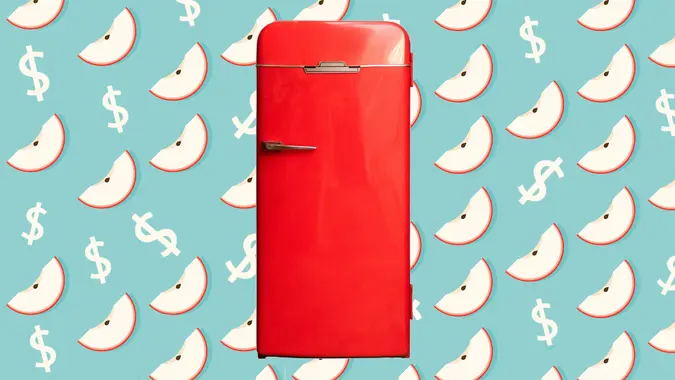 ©Getty Images/iStockphoto
GOBankingRate's Money Confidential series empowers readers through financial transparency. We believe that money shouldn't be a taboo subject. So you ordered take out for the third night in a row. Maybe you had to defer your student loans. You're not alone!
That's why we talk to real people from around the world to get a sneak peek into their spending habits, money regrets and more. By talking openly and honestly about money, our hope is that you'll stop feeling isolated — and start feeling empowered.
The Person
I'm a 79-year-old woman living in a small town in Washington state. I have two adult daughters, three grandchildren and three great-grandchildren. I like to read, cook, go to tap dancing classes, go to church and watch "Dancing With the Stars" whenever I get a chance. Though I consider myself retired, I spend a lot of my time volunteering, which keeps me busy.
I was married to my husband for 52 years when he had a heart attack and died during the night six years ago. At the time, we had a small insurance policy for $20,000, but no savings account. My husband liked to live in the moment — and we did a lot of living — so saving was never a priority. Ever since, I've had to take over the finances and figure everything out myself.
Salary: I'm on the Board of Directors for a bus company which I get $1,000 a month for. At the end of the year, I also get a $3,500 bonus.
Supplemental Income: My husband had a Labor and Industries check that came once a month from a back injury and a small retirement fund, both of which came to me upon his death. The L&I is raised periodically and is up to $3,200.40 a month now, and his retirement is now $340.58 a month. My Social Security is combined with my husband's for $1,418 a month. If you include the $1,000 I get each month from my job, I get $5,958.98 a month. So, I live very comfortably.
Investments: I have $43,000 in stocks at Edward Jones, a $5,000 annuity with Bankers Life and property in Arizona worth $15,000.
Debt: My only debt is my home. I refinanced my home last week so I know the exact amount I owe — $306,700. I've actually refinanced four times now. We bought our home for $127,500 in February 1996 — it was a 30-year FHA loan for 0% down. We refinanced it in 2005 for $182,000 because we needed money to pay off credit card debt. We re-fi'd again in 2009 for $250,000 to get money to build our back deck. For this most recent re-fi, I had followed the market for some time and knew that my little house had probably peaked, so I talked to my mortgage banker and decided to re-fi for $306,400 and take my money out and invest it. That's when I put the $43,000 into stocks with Edward Jones.

Banking: I have a checking account with $2,400 in it and a savings account with $23,000. They're both at Kitsap Bank.

Major Monthly Expenses: My major monthly expenses are $1,829.86 for my mortgage, $800-$1,000 for groceries and $226 for a medical insurance policy.
Saving For: Long-term, I know I will need another car. My car is a 2007, so it's getting older. I'll try to trade in my car and see what the difference is for a new vehicle. Because it isn't urgent and I already have money in my savings that would cover the cost of a car, I'm just setting aside $300 a month to savings right now.

Biggest Money Regret: My biggest money regret was opening more than one restaurant. My husband and I owned a very successful restaurant. Because of its popularity, my husband begged and begged me to open more. I didn't want to, but he really did, so we opened three others. But they just didn't do as well. We ended up selling them all, and the people who took over didn't make things the same way. Our old customers would run into us and say things like, "The food just doesn't taste the same way," or "It's not like when you ran it." They eventually all went out of business. It wasn't one person's fault, my husband and I made the decision together, but I do wish I had been a little more firm on my reasons why we shouldn't expand.

Assets: When I refinanced, my home was appraised for $336,000. My car is worth about $8,000, I have an antique suit of armor worth $3,000, a rifle worth $7,000 and about $13,000 in artwork, jewelry and other valuables.
Make Your Money Work for You
Find Out: 20 Hidden Sources of Income Lying Around Your House
The Money
Day No. 1
It's Monday morning and I woke up at 5:30, remembering that this was the day my housing payment normally comes out of my checking account. When I refinanced my house last week, I didn't tell the bank to cancel my old $2,20.32-a-month payment. Even though it was too early for the bank to be open, I called anyway and left a message for Ellen, the manager. I went to the bank when they opened to sign a paper to cancel the old payment. I was charged $32 to stop the payment.
Total Transactions: $32

Day No. 2
I'm volunteering at the local high school for three weeks, as I do every year to help the book room lady process the thousands of books that need to be wrapped up at the end of the school year. After my shift, I stopped at Walmart on my way home to pick up a few groceries. As usual, I got carried away, and the $154.38 I spent was way too much.
I also got gas. I heard on the radio this morning gas was going to go down by 20 cents a gallon this summer — here's hoping. This tank cost me $3.26 a gallon for a total of $39.50.
Total Transactions: $193.88

Day No. 3
I started out the day thinking about my beautiful granddaughter since it is her 29th birthday. I remember every minute of the day she was born. It was such an exciting day.
I worked at the high school until 1:00 p.m. and then came home and paid $1,507.36 in bills.
Puget Sound Energy: $140.12
AARP Life Insurance: $81.73
West Sound Utility: $162.18
WAVE Broadband: $298.48
Walmart: $145.66
JCPenney: $86.01
The Hartford Auto Insurance: $134.20
Costco: $164.80
Verizon: $176.24
Kaiser Permanente Health Insurance: $82.00
Cascade Natural Gas: $35.94
Make Your Money Work for You
My daughter and her friend recently moved in with me, and they give me $100 each a month for groceries and things. They did that today. It helps a lot. They haven't lived here long enough for me to compare utilities yet, but I've noticed I'm spending a lot more on groceries already.
Total Transactions: $1,507.36

Day No. 4
This is turning into a crazy week. For background, about six months ago, my town was hit by a tornado. The insurance company issued me two checks to use for home repairs, but the mortgage company said I couldn't have those personally — the checks had to go to the mortgage company itself and it would cover repairs on my behalf. So, I sent the checks over to them, and they kept that money in an account I call my "tornado fund." I've been making repairs over the last few months, and I haven't gotten any bills because it was just coming out of my tornado fund.
Now, I went to pay a man to install an awning on my deck — my final repair — and the mortgage company told me I didn't have the money to cover it. I should have had $3,100 left in my tornado fund. They also said they had made an error with my escrow account. I had no idea what they were talking about since the only money I had with them was my tornado fund which had nothing to do with my escrow account — I thought. Come to find out that they had given me the wrong information and I did have one last payment due the other day. They saw that I had stopped payment on that $2,020.32 check, so they dipped into my tornado fund to get their money without contacting me. When I said they couldn't do that, they said I owed $2,020.32 plus a $25 late fee! What?
I don't normally get angry, but I did today. By the time I got off the phone, they had taken off the $25 fee, but they demanded I pay the June payment. So, I took it out of my savings and reluctantly made the payment. I'm so confused. I don't know where my tornado fund went in all this chaos, and there was $3,100 in there so something isn't adding up.
Total Transactions: $2,020.32

Day No. 5
I went to work at the high school hoping it would be a normal day — it wasn't. I called my local loan officer when I got a break and told him the whole story from yesterday. He was stunned. He can't believe they "misquoted" me when I've already signed the final papers on my re-fi and the documents have been recorded. So now they are trying to figure out how to get the $2,000 or so back into my tornado account that they took out without telling me.
Update: As of this minute, $2,020.32 has appeared back in my account. And I'm told my first payment of $1,829.86 — for the re-fi — is due Aug. 1, 2019. So I guess things are back to normal. Also, it turns out that what the mortgage company did to me was illegal. The lady I spoke with apologized 1,000 times over. I have had a lot of trouble with this company, though, and I think they want to be done with me as much as I want to be done with them.
Total Transactions: $0

Day No. 6
After getting up at 4:00 a.m. all week to be at the high school at 7:00 a.m., I was ready for Saturday to sleep in. No such luck. At 8:00 a.m. the doorbell rang. It was a good housecall though — one of my awesome neighbors brought me a Filipino dessert his wife had made me. I have the best neighbors in the world.
Saturday afternoon I decided to treat my daughters and get their nails done. The three of us went to our favorite place, and they took us right away. My daughters got beautiful pedicures and I got beautiful nails. With all the tips, it cost me $90. I'm happy!
Total Transactions: $90

Day No. 7
Got up at 5:45 a.m. and went to church at 7:45 a.m., got out of there at 9:15 a.m. and went to Walmart for some milk, OJ and other stuff to make dinner. I spent $52.37. Really looking forward to a relaxing day.
Total Transactions: $52.37

The Takeaway
Net Worth: Our subject has $25,400 in her checking and savings accounts, a home worth $336,000, a car worth about $8,000, investments totaling $63,000, and jewelry, artwork and other valuables worth approximately $23,000. Subtracting the $306,700 for her mortgage leaves a net worth of $148,700.

GOBankingRates spoke to our subject about her week and what this experience has taught her.
What did tracking your spending teach you? Was there anything unusual or concerning that you noticed?
This spending tracker was really interesting. When I had to put it down on paper, I realized I'm spending a lot on food. My daughter and her friend contribute $200 to it, but $800-$1,000 is still really a lot for three people. Before they moved in, though, I was going out at least three days a week. When you get older and your spouse is gone, you don't really feel like cooking because you cooked for all those years, so the convenience was nice. I would also treat my daughter to dinner when I did it. So, I actually would say I'm saving money, as shocking as that is, by buying groceries and cooking at home. That's scary to think about. I was probably spending closer to $1,200 when I was eating out.
Does your net worth surprise you?
I think I'm doing really well not having any debt but my home, which is the only thing that makes my net worth lower than it could be. I'm not that worried about it because it is an investment for me. Honestly, I never expect to pay off my home. When I die, it will go to my kids and they can sell it. They know that already.
Do you stick to a budget at all?

I never had a budget before because my husband used to pay all our bills. He wanted to and I didn't know how to do it, so that's just how it was. I didn't know as a wife what was going on in the family financially, and I really wish I had.
My brother taught me how to budget and save when my husband passed away, though. Now I keep a spreadsheet and I know where things are going. I've saved a lot since not having a savings account. So I'm proud of myself for doing all that in six years.
Do you have any money advice for readers?
My advice to anyone out there is don't let one person in a relationship control everything — even if it's comfortable that way. This is especially important for a woman. You have to know what is going on. You really have to know where your money is going so you can always be in a good place if you're suddenly not with your partner anymore.
What's next for you?

Having to put it down on paper made me realized I can really stand to save more on food. I've been budgeting way too much for it. I won't give up my Schwan's though! They deliver me the best frozen treats right to my door, and all the meals are always really good. So I just have to cut down other places. I'm going to try to not get carried away at the grocery store every time I go and be more strict about that.
Keep reading to learn how much a Hollywood personal assistant makes and how he spends it.
More Money-Saving Advice: